Events
Insomniacs are invited to The Night Café
This new interactive, immersive play offers hepcats the opportunity to explore sleeplessness.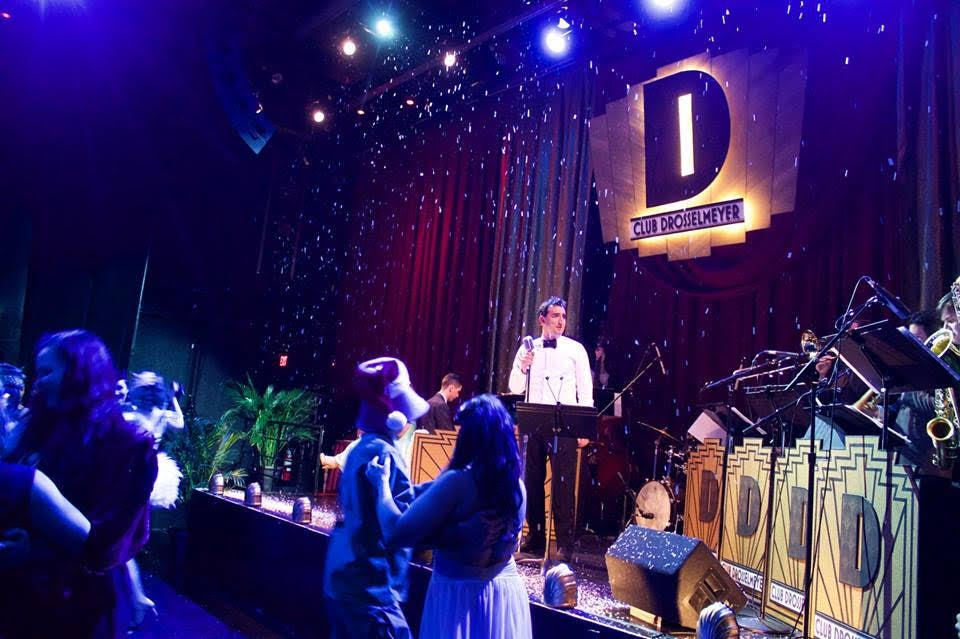 The Night Café, a new interactive, immersive play, offers an exploration of sleeplessness, as well as a fun night out revisiting the mid 20th Century Beat era. 
The Night Café is created by Kellian Adams Pletcher and Lizzie Stark, who work together as Green Star Productions. Adams is the CEO of Somerville-based Green Door Labs, which creates games to play in a physical space — not on a console — and has worked with the Smithsonian, Boston's Children's Museum, and the Metropolitan Museum of Art. 
Stark, a writer and alum of Northeastern University's Playable Theater Projects, first teamed up with Pletcher for last fall's Save the Munbax, a Victorian era Fantastic Beasts wizarding type immersion set in a Gothic mansion in Milton. Rather than Fantasy, The Night Café has more of a personal human touch point.
"My journalism mentor always said all stories start with an element on the periodic table of human emotions," Stark said. "It makes it exciting and accessible. Everyone has sleep troubles. Maybe it's only for a day or two, but it's something we all share," she added.
Stark began to explore a storyline around insomnia after experiencing sleeplessness while she was pregnant. She was also inspired by "Heartbreak Hotel," Gabrielle B. Burton's experimental, existential novel.
"It's this metaphysical story," she said. "We enter the metaphysical world when we have insomnia. The book inhabits a similar space. It's kind of trippy."
The physical setting for The Night Café is Auspicious Phoenix Productions studios in Somerville, which will be transformed into a 1950s Beat café.
"It was Killian who added the setting — she thought it was the right fit. She is really good at grounding the action in a time and place," she said of her co-creator. 
"Two things that keep me up are going over my schedule and my own mortality," Stark continued. "The beat era seemed to be on point in dealing with the big life questions. A beat café is filled with people talking to each other and expressing art, and thinking through ideas."
The set will look like a café, with tables and chairs, and Elise Roth and Her Slumber Five, a specially styled live band, will play moody, cool jazz, as several costumed actors direct the action. 
The Experience Counter and the Dream Corridor offer a series of different activities that allows the exploration of insomnia. In gaming terms, the production is known as a sandbox. 
"A sandbox is where you can experience lots of cool toys and the audience chooses which one they want to play with. Nobody has to do anything they don't want to," added Stark.
People should not expect The Night Café to be a cure for insomnia, more an exploration of why a person may have it. 
"Ideally, it would be nice to help people over their sleep problems, but it's really designed to have people think about what it is keeping them awake." 
Stark Hopes people will join in the play and dress up appropriately: "We encourage people to wear their best beatnik outfits, or pajamas, or beatnik pajamas would be optimal."
The Night Café at Auspicious Phoenix Productions, 64 Joy St., Somerville, 6:30 p.m., July 19-20; $40-$85; visitthenightcafe.com.