Events
An immersive Dr. Seuss exhibit is coming to Boston
Oh, the places you'll go for a good Instagram.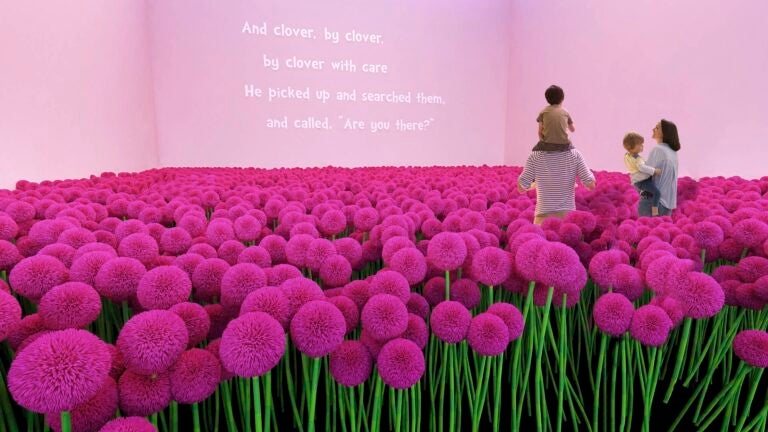 While the grin-inducing rooms of "Happy Place" left Boston in June, a new collection of brightly colored, interactive spaces will hit the city in the coming months. And this one may get to your sentimental side.
A 15,000-square-foot exhibit dedicated to the cherished work of late children's author and Springfield native Dr. Seuss (née Theodor Seuss Geisel) will premiere in Toronto on Oct. 26. According to the Associated Press, the nine-room display is set to then travel to other North American cities, including Boston, Houston, and Seattle.
The spectacle is centered around a maze created with thousands of suspended balloons based on "Oh, The Places You'll Go." Guests can also swing between fluffy "Truffula" trees in a room based on "The Lorax," wade through a pink clover field in a space dedicated to "Horton Hears a Who!", and experience the working carousel in the "If I Ran the Circus" room. "The Cat in the Hat" and "Did I Ever Tell You How Lucky You Are?" will also get the three-dimensional treatment. The works selected to come to life will vary by city and season. A "How the Grinch Stole Christmas!" room, for example, is planned for the holidays.
More than two years in the making, the exhibit is a partnership between Dr. Seuss Enterprises, founded by the author's widow Audrey Geisel,  and Kilburn Live, a branch of entertainment company Kilburn Media.
Kilburn founder and CEO Mark Manuel said told the AP that the project is about promoting literacy as well as the pro-social messages in Dr. Seuss's books.
Dates, location, and ticket information have not been released for the Boston leg of the tour, but you can sign up for updates on the exhibit's website.