Events
What to know about Boston's Illuminate the Harbor Fireworks Celebration
The fireworks display will take place around Boston Harbor on Thursday, Aug. 29 at 8:30 p.m.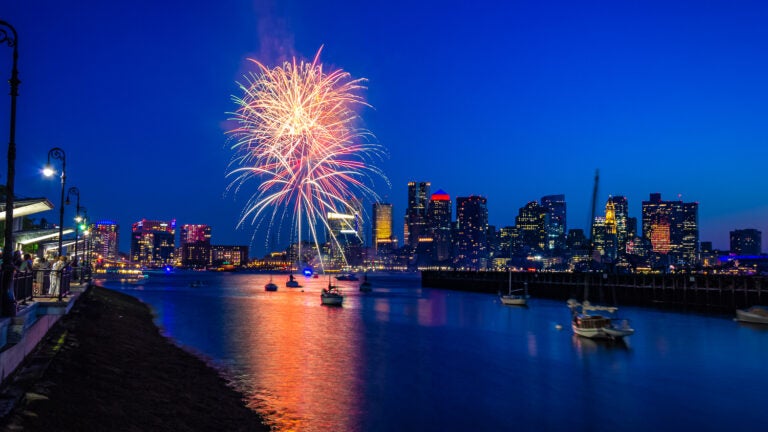 Labor Day weekend can be a quieter time in Boston, with some residents heading out on mini-vacations or simply firing up the grill at home with friends and family. That's why starting in 2012, Boston Harbor Now decided to give people a reason to head to the city with the Illuminate the Harbor Fireworks Celebration, which returns to the waterfront this Thursday.
For the seventh year in a row, the nonprofit focused on connecting people to Boston Harbor and its islands will put on a fireworks show expected to draw more than 100,000 people to the harbor.
Christian Merfeld, BHN's communications director, said that when the group was brainstorming ways to show how much Boston Harbor has changed and improved with the building of the Harborwalk, they came up with a fireworks display.
"We wanted people to feel welcome and enjoy the great public resource that Boston Harbor is," Merfeld said. "And we've found that one of the best ways to get people to gather is to put on a fireworks show."
Prior to dazzling pyrotechnics that start at around 8:30, BHN will host a pre-party at Christopher Columbus Park, featuring lawn games and a live musical performance from a band of Berklee School of Music students. BHN staff will also be handing out special fireworks glasses similar to 3D glasses that multiply the effects of the fireworks when worn.
Besides Christopher Columbus Park, the other official viewing locations for the fireworks are Piers Park in East Boston and Fan Pier in the Seaport District, though Merfeld said that there would be plenty of other waterfront spots that will offer excellent views.
"Anywhere along the Inner Harbor portion of the Harborwalk, you can have a great view of the show," Merfeld said.
(Thursday, Aug. 29 at 8:30 p.m.; Christopher Columbus Park, Piers Park, and Fan Pier, Boston; free; all ages)