Events
How to get lost and find love at Connors Farm this year
The annual corn maze and farm festivities offer fun for all ages beginning Saturday, Sept. 7.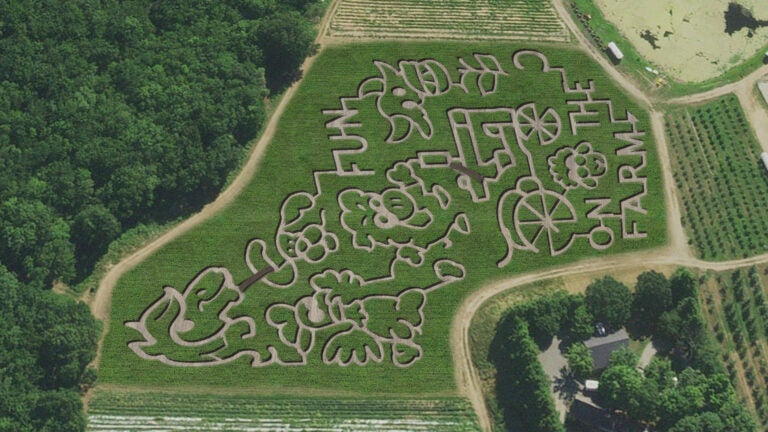 An aerial view of the intricate pattern of the Connors Farm corn maze can give the idea that it was supernaturally sheared. Given that fields of giant corn stalks form the base of many spooky scenarios in American culture, from "Signs" to "A Quiet Place," the corn maze is part of both harvest and Halloween season cultures.
Still, the Danvers farm, which was established in 1904 and has been in the Connors family ever since, doesn't set out to be scary.
"We take lots of time to think about what we want to create," said owner Bob Connors. "We want to do stuff that creates excitement in the community. But we want this to be family entertainment, so the theme is never anything too scary."
Aptly, this year's design theme is Fun on the Farm and will show a tractor and farm animals — that is, from an aerial view. "We usually take photographs using a local pilot or a drone," said Connors. "It always looks pretty impressive from up there."
Really, it's all about traditional harvest time fun on the farm with hayrides, games, apple picking, fresh roasted corn, and other food concessions. And don't forget the regular farm stand for fresh local produce to take home.
The family attractions during the day turn to a different atmosphere in the evening. Beginning at the end of September, the maze opens a non-haunted Flashlight Nights on weekends through October, and on Halloween, until 11 p.m., and includes a singles night on Saturday, Oct. 5. "That is very popular," said Connors. "It's a low profile way to meet people. It's not the bar scene: You just sit around the campfire and relax."
Still, some people become spooked in the maze.
"It's a totally different feeling going in the dark," Connors admitted. "The imagination kicks in. It becomes a different place at night. A few years back," he recalled, "there was a couple with a baby who got lost in the maze. They called 911 and were pretty freaked out. When they were located it turned out they were only 25 feet from the exit."
Local and national media jumped on the great corn maze scare. "Things went crazy," laughed Connors. "There were newspapers from all over trying to interview me. "Good Morning America" offered to fly me down to be on the show. We had so many hits that our website went down. People still ask about it."
Connors Farm Corn Maze: Sept. 7 – Nov. 3 daily from 8 a.m. to 6 p.m.; 30 Valley Rd., Danvers; $14.95 GA, free for kids under 2; connorsfarm.com