Events
What to know before the Thai Festival takes over Harvard Square on Sunday
Expect more food, colorful dance performances, and Muay Thai boxing.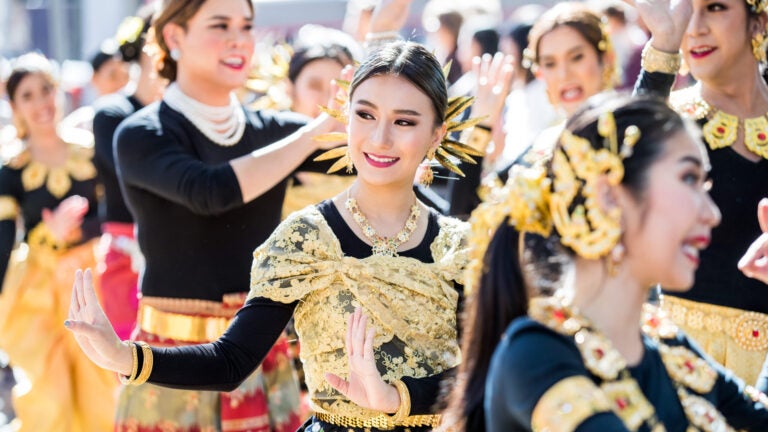 The Thai Festival: Tastes of Thailand returns to Harvard Square in Cambridge for its second year on Sunday.
Working in conjunction with the Harvard Square Business Association, the Thai Association of Boston, and the Evenity Group, organizer Tanomsoy Sappasri aims to bring a bit of Thailand to Greater Boston.
"There are so many festivals all the time, but I don't think there is a Thai one," said Sappasri, who lives in Waltham and works in finance. Certainly, she had never organized anything like a public festival before last year, but felt a need to connect the local Thai community with that of the wider metro Boston area.
"Thai people like to celebrate, but it is usually small gatherings, together. That's nice," Sappasri said, "but I want Thai people to go out and meet other people in the community."
This year's event takes over Winthrop Park in Harvard Square and is free, but food and other goods are pay-as-you-go. The event starts with a colorful opening parade and continues with a showcase of traditional Thai dance, like the athletic Hang-Nok-Yoong.
"We have more vendors, more performers, and more arts," said Sappasri. "We are working with local arts groups, ranging from very traditional to modern."
Artists will also represent different regions of Thailand, including dances from Ayutthaya, the ancient Siamese capital and a traditional northern flower blessing.
There is also a display of Muay Thai boxing and a performance of "Oh I Say," which will honor its composer, Thailand's late King Bhumibol Adulyadej. A monument dedicated to the king at the entrance to John F. Kennedy Park (at Eliot and Bennett streets) commemorates his birthplace in Cambridge and serves as a beloved memorial for the ex-pat community.
Winthrop Street, adjacent to the park, will transform into a veritable Thai street market with food from around 15 restaurants, including Nine Tastes Restaurant, Thai Chili Basil, Siam Village, and more.
Sappasri said she learned two things from last year's inaugural festival, something she had never done anywhere before. The first is that using live musicians for the dance performances meant for tricky, laborious changeovers. This year, there will be backing tracks of Thai music: "This will make it easier for performers to work together," she concluded.
The second is that you can't have too much food.
"Last year, the vendors began serving food at noon and ran out by two," said Sappasri with a giggle. "It was so popular, they had not expected it. So this year, they will bring much more food.
"There will be food you might know, and food you don't," she continued. "What we want to create is the feeling that you are in Thailand, like you are walking down a market street. With just one step, you are in Thailand."
Thai Festival 2019: Tastes of Thailand; Sunday, Sept. 15 from noon–6 p.m.; Winthrop Park in Harvard Square, Cambridge; free; all ages; harvardsquare.com/events/2nd-annual-thai-festival-tastes-thailand