Events
How Boston Fashion Week evolved beyond models and runways
"Everyone can play," says founder Jay Calderin.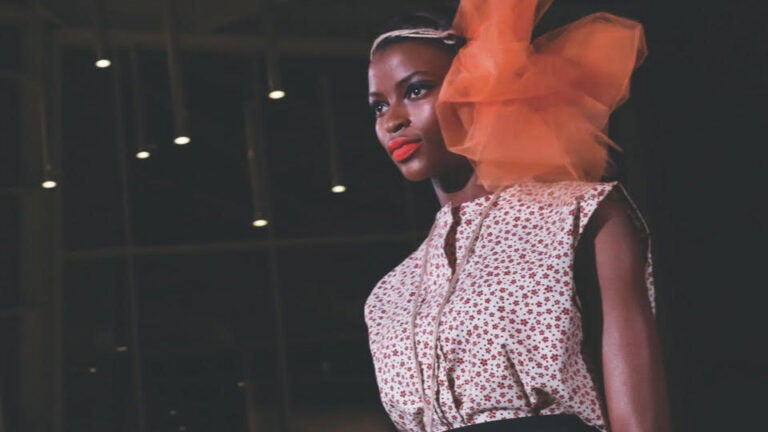 Boston Fashion Week opens at the Mandarin Oriental on Sunday, with a fashion show, digital photo installation, and an introduction to fashion in virtual reality. The 25th edition of this local style celebration continues with a week of varied events connecting Boston's design talent with the broader community.
"The one thing we've done continuously over the years is to ask people what they want to see," said Boston Fashion Week founder Jay Calderin. "Fashion Week is a reflection of this city and what people here want. This event isn't about one group; everyone can play."
Since it began, BFW has expanded from a weeklong event to one that runs throughout September with additional activities. It's almost a fashion month.
"It feels that way, but we keep it focused to what we call Fashion Week," said Calderin, who is also a senior instructor, and the director of community relations at Boston's School of Fashion Design. "We need that focal point and then we build around it."
Unlike traditional multi-million dollar industry-driven fashion weeks in other cities, BFW is not only about models and runways.
"If someone has the budget to do a great runway show then fine," said Calderin. "But I encourage people not to do a fashion show if they are not ready. There are installations and fun things, different ways to present."
GlamSlam at CitySpace, on Sept. 23, is one such gathering hosted by Boston's Best comic Bethany Van Delft, featuring Calderin and other fashion pros talking about their experiences in the fashion industry.
"It's more storytelling, where people share stories about what inspired them," said Calderin. "It's nice to have the chance to talk about why we do what we do and how it has value beyond trends."
On Sept. 26, Boston Public Library hosts an event for seniors to learn from Calderin about engaging with the local scene.
"The Boston Public Library has been a big part of our history," said Calderin. "It was the first to host a fashion show for us; they are a part of our community.
"We want to speak to different age groups and they do a series called Never Too Late," he continued. "I'm a teacher and I must stress that fashion school isn't just for people straight out of high school. There is such a range of students from high schoolers to retirees who want to try something new."
Calderin added that he's hosting Fashion Tales Jr. storytime with four- to 12-year-olds. "At its heart, Fashion Week is about teaching and building community. Do a little digging, check the schedule and find the event that's right for you," he advises.
Calderin noted that the big fashion weeks in New York, London, Paris, and Milan are now moving away from solely high-profile, invite-only runway shows to more theatrical, even community events.
"Our events allow people to interact. I've done it the other way, too," he said, referring to runway-oriented presentations. "It's much more fun to sit down and hear a good story."
Boston Fashion Week;  Sunday, Sept. 22 to Saturday, Sept. 28, various locations; bostonfashionweek.com.