Events
Tens of thousands of dumplings are coming to Central Square on Sunday
Get 'em before they're gone.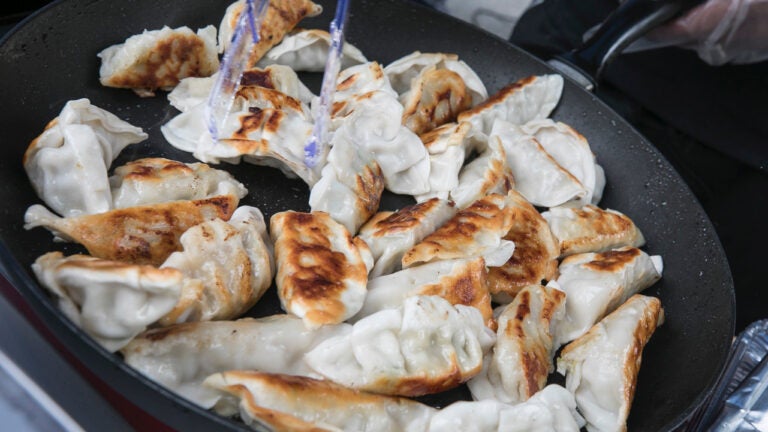 Dumplings. The very word sounds delicious.
Organized by New England Open Markets and the Central Square Business Improvement District, tens of thousands of dumplings in different varieties will be freshly cooked up and ready to eat at the Cambridge Dumpling Festival on Sunday.
"We do all these amazing events in the area," said Michael Monestime, the Central Square Business Improvement District's executive director. "We have the Food Truck Festival, the Vegan Food Festival, and the Barbecue Festival, but nothing generates the excitement that the Dumpling Festival does. Who doesn't like a dumpling?"
While the humble dumpling is a dish that emanates from many different countries, this food festival, which will be held at the corner of Bishop Allen Drive and Prospect Street, has a strong Asian theme and honors the godmother of Chinese American cooking, Joyce Chen.
In the mid-1900s, Chen moved to Cambridge from her native China to escape Communist takeover, and became a well-known chef, restaurateur, and cookbook author. Besides a string of eateries, Chen is credited with dubbing pot stickers as "Peking raviolis," inventing and patenting the flat bottom wok, aka the stir fry pan, and developing the first line of bottled Chinese stir fry sauces for American consumers.
"We proudly do this in honor of Joyce Chen," said Monestime. "Besides her restaurants, Joyce was a civic leader at a time when women were not given that platform. She was ahead of her time."
The event will begin with a traditional Chinese lion dance and will also include 50 stalls with local arts and crafts, comestibles, and vintage wares.
New to the festival this year is a beer garden from Notch Brewing, and a VIP hour, which allows ticket bearers one-hour early entry.
Not all dumplings from the 15 local restaurants and food trucks are Asian, either. There will be Polish and Portuguese dumplings from Wild Fox Pierogi, Central Square's Bao Nation and The Mad Monkfish (formerly Thelonious Monkfish); DakZen in Somerville; Boston's Yang's Dumplings; Kendall Square via Weston's Dumpling Daughter; and Broadway, Cambridge based Mu Lan, which puts a Taiwanese spin on the proceedings. Whether general admission or VIP ticketing, everything is pay as you go.
"It brings so many people in and the big reason is it's such a positive experience," said Monestime. "Last year, we had 30,000 dumplings made, but the dumpling vendors all sold out. They only last as long as they last."
Cambridge Dumpling Festival; Sunday, Sept. 22 from 12 p.m. to 5 p.m.; 95 Prospect St., Cambridge; $5 GA; $15 VIP; free for children under 12.