Events
Glow Boston is not your average back-to-school party
Fall Fest, "one part nightclub experience, one part rock concert, one part Cirque du Soleil show," is coming to the House of Blues.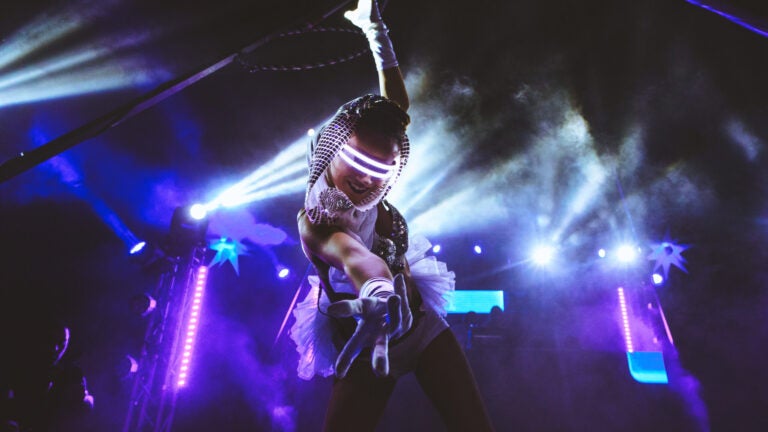 When Eric Spicuzza was a Northeastern University student in 2011, he struggled to find a nightlife experience that wasn't "frat parties or basement dive bars." So he and Angela Bray, then a Suffolk University student, created one themselves.
Eight years later, Glow Boston brings Boston area students to bass-booming dance floors in a variety of venues for Halloween, New Year's Eve, and more. But its original back-to-school model, Fall Fest, is still the company's most prominent.
"We have always done these smaller club events that are a little more straightforward with a DJ, just kind of more of a social event," Spicuzza, Glow Boston's co-founder and creative director, said. "But our Fall Fest event has always been the one that we put the most time and effort into, and it has the biggest production."
On Thursday, Sept. 26, Fall Fest will light up the House of Blues in what he describes as "one part nightclub experience, one part rock concert, one part Cirque du Soleil show."
"We have DJs, these amazing performers, special effects, state-of-the-art production. We have interactive elements like glow body painting, we have live artist murals, these costumed characters that walk around and interact with people. We try to just make it as experiential as possible, and as fun and as exciting as possible," Spicuzza said. "It's very different than your average night out at a bar."
While there's tons to soak in at the event, music is a central element. Glow Boston has recruited a lineup of local DJs — Flyy Home, Antrik Official, PRIZ, Gabe Krantz, and more to be announced — to spin tunes throughout the evening. But even if you're acquainted with Boston's DJ scene, you may be unfamiliar with the event's opener.
For the past few years, Glow Boston has hosted a contest that allows collegiate DJs to show off their chops. Hopefuls submit 30- to 45-minute mixes on Facebook, which are then voted on by users and ultimately selected by the Glow Boston team. The lucky winner wins the chance to get Fall Fest's party started.
"We always are looking for up-and-coming students, and we love involving people from colleges in the area," Spicuzza said. "For a lot of these students they've never really been on a big stage before — maybe not even a little stage — so it's a really cool thing for them to get out in front of so many people."
The evening also includes an array of other performances. Some, such as Northeastern University's hip-hop dance troupe Kinematix, hip-hop artist Joseph James, and a nine-foot robot, will occupy the stage. Others, such as a human disco ball and aerial performers, will move among and above the guests.
While a general admission ticket will grant you access to everything mentioned above, a VIP package throws in skipping the entry line, floor access, Glow Boston sunglasses, and an LED wristband that's programmed to light up in time with the show. You can watch a promotional video for the event below.
(Glow Boston Fall Fest; Thursday, Sept. 26 from 7 p.m. to midnight; House of Blues, Boston; $15 – $39.50; 18+)
https://www.youtube.com/watch?v=GiE1tqaAJTg&feature=youtu.be