Events
What you need to know about this year's Boston Book Festival
Hundreds of readings will take place in Copley and Dudley Squares.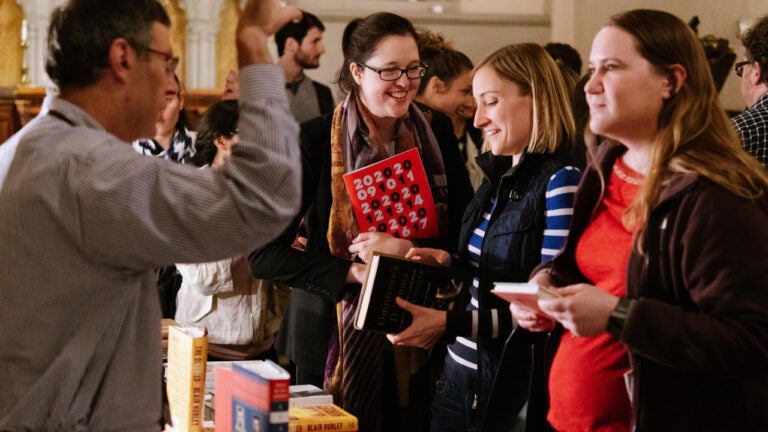 Over two days, and three nights, the Boston Book Festival brings around 300 readings and events to Back Bay and Roxbury in October. It's a dizzying schedule for longtime Boston Book Festival organizer Norah Piehl who is handling her first year as executive director.
"It's easy to lose sight of it all," Piehl admits. "It's a staggering amount of events and not just the amount of authors and hosts, but also the breadth of topics. There really is something for everyone during the weekend."
Now in its eleventh year, the festival launches on Friday, Oct. 18, with a discussion by Harvard Kennedy School and Harvard Law School professor Samantha Power, a former a war correspondent and US ambassador to the United Nations, on her memoir, "The Education of an Idealist."
The festival continues on Saturday, Oct. 19, with events in Copley Square, including a street fair with live music, food trucks, and over 75 exhibitors. Sunday, Oct. 20, the action moves to Dudley Square in Roxbury. The bi-neighborhood approach widens the festival's community reach and, adding to the accessibility, all events within the festival are free to attend.
There are children's book authors, young adult novelists, fiction of all stripes, and non-fiction in topics ranging from politics to conversations about our inner lives.
"I am excited for the conversation between 'Sex in the City' writer Candace Bushnell and Ada Calhoun," said Piehl. "Her new book is about the midlife crisis faced by Gen X women," she added of Calhoun's upcoming "Why We Can't Sleep: Women's New Midlife Crisis."
"There's also an event that looks at mystery stories set in Boston called The Butler Did It," Piehl continued, "and Black History Detectives, which looks at the challenges facing historical research on African Americans and related events, because so much is obscured or buried."
Or it was never documented.
The Boston Book Festival is about giving a voice to one and all, but the One City One Story short story competition is all about The Hub.
"We do prioritize this as stories with a Boston setting with local authors. The setting and topic should resonate with our community," Piehl said.
This year's winner is Ciera Burch's "Yvonne," which ticked boxes, both literary and topically, and for its pan-generational reach.
"What we look for are beautifully written stories with literary merit, of course," said Piehl. "But we need something that connects with a broad readership. It's really the culmination of the festival."
Burch's story is available for free in English and Spanish at all Boston Public Library branches, as well as at other area libraries and partner booksellers. Additional translations and an audio version are available online.
However, attendees to any event should not feel it necessary to have read a book beforehand.
"Even when it's a relatively well-known author, most people in the audience won't have read the book," said Piehl. "It's a way for an author to introduce their work to an audience and sometimes we will hear a behind the scenes story that interests us. It's nice to approach a book with some insider information on what was going on in the author's life or thought process."
Boston Book Festival; Friday, Oct. 18 and Saturday, Oct. 19 in Copley Square and Sunday, Oct. 20 in Dudley Square, Boston; free; all ages; www.bostonbookfest.org.