Events
Your ultimate guide to HubWeek 2019
Everything you need to know about the annual festival returning to Boston on Tuesday, Oct. 1.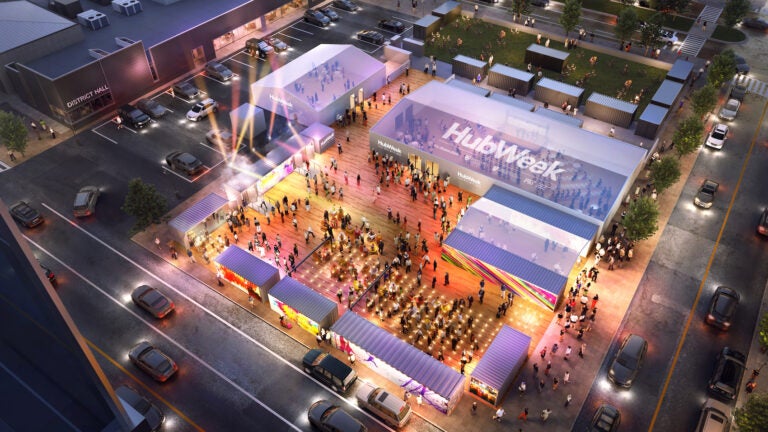 "The Cannabis Conundrum." "The Future of Food." "WTF is Ranked Choice Voting?"
These are some of the topics (and questions) that will be discussed at HubWeek 2019, which arrives in the Seaport at the beginning of October. Now in its fifth year, the "festival for the future" founded by The Boston Globe, Harvard, Massachusetts General Hospital, and MIT will bring activations, installations, and conversations centered around art, science, and technology to Boston. You'll be able to learn about the next generation of space exploration, dance the night away at a silent disco, and try everything else in between.
Here's everything you need to know about HubWeek 2019.
When does 
HubWeek

 start?

The festival kicks off on the morning of Tuesday, Oct. 1, and runs through Thursday, Oct. 3. The first day of events is kicked off by a conversation with Congresswoman Katherine Clark and YearUp CEO Gerald Chertavian, as they discuss the theme of this year's festival, "the pursuit," with Boston Globe Media Partners managing director Linda Henry, and continues throughout the day with more thought-provoking topics and speakers.
Where is HubWeek happening?
For the first time since its inception, the hub of HubWeek will not be at City Hall Plaza. Instead, the festival will take over two blocks of the Seaport located between Northern Avenue and Seaport Boulevard. The main "Pursuit Stage" located near the Cisco Brewery beer garden will host many of the high-profile events, while others will be held at The Grand, District Hall, and the Showplace ICON theater. The Seaport hub will have a similar vibe to the City Hall Plaza hub did in previous years, with public art, shipping containers, a "clubhouse," and a silent disco closing each evening. The easiest way to keep track of all the times, dates, and locations of events is to visit the festival website, where registered attendees will be able to build their own festival agenda.
Who are the biggest names at HubWeek 2019?
Kristine Tompkins, former CEO of Patagonia and current president of Tompkins Conservation, has pushed herself to do everything in her power to preserve the planet, also serving as UN Environment Patron of Protected Areas, and chair of the National Geographic Society's Last Wild Places initiative. She'll discuss "protecting the places we love, leading a profitable company with a positive impact, and what's giving her hope for the future."
Additionally, author and Harvard professor Michael Pollan, best known for rethinking food in books like "The Omnivore's Dilemma" and "In Defense of Food," will be talking about his new topic of interest, mental health. He'll be having an "at times controversial" conversation about addiction, psychotropics, and other mental health topics with incoming Boston Globe editorial page editor Bina Venkataraman.
You can browse the line-up of featured speakers here.
What are some can't-miss talks?
Aside from the talks from Rep. Clark, Pollan, and Tomkins, plenty of thought-provoking discussions are happening at the festival. Among the highlights:
— Bodies in Space: The Next Generation of Exploration: Scientists from Harvard, MGH, and MIT discuss how a new generation of Bostonians are continuing to break ground in space, from the first photograph of a black hole to the future of space tourism.
— Breaking Barriers for Women at Work: Podcast co-host and Harvard Business Review editor Amy Bernstein will be in conversation with Endeavor CMO Bozoma Saint John about her experiences rising through the ranks as a woman, as well as advice she wishes she had known along the way.
— A More Inclusive Future: Transgender Health, Culture, and Policy: Boston experts in transgender health, culture, and policy offer their insights on how we can create a more healthy, inclusive and welcoming community for transgender and non-binary individuals.
How much do tickets cost, and where can I get them?
Tickets are available on the HubWeek website at varying price levels depending on the events you want to attend. Three-day passes start as low as $10 for the Explorer pass, which gives ticket holders a sampling of events to choose from. The $75 Adventurer pass gets you into all of the programming, and is available for only $25 for full-time students, artists, entrepreneurs, and employees of community-based organizations, schools, small start-ups and non-profits. Finally, the $250 Seeker pass gets you into exclusive speaker sessions and provides exclusive perks. More information about each ticket type is available on the HubWeek website.