Events
6 things to know ahead of Harpoon's Octoberfest
Expect a non-alcoholic brew for your dog, spiked seltzers, and 15,000 people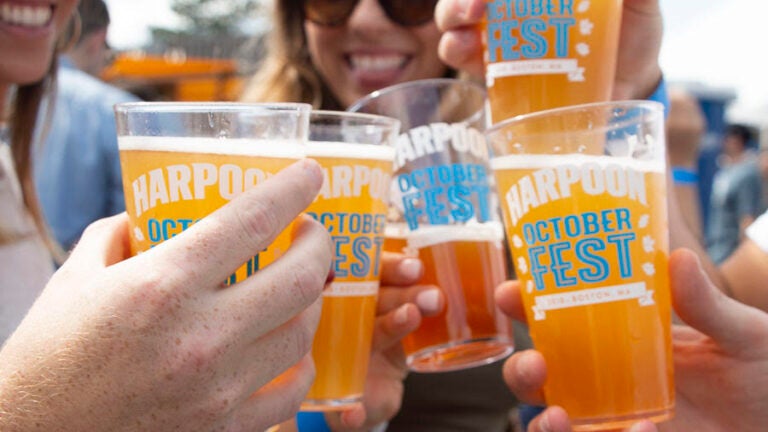 Harpoon Brewery's Octoberfest is an annual ritual Bostonians look forward to each fall — for the past 30 years, actually.
Hosted at the Harpoon Brewery in the Seaport District on Friday and Saturday, along with its own brews, the festival will include parent company, Mass Bay Brewing's UFO and Clown Shoes, as well as its craft cider and spiked seltzers.
There is even a special Harpoon Bow Wow Brew for your dog to taste at the second annual Dogtoberfest on Sunday. It's a special event for dogs and their beer drinkers, with a fun run or walk, games, and treats for all.
Mass Bay Brewing's president Charlie Storey expects more than 15,000 people will attend this weekend. We asked Storey for the lowdown on this year's event.
Most importantly, what beers will be served?
We will have eight fresh beers on tap — new this year, we're featuring our Rec. League. We only had samples last year — it's a hazy pale ale that's low in carbs, low in calories, and low in alcohol, but big on flavor.
We will have our Octoberfest, of course, and our IPA, which is our most popular beer. Octoberfest is traditionally a Marzen-style beer, which is fairly malty and a rich garnet color. It's the ideal fall beer with that baked bread flavor, and only lightly hopped.
We'll have the Dunkin' Coffee Porter, a nice rich coffee beer, and Flannel Friday, which is a seasonal. There's UFO White, a whit-style beer, and UFO Big Squeeze, which is a shandy-style beer flavored with grapefruit.
What will be new this year?
Our new Arctic Summer spiked seltzers will be available. Craft beer drinkers have so many options and that's part of the fun. The spiked seltzers, and our City Roots cider, are options for people who want to enjoy Octoberfest and who don't drink beer.
Besides beer what makes a great Oktoberfest?
Well, great beer yes, we can check that box. But you can't have Oktoberfest without oompah music — it's essential. We will have other bands playing, but we have to have the oompah bands. This year, it's the Oberlaendler Hofbrau Band and the Mad Bavarian Brass Band.
For the second year, you've added Dogtoberfest. What's that all about?
This is Oktoberfest with dogs. There will be a fun run and walk around the harbor, and contests. There will be a non-alcoholic drink called Bow Wow Brew. We have a special variance from the city that allows us to have dogs, so this is one day to make the most of it. It's all the fun of Oktoberfest, but with dogs.
Any advice for newcomers?
The weather is supposed to be wonderful; get there early. It's not necessary to buy tickets in advance, but if you don't like standing in line, then the early access ticket gets you in an hour early when it's less crowded. It gives you more elbowroom, so to speak.
What makes Harpoon's Octoberfest so popular?
There's just something about getting together at a brewery and drinking the beer fresh at the source. There's an authenticity to it.
Harpoon Octoberfest; Friday, Oct. 4 from 5:30 p.m. to 11 p.m. and Saturday, Oct. 5 from 1 p.m. to 7 p.m.; Harpoon Brewery, 306 Northern Ave., Boston; $25-$42; 21+
Dogtoberfest; Sunday, Oct. 6 from 10:30 a.m. to 4 p.m.; Harpoon Brewery, 306 Northern Ave., Boston; $15-$30; 21+ to drink