Events
What we learned at HubWeek 2019
Our a-ha moments from the annual festival celebrating art, science, and technology.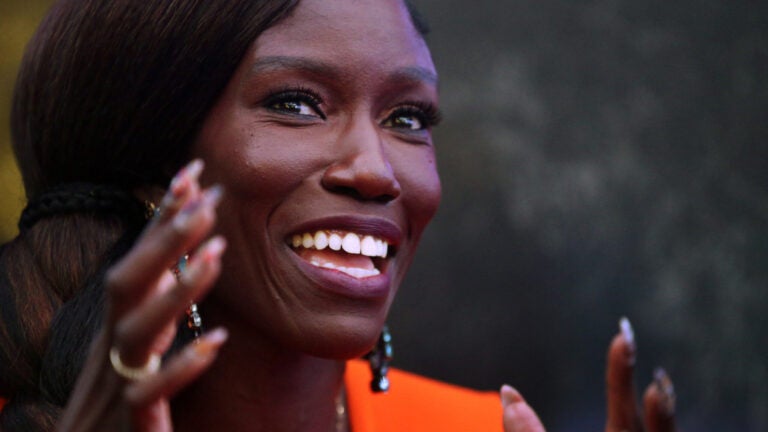 HubWeek, the annual festival celebrating art, science, and technology, brought global thinkers, renowned writers — even an astronaut — to its new home in the Seaport this week.
Here, in no particular order, are the most interesting things the Boston.com staff learned during HubWeek 2019, which wrapped up Thursday.
Space tourism might be closer than you think.
MIT scientists are working on technology that could serve as the foundation for tourist hotels — in outer space. Ariel Ekblaw, the founder and director of the MIT Media Lab space exploration initiative, said while people such as Elon Musk and Jeff Bezos are busy funding initiatives to get everyday people to space, her team is focused on what happens once they arrive. (She calls it "the human experience in space.") Her team is working on creating space-ready structures that would assemble themselves if all of their pieces were thrown into microgravity. Ekblaw said to think of the technology as "sophisticated Legos" with sensors and powerful magnets attached. This new style of architecture would allow humans to create settlements much larger than what could be built on Earth, then taken to space, she explained, but the early versions are still pretty small. "Right now, the joke is the early prototypes for these are space habitats for hamsters," Ekblaw said. — Caroline Anders
Just one psychedelic trip can help cancer patients with depression and anxiety.
Author Michael Pollan, best known for his books "The Omnivore's Dilemma" and "Food Rules," turned his attention to the misunderstood science of psychedelics for his latest release, "How to Change Your Mind." During his talk Tuesday, Pollan discussed the history and the future of psychedelics like psilocybin and LSD, telling the audience that a recent study found patients with terminal cancer who took a single psilocybin "trip" experienced significant declines in depression and anxiety, even six months later. "It's not a pharmaceutical effect," Pollan said. "The experience, more than the drug, is changing your mind. You're acquiring a new perspective. Your sense of self has changed." Pollan said that psychedelics have been found to be nontoxic — meaning there is no dose large enough to be lethal on its own — and non-addictive. — Kevin Slane
Rep. Katherine Clark had an unlikely first partner in Congress: Mitch McConnell.
As vice chairperson of the House Democratic Caucus, Rep. Katherine Clark has become one of the main voices of her party's message. But her first achievement in Congress came with a hand from the other side of the aisle: Sen. Mitch McConnell. "We were an unlikely couple," Clark said Tuesday in an interview with HubWeek founder Linda Henry. (Full disclosure: Henry is also the managing director of Boston Globe Media Partners.) Shortly after she was elected to Congress, the Melrose Democrat's first bill sought to standardize best practices when it came to the growing issue of treating babies exposed to opioids. McConnell, the Republican majority leader and a formidable obstruction to the Democratic agenda, was the Senate cosponsor of the bill. And with his help, it passed the House and Senate and was signed into law by President Barack Obama in 2015. "The opioid crisis doesn't care," Clark said. "Red state, blue state, it is an equal opportunity killer." — Nik DeCosta-Klipa
It's not about a T-shirt slogan; it's about being part of the change.
Esther Wallace founded Boston-based Playa Society Sportswear to celebrate and empower female athletes. Her brand's most popular design declares "FEMALE ATHLETE: Judged by achievements not by gender," and it's powerful — it resonates with personal experience and demands equality at the same time. But her talk went beyond the story of her iconic T-shirt and encouraging women to participate in sports. Wallace, a former Division I basketball player, said she wants to change the narrative surrounding gender bias in sports. "Girls cannot become what they cannot see," she said, and that message stressed how important representation is for women in any professional setting, whether it be on the court, in the field, or in a business meeting. — Deyscha Smith
An Endeavor executive wants society to rethink how it sees the Miss Universe pageant.
Corporate America is difficult for women, and it's even more difficult for women of color, according to Bozoma Saint John, chief marketing officer for Endeavor, in a conversation with Harvard Business Review editor Amy Bernstein. She also spoke of recent conversations about the Miss Universe pageant, which the company owns. "I'm really bothered about the fact that we think about these women as bimbos in bikinis," she said. "If we think of them that way, and we're judging them, what does that say about the rest of us? How are we looked at when we walk out in public?" Saint John added that most of the contestants are scholars working on graduate degrees, and that there are a handful of women on Capitol Hill who were part of Miss Universe. "Why can't we have a woman here that comes through that organization? Of course we can," she said. — Arianna MacNeill
Cannabis businesses have an opportunity to do more than sell pot.
How should small cannabis businesses give back to their communities? Local entrepreneurs have a crucial role to play in shaping their industry, particularly when it comes to consumer education, experts said during a panel focused on the issue. The power these businesses yield in teaching the public about marijuana — from different strains and quantities to personal benefits — and in removing stigma around the drug, should not be underestimated, they said. "You can build health. You can build wealth and ownership in your community simply by existing in it," said Kim Napoli, an attorney who serves on Massachusetts' Cannabis Advisory Board, among several other roles. Businesses could invest, either through donations or other support, in local education, public housing, and health and wellness — areas damaged in communities disproportionately impacted by the War on Drugs, Napoli said. — Christopher Gavin
'Sober Curious' built a community by ditching restrictive labels.
Ruby Warrington is not an alcoholic, but nearly 10 years ago, she didn't like how she drank to de-stress. "Anyone should be able to question their drinking," she said. It's surprisingly hard to do when alcohol is among the most addictive substances in the world and a default activity in our social lives. Last year, Warrington authored "Sober Curious" and has helped fuel the movement to openly examine our own relationship with alcohol. What makes it so popular? There are no rules, but a shared desire to take preventative actions and escape societal expectations without a strict label. "Conventional addiction programs don't invite others on the drinking spectrum," she said. — Emily Turner
A nonprofit is churning out new talent — and foodstuffs — around the city.
The alumni of 
Commonwealth Kitchen
 — a non-profit organization providing shared kitchen space and business assistance for food entrepreneurs, particularly those who have been impacted by economic, social, and racial inequality — often go on to become major players within Boston's food community: 
Roxy's Grilled Cheese
. 
Tanám
. 
Clover Food Lab
. But the organization has also grown into a small, centralized manufacturing facility, one that is dipping its toe into the global issue of food waste by purchasing surplus produce from New England farms and turning the haul into applesauce for Boston's Children's Hospital, butternut purée for Boston Public Schools, and kale pesto for Brigham and Women's Hospital. Jen Faigel, CK's executive director, said that expanding the organization's mission has resulted in unexpected opportunities. "What if we made cookies on Mondays, hummus on Tuesdays, etc.?" she asked. "Could we take lots of little jobs, put them together, and turn them into full-time jobs?" From roughly 35 separate production contracts, CK has been able to produce full-time jobs for employees who now make everything from tomato sauce to pickles to the nori taco shells sold at
Time Out Market's Gogo Ya
.
— Erin Kuschner