Events
For one night only, 'RuPaul's Drag Race' alum will bless Boston with their presence
'Werq the World' arrives in Boston next week.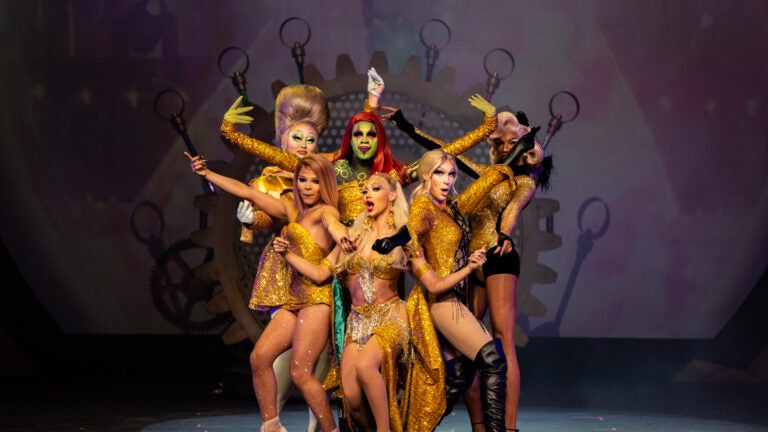 The category is…your Tuesday night plans. 
While these fall weekends may be filled with leaf peeping escapades and apple picking adventures, let us suggest the remedy if your weekdays are lacking a little spice: An evening with a cast of sequined, hairsprayed, and expertly contoured drag queens. 
"RuPaul's Werq the World Tour" lands at the Wang Theatre on Oct. 29, bringing 11 queens from across five seasons of "RuPaul's Drag Race" to the stage. The fan-favorite performers, all of whom were named the most powerful drag queens in the country by New York Magazine this June, include Aquaria, Asia O'Hara, Detox, Kameron Michaels, Kim Chi, Monét X Change, Naomi Smalls, Plastique Tiara, Vanessa Vanjie Mateo, Violet Chachki, and Yvie Oddly.
Put on by "RuPaul's Drag Race" and New York-based creative agency Voss Events, "Werq the World" brings the audience along on an interstellar expedition through time and space led by mission leader and "Drag Race" judge Michelle Visage. 
"To have a theme that we're all following and having a storyline helps it be an even better-produced show, and tell a story, and really captivate an audience," Smalls told Boston.com on the phone between tour stops in Detroit and Mashantucket, Conn. "I'm always a sucker for a theme. It helps keep my Virgo brain organized." 
The 11-month world tour kicked off on April 1 of this year in Madrid, and will have its final curtain call on March 2, 2020 in Tokyo.
"This is my fourth year touring after being on 'RuPaul's Drag Race' season eight, and I have to say, the 'Werq the World' show is the most professional, high production show I've been a part of," Smalls said. "It's a star-powered cast and everyone does something so different and unique from each other."
She likens the experience of touring to being at summer camp — forging close bonds with peers, parting for a month or so during breaks, and then reuniting to do it all over again. 
"It'll be weird going back to regular life without them constantly being there," she said. 
In addition to group numbers, fans will get to see their favorite queens get individual time in the spotlight.
"I think something a lot of people don't think about is just exactly what goes into drag. Drag queens are makeup artists, hairstylists, wardrobe consultants, all that jazz. Being able to put all that into a stage performance, that takes a lot of time and effort," Smalls said. "I know with the group we have right now, everyone has a really good idea what they want to present to the world and get up on stage. We're all very, very, very, involved in our numbers."
And when she's not on stage Tuesday, Smalls has specific plans for the show's Beantown stop.
"Oh, I'm super excited to be in Boston," she enthused. "I am going to The Daily Catch to get my squid ink scallop pasta." 
RuPaul's Drag Race 2019 Werq the World Tour; Tuesday, Oct. 29 at 8 p.m.; Wang Theatre, Boston; $56 – $66; all ages