Events
An immersive board game bar is coming to Boston
You can roll the dice at Tavern of Tales starting next month.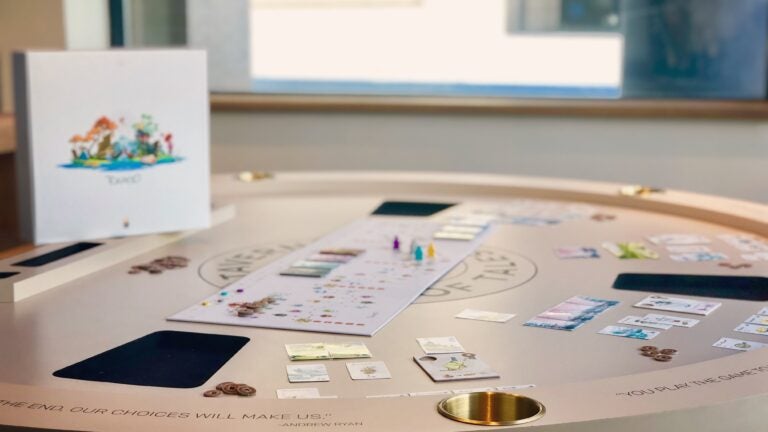 Imagine playing a game of Risk while the distant sounds of cannons and gunfire echo around you. Picture a spirited round of Candy Land where landing on the molasses swamp square results in an avalanche of the sweet, sticky stuff getting dumped on your head. (OK, forget that second example.)
That's the kind of atmosphere you can expect at Tavern of Tales, an immersive board game bar set to open in Boston's Mission Hill neighborhood next month that uses customized sound effects, original music, humorous narration, and expert "dungeon masters" to deepen your game-playing experience.
The story of Tavern of Tales began in 2017 with founder Nicholas Chen's thesis project at Boston University. Chen, who studied sound design and engineering at BU, wanted to think of a way to make board games more fun. His idea was that he could build a more rich and engaging board game experience by designing custom sound effects and narration to accompany gameplay.
Chen and his team have put months into creating soundscapes for six different games, hiring local voiceover actors to play characters, paying local musicians to compose and perform thematically appropriate songs, and training "dungeon masters" who join players in the room to trigger sound effects, clarify rules, and perform in-character.
"It's sort of like when you go to Disneyland, where all the costumed staff are never allowed to break character," Chen said. "We're definitely not that strict, but I tell them, 'Hey, if you're going to tell them about this rule, try to do it like you're one of the characters in the game.'"
Stop by Tavern of Tales to play Forbidden Island — a cooperative game where players try to locate four hidden treasures before floods wash them away — and you'll be serenaded by sounds of heavy rain and rushing water. Play a round of Mysterium — a mystery game where you play psychic investigators trying to solve a ghostly murder — and you'll experience narration and sound effects not out of place at a haunted house.
"Mysterium is supposed to be a horror game. It's supposed to be spooky," Chen said. "But without setting the right mood, you're just playing the game. There's no feeling of tension."
Chen doesn't have some of the simple games you played as a child like Monopoly — which can take hours to play — but said that all six of the enhanced games are structured so that even rookie board game players will have fun at Tavern of Tales.
"Our game masters will handle setting up the board game for you and making sure you understand the rules enough so you can just sit down and play," Chen said. "Newcomers shouldn't feel afraid to try out a new game that they've heard was complex. We'll make sure that you can have fun."
That said, Tavern of Tales will continue to expand their board game offerings as well as cater to more experienced board-gamers by offering achievements similar to those that you find in most video games, called Quests. Win a game of Forbidden Island on legendary mode three times, for example, and you'll win a prize, or earn a discount you can check off in your Quest Log.
Tavern of Tales will kick things off with a grand opening weekend on Friday, Dec. 6, and will welcome both reservations and walk-ins.
Along with six private, soundproof board game rooms that each hold five players, Tavern of Tales will have a bar and cafe area with other board games to play. If you're waiting for a room, or simply want to hang out and play some games, you'll be able to order beer, wine, and a range of appetizers and desserts while you get your game on.
Pricing for the rooms varies by game and by how long you play. Rentals for the first hour range from $10-14 per person, then drops to $7.50-10.50 for the second hour and $5-7 for the third. If you book your rental online or sign up with a full group of five people, you will receive a discount.
Chen knows that board game aficionados have plenty of options to choose from, including Knight Moves in Somerville and Brookline or Adventure Pub in Arlington. But he's confident Tavern of Tales offers an experience its would-be competitors cannot.
"Going back to my thesis, the problem I saw was that people would just play a board game, but couldn't appreciate the story behind it," Chen said. "With our added sound effects, a game gives off a different vibe in the room, and hopefully makes the experience very different from what you've had in the past."
(Tavern of Tales; 1478 Tremont St., Boston; Open Sundays, Tuesdays, Wednesdays, and Thursdays from 10 a.m. to 10 p.m., Fridays and Saturdays from 10 a.m. to 1 a.m., and closed on Mondays; tavernoftales.com)