Events
A guide to celebrating Hanukkah 2020 in Boston
Observe the Festival of Lights with these Hanukkah events, takeout options, and more.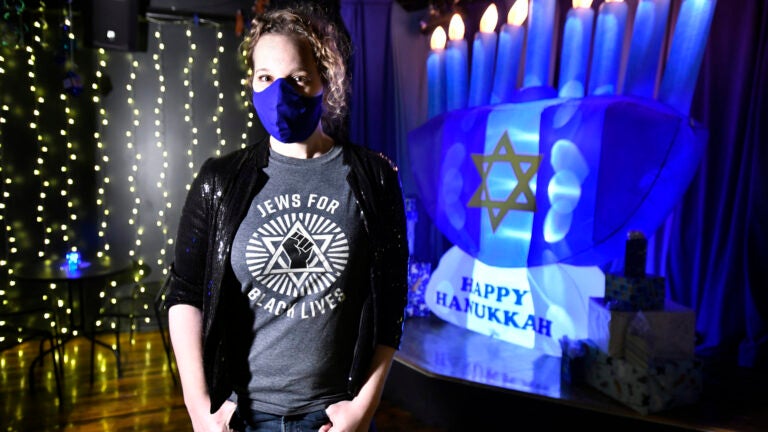 Hanukkah kicks off on December 10, and like so many other holidays this year, the eight-day celebration is bound to look vastly different than in years past.
Naomi Levy, founder of Hanukkah pop-up concept Maccabee Bar, has tried to keep some traditions intact in 2020, despite all the distractions. This is Levy's third year of hosting Maccabee Bar, which offers Hanukkah-themed cocktails and traditional bites at Bow Market's Variety Bar, and in some ways, she sees it as a welcome constant during a year of continuous change. 
"People need a little way to celebrate," she said. "I think we're all looking for a little bit of a change of pace for those that are stuck at home a lot, looking for just a little light at the end of the year that hasn't felt that way for many."
While Passover is generally a bigger event in Levy's family — Hanukkah is usually relegated to a check-in phone call — she said that this year, "Hanukkah is taking on more of a role than it has for us as a family in the past." 
"We're seeking out more ways to connect this year," she said. "My family is all over the country so we've been connecting via Zoom. But I think we're trying to be a little more thoughtful and do a little more gift giving and things this year, just as way to remind each other that we're thinking of each other." 
Despite the need for social distancing, there are still menorahs to be lit, latkes to be consumed, and reflections to be had over the next eight days. If you're planning to celebrate Hanukkah in Boston — safely and within your own bubble, of course — here are a handful of Hanukkah events, local dishes, and safety measures to consider.
How to safely celebrate amid COVID-19
The safest way to celebrate Hanukkah at the moment is either virtually or with immediate members of your household. During his Tuesday press conference, Gov. Charlie Baker reiterated that with swelling case numbers and a surge in hospitalizations following Thanksgiving, the best way to stop the spread of COVID-19 is to refrain from attending informal gatherings with others.
"New infections and hospitalizations are showing disturbing trends," Baker said on Tuesday. "Once again, our healthcare workers and our healthcare system are being put at risk as the case count continues to rise. The days of most people doing most of the right things are probably not enough, and we're asking everyone to join us to step up their vigilance every day in every setting — work, home, school, everywhere."
The state's most recent guidelines place a limit on private indoor gatherings to no more than 10 people, and private outdoor gatherings to no more than 25 people. Last month's stay-at-home advisory also states that residents should not leave their own homes from 10 p.m. to 5 a.m. except for essential needs.
Luckily, there are plenty of virtual Hanukkah celebrations that will allow you to celebrate the holiday safely this year.
Things to do
Hanukkah at the Museum of Fine Arts Boston
In partnership with the Jewish Arts Collaborative, The Museum of Fine Arts will once again host its annual celebration one night before the official start of Hanukkah. The ceremony begins with a community candle lighting, followed by Music from singer-songwriter Tamar Radah and multi-instrumentalist Hankus Netsky, as well as a new dance piece commissioned specially for the occasion entitled "Shadows and Flame." The show will be broadcast free on the MFA's website, YouTube, and Facebook pages. (Wednesday, Dec. 9 at 6 p.m.)
"Pahk Yah Cah for Chanu-Cah" at Temple Israel
Boston's Temple Israel will host several virtual events during Hanukkah, including a Thursday night dreidel tournament. Temple Israel will also host a drive-in Hanukkah experience near its Longwood Ave. home on Sunday afternoon at 12:30, and 2:30 p.m., as staff and clergy lead visitors in songs and other merriment. Pre-registration is required. (Sunday, Dec. 13 at 12:30 p.m. and 2:30 p.m.)
"Many Candles, One World"
The Central Synagogue and the World Union for Progressive Judaism will host a celebrity-filled online celebration of Hanukkah music and traditions from around the world on Sunday night at 8 p.m. With guests including actress Mayim Bialik ("The Big Bang Theory") and singer Lisa Loeb, the event will raise funds for WUPJ's Education Fund for the Future. "Many Candles, One World: A Virtual Chanukah Celebration" is a celebrity-filled evening of music and traditions from around the world. You can register or find more info on the event on the WUPJ website. (Sunday, Dec. 13 at 8 p.m.)
Mamaleh's x Lamplighter Brewing virtual Hanukkah beer dinner
Pick up a four-course Hanukkah meal for two at Lamplighter Brewing on Thursday, when the Cambridge brewery partners with Mamaleh's for an at-home beer dinner. The $64 dinner includes latkes, honeynut squash soup, veal schnitzel, and olive oil cake, plus a mixed pack of four 16-ounce cans. Pick up is at Lamplighter on Thursday between noon and 8 p.m. — just remember to tune in for a virtual call with the Mamaleh's and Lamplighter teams at 7:30 p.m., where they'll walk you through the meal, pairings, and answer any questions you might have. (Dec. 10 at 7:30 p.m.)
Maccabee Bar
Levy's Hanukkah-themed bar is a delightful counterpart to the Christmas bars that have popped up over the years. Held at Variety Bar in Somerville's Bow Market, the bar serves drinks like the Jewish Deli, a play on an old-fashioned that features rye, aquavit, pastrami spice, and sea smoke bitters. Nosh on latkes and a smoked pastrami pita pocket between sips, and be sure to make a reservation here. Not comfortable with going out? Maccabee Bar offers an at-home kit ($50), which includes two cocktails, hummus and pita from Humaari, mini sufganiyots from Lionheart, and an assortment of games and activities. (Through Jan. 3; Wednesdays—Fridays from 4:30 p.m. to 9:30 p.m., Saturdays from 2:30 p.m. to 9 p.m., Sundays from 2 p.m. to 8:30 p.m.)
What to eat (and where to order from) for a Hanukkah feast

Comfort foods dominate the dining room table at Hanukkah, from rich, crispy latkes and sufganiyot (jelly-filled doughnuts) to pull-apart brisket and sweet noodle kugel. These local restaurants and bakeries are offering everything you need for a lavish Hanukkah meal.
Allium Market
Brookline's artisan food shop and market is one of the many local businesses that has you covered for sufganiyot, selling the brioche doughnuts stuffed with raspberry red currant jelly by the half dozen. Topped with powdered sugar, the baked treats are available for pre-order, with pickup at Allium Market any time after noon. 
Area Four
Available throughout Hanukkah, Area Four's sufganiyots can be ordered online from Dec. 10 to Dec. 18 (excluding Dec. 13) from its Cambridge location. Pick up individual raspberry jelly-filled doughnuts or order by the dozen. Allow a minimum of 24 hours per order.
Cafe Landwer
Order sufganiyots from Cafe Landwer's Chestnut Hill location, where the restaurant is offering boxes of one, six, and twelve raspberry jelly-filled doughnuts. Looking for more sweets? The cafe also has Star of David gingerbread cookies, available by the half dozen and dozen. Orders should be placed at least three days in advance, and the final date to order is Dec. 15.
Juniper
The Wellesley restaurant has put together a stellar Hanukkah package featuring port-braised brisket along with schmaltz crisped latkes with apricot and apple chutney and garlic- and herb-whipped yogurt, all for $25 per person. Orders will be taken via phone at 781-446-6950; dine in is also available.
Lionheart Confections
Pastry chef Kate Holowchick launched Lionheart Confections a couple months ago, but she's already had success with her doughnut pop-ups around Boston. Now she's offering boxes of Hanukkah sufganiyot, with pickup at Ashmont Grill on Dec. 13. at noon (the Dec. 10 pickup is already sold out, so act fast!). Choose from three different boxes, each filled with eight sufganiyot: The Classic Box with four raspberry jelly-filled and four vanilla pastry cream; The Lionheart Box with four caramel popcorn and four mulled blackberry jam-filled, and The Ultimate Party Pack with two of each classic flavors and two of each Lionheart flavors. Email [email protected] by Dec. 11 to place your order.
Mamaleh's
Kendall Square's modern Jewish delicatessen has a whole Hanukkah fry menu on deck this year, from reuben egg rolls and fried artichokes with lemon caper aioli to veal schnitzel and latkes with sour cream and applesauce. A fry-at-home latke mix is available to anyone who'd rather flip potato pancakes at home, and those with a sweet tooth can order the fried apple pie. Also on the dessert menu: sufganiyots, available in either raspberry or a "chef's surprise flavor." Order here.
Stillwater
Chef Sarah Wade will bring back the annual eight days of latkes at her downtown restaurant, Stillwater, with dishes that include cacio e pepe latkes with roasted tomato sauce, roasted beet dill latkes with green apple sauce, and latke grilled cheese with tomato bisque. Orders can be placed online — and you'd be wise to add on a sufganiyot or two.
Sweet Cheeks Q
It's hardly a surprise that the Fenway's barbecue destination is offering smoked and braised brisket for Hanukkah, cooked "low and slow" with onions, carrots, tomatoes, and aromatics. Available every day from Dec. 10 to Dec. 18 (excluding Dec.14), Sweet Cheeks will offer a full brisket for $100 (serves 8 to 12) or a half brisket for $55 (serves 4 to 6), with either cold or hot pickup. Orders can be placed here.
Union Square Donuts
This local doughnut shop has your sufganiyot cravings covered for Hanukkah, with a variety of options available at their locations until Dec. 18. Choose from strawberry-filled, orange marmalade, halva pistachio, and nutella cream sufganiyots, which can also be ordered for delivery through Union Square's online store.
Zaftigs Delicatessen
Order à la carte dishes and brisket meals from this beloved local deli, with reheat instructions offered in every pickup bag. On the menu: Chicken matzo ball soup, noodle kugel, latkes, and rugelach, plus brisket meals for one, two, and four people. Each meal comes with brisket, kasha varnishkes, sautéed green beans, and macaroons. Advanced ordering is required, and can be made by contacting [email protected] or 617-975-0075 (Brookline) or [email protected] or 508-653-4442 (Natick).
Where to buy supplies
Israel Book Shop
The Hanukkah store is open for business at Israel Book Shop, selling everything from menorahs and candles to kitchenware and children's books geared toward the holiday. (410 Harvard St., Brookline)
Kolbo Fine Judaica Gallery
Stop by this Brookline gift shop for one-of-a-kind menorahs, along with stunning dreidels and bags of gelt. (437 Harvard St., Brookline)
Get Boston.com's browser alerts:
Enable breaking news notifications straight to your internet browser.