Fashion
Would You Wear Nail Polish Made with Kale?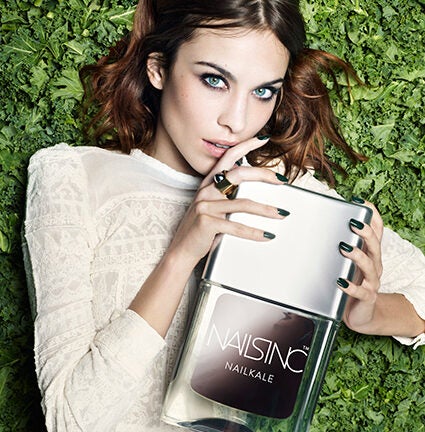 This is not some sort of elaborate prank — trust us, we asked.
UK-based Nails, Inc. launched their latest collaboration due out in late August with Brit "it'' girl Alexa Chung. The core of the launch is a five-piece line of texture-based polishes called the Alexa Fabric Collection, but what caught our eye was a new product called NailKale.
Yes, that kale. The same leafy dark green vegetable that everyone and their mother goes mad over.
NailKale, which also revealed its advertising campaign featuring Chung clutching a giant bottle of polish while basking in a bed of kale (lol) at the launch, is pretty much exactly what it sounds like. According to Women's Wear Daily, NailKale is a "a superfood base coat that is formulated with the leafy green.''
[fragment number=0]
We're not entirely sure how kale will benefit your nails, but we suspect its high iron, vitamin K, and calcium content — all of which are super-charged components for strong, healthy talons — may shine through in product's TBA PR pitch. How many of these benefits can be absorbed through your nailbeds is up for debate.
No further information re: NailKale was available at the time, but according to the brand, the Alexa Fabric Collection will include "five fabric inspired co-branded polishes launching at the end of August.'' Texture polishes, for those who don't know, are nail lacquers formulated with fibrous or granular elements that dry to a unique finish.
Nails, Inc. told us that NailKale will launch the last week of August — just in time for New York Fashion Week! So, we suppose while you're downing kale cleanses, your nails will feel equally fortified by this very mysterious base coat. Until then, you're just stuck doing it the old fashioned way: Salad.