Fashion
Nina Park Owns Boston's Nail Art Game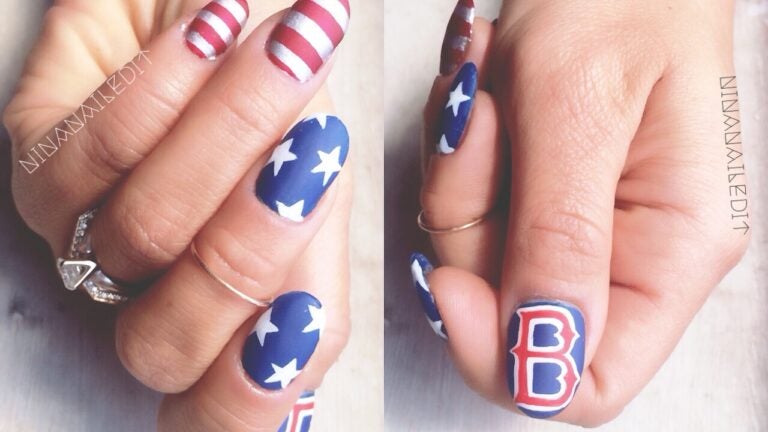 Allston resident Nina Park has a bit of a cult following on Instagram, where she shares her nail art creations to more than 10,000 followers under the handle @ninanailedit.
The Orange County native teaches 10th grade English at Bunker Hill Day School and spends her evenings as Elle L. Cool Jam as member of the Boston Derby Dames' Cosmonaughties — and to unwind, she does nail art. Really, really cool nail art. Her designs won her a guest artist spot at monthly mani mailer Scratch and put her in the finalist round of Sally Hansen's I Heart Nail Art contest last year.
Park's services are limited to her own nails (and select friends), but she let us in on a little secret: Bunker Hill honor roll students can snag a personalized mani of their own.
[fragment number=0]
Do your students follow you on Instagram and think you're the coolest teacher ever?
My students do follow me because it's a nails only account, so it's really fun. They like it even though the novelty has kind of worn off a bit, but I do offer nail art for Honor Roll and all A report cards, so it's worked in my favor a little bit.
That's the best reward.
They're actually really tame, but the most interesting one that I'm planning on doing is a Beyoncé set for one of my students.
Like Beyonce's face?
I'm going to be using some nail decals from Dope Digits — they have this great Beyoncé set, so I'm going to put some sparkles and some Beyoncé on her.
What about the guys that make the Honor Roll?
I mean, if they want them I have absolutely no problem painting their nails. Actually, one of my male students asked me to do a clear coat and I was like, that's free of charge, no honor roll required.
Male manis, starting them young.
Exactly.
Teaching is a far cry from nail art — did this start as just a hobby?
I started painting my nails probably three years ago, and I got a glitter top coat at a nail salon and couldn't stop looking at my nails. I started looking at other top coats I could buy and do myself, and it spiraled into doting tools and striper pens and got out of control, frankly.
[fragment number=1]
Any favorite tools or top coats?
I personally am really into the Sally Hansen glitter top coats. I don't do glitter often, but when I do, they have so many great textures and different sparkles. And Zoya's Pixi Dust Collection is really fun.
Are you seeing any specific trends?
Not necessarily, but maybe it's just the kind of nail art that I've been studying. It's all about the hand-painted details. Texture definitely has its own place, but I'm getting a lot of feedback on the different detail oriented aspects of nail art.
Are the hands featured on your account, are they only your own?
Yeah, just mine.
Are you left-handed or right-handed?
I'm right handed, but through practicing I've become semi-ambidextrous. I actually had a student who several years ago never did homework and I asked, "What are you doing in the afternoons?'' And she said that she practiced writing the alphabet with her left hand, over and over again, so that she could do a French manicure on herself. And I thought, wow that's really smart, but you should really be doing more homework. But I started practicing it myself and it has helped.
Do you always feel like one hand is always better than the other?
Oh definitely. My left hand always looks just a little bit crisper, but I'm getting better.
[fragment number=2]
Your social media presence is pretty huge, did that grow over time? Or was there a moment when you just got a flood of new followers?
I think within the past year after I was a finalist with the Sally Hansen I Heart Nail Art contest last year. I went into the contest with maybe 2,000 followers and then after the contest went up to 5,000, then people started noticing and replicating my designs and that just snowballed. Plus, the exposure with the Scratch collaboration has just been mind-boggling. I've gotten a great response on my Shark Week nails.
I'm looking at them right now and they're sold out! I'm sad!
I know! I was talking to Kim [Rocque, Scratch's Marketing Director] about it and she said they sold out in record time. I love Shark Week.
Do you think you'll do more collections?
The idea of having a regular line of nail wraps, especially now that they're being produced with such great quality, is kind of my dream. I would love to see my nail designs on people all over the world.
[fragment number=3]
Your hands get photographed and re-manicured pretty often, what do you do to keep them in top shape?
I actually just use coconut oil from Trader Joe's on my cuticles. I'm really hard on my hands. I play roller derby for the Boston Derby Dames, so they get pretty cut up every once and a while. I just do what I can. I don't sacrifice anything for my hands.
How did you get into roller derby?
I moved to Boston from Southern California about seven years ago, and my friends took me to a bout, and I thought it was the most incredible thing. I was a surfer in California, and I crave the adrenaline rush. I thought, I'll try out, why not? And I've been skating for the past three years.
Was it like "Whip It''?
[Laughs]
Sorry, I had to ask.
It's really fun. It's kind of like "Whip It.'' The camaraderie and sisterhood that comes out of roller derby is incredible. We train three to four times a week for three to four hours at a time. I play on the travel and the home team.
[fragment number=4]
What's your Derby name?
Elle L. Cool Jam.
I think that would be the hardest part.
Oh the name? It's brutal.
What happens if you take someone else's name? Is there a brawl?
There's a website that tries to make sure no one duplicates names called TwoEvils.org. You have to check to see if your name has already been taken, and I wanted so many other names but they were all gone. But I had an epiphany one night and was like, Elle L. Cool Jam — that's it. Done.
So do you ever take requests from fans who want you to do their nails?
I paint my friends' nails sometimes for special occasions or if there's something I want to try out, but I don't unfortunately have the space to take clients. Hopefully in the future, I have a dream of owning a nail bar in Boston that would incorporate nail wraps and hand-painted nail art. That's the ultimate dream.
Park will be handing out nail art advice at the December Thieves nail demos + nibbles event on June 25. Details and RSVP information below:
[fragment number=5]