Fashion
Gap's Dress Normal Campaign Isn't Working Because Normal People Don't Want to Be Normal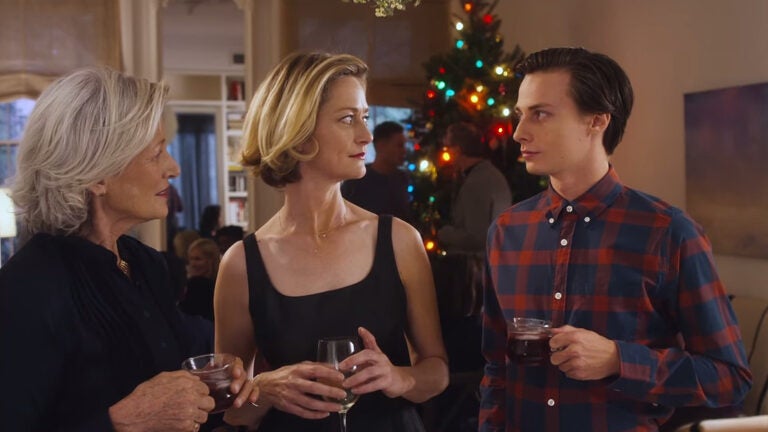 Gap has released its holiday campaign, which features four delightfully awkward ads directed by Sofia Coppola. They focus on the imperfect perfection of those unavoidable holiday interactions between friends, relatives, and colleagues (e.g., a kid lip-synching terribly, but adorably, in front of his family). But what's even more notable is the way they don't focus on the clothes they were created to sell.
And that's OK.
The new spots are part of Gap's "Dress Normal'' campaign, which debuted in August and originally featured the likes of Anjelica Huston, Zosia Mamet, Elisabeth Moss, and Michael K. Williams doing non-extraordinary things in non-extraordinary settings, while wearing non-extraordinary clothing.
But the campaign has one problem: Celebrities telling you to "dress normal'' is weird. Actually, anyone other than your significant other or your boss telling you to "dress normal'' is weird.
In theory, the concept sounds solid—Dress normal! You do you. Why not?—but critics and the market haven't been kind to "Dress Normal.'' The fact that it launched at the end of the vanilla-celebrating normcore trend led some to accuse Gap of capitalizing on the fad. Analysts even told Buzzfeed they thought the season's floorset may have actually been too normal to appeal to a mass market, pointing to deep season-end discounts as proof of a failed experiment.
But what's so bad about dressing normal? Both basic and normcore had their place on the negative end of the fashion and cultural trend spectrum this year, shedding light on the fact that we have some serious issues accepting being mundane versions of ourselves.
Maybe the main issue is that we have trouble placing ourselves within celebrity-fronted campaigns when their slogans spell out an uncomfortable but undeniable truth: Most of us are normal. Wearing a T-shirt, jeans, and a leather jacket isn't going to do much more than make us normal and not naked.
But when Zosia Mamet puts on Gap (or anything, really), she's still Zosia Mamet—the beautiful star of a popular HBO series, who happens to be wearing a denim jacket.
Gap decided to tell the truth this season. Perhaps truth just doesn't sell clothes.
"Gap has always stood for individuality and being your most authentic self,'' Gap Global president Stephen Sunnucks said in a release. "By challenging the idea of what it means to dress normal, we hope to inspire confidence in everyone's own personal style.''
A nice sentiment, but putting celebrities in their clothes (whichGapdoesfrequently) is an odd way for the Gap to try and inspire confidence among normal people, who will go on being the same people whether or not they're wearing the 1969 patch & repair sexy boyfriend jeans.
When Gap brought on creative director Rebekka Bay, she told Fashionista that her plans for the retailer were to "take it back,'' saying, "I want to own super casual, iconic pieces and be the go-to brand for the wardrobe — almost like building blocks.'' While other mall brands like J.Crew, Ann Taylor, and Banana Republic (which is owned by the same parent company as Gap), compete to appeal to a more style-conscious crowd with higher-profile designers and stylized, riskier fashion pieces, Gap, perhaps learning from its sales-sinking years with celebrity head designer Patrick Robinson, scaled back.
[fragment number=0]
American Apparel and Uniqlo compete with Gap, selling wardrobe essentials at (forgive us) normal price points. But both those stores avoid the idea of normal while marketing their goods. American Apparel uses sex and abnormally attractive "real'' models; Uniqlo crafts its goods from fabrics that sound like the end product of a lot of science. They may sell staples, but the attached imagrey adds to, enhances, or possibly even replaces your own.
Perhaps that's the real issue: people don't want clothes that don't change them—they want clothes that make them better versions of themselves. You don't want to buy you. You've already got you. A striped sweater isn't going to change that.
Unless you already like you. Then, the clothes—they can just be clothes. Or as Gap says, "To thine own self be true—but, hey, buy a sweater.''
[fragment number=1]