Fashion
3 designers on this season of 'Project Runway' reflect on their connection to Boston
This season's finale airs Thursday at 8 p.m. on Lifetime.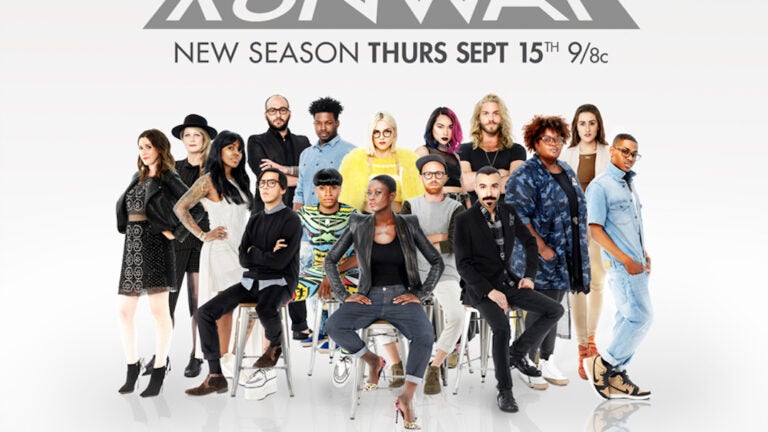 After going through a series of tough design challenges, only one of the three Massachusetts designers starring on Lifetime's Project Runway has made it to the end. 
Thirteen episodes in, both Nathalia JMag and Cornelius Ortiz have been eliminated, but Erin Robertson remains in the running as part of the final four designers who will show a collection at New York Fashion Week in the show's finale at 8 p.m. on Thursday.
Robertson, who was raised in Provo, Utah, before moving to Cambridge in 2005, believes that the innovation occurring everyday in Boston is one of the "coolest things" the city has to offer.
"I think that's what Boston has and that is why I'm super inspired by this city, because there are so many cool projects happening 'underground,'" the 29-year-old said. "And I really think that the future of a lot of things are going to come out of Boston or Cambridge."
Robertson, who has three challenge wins under her belt, considers herself a fine arts fashion designer because she double-majored in fashion design and fibers at the Massachusetts College of Art and Design in Boston. Seeing fashion as an art form, the final-four designer focuses on creating textiles and working conceptually.
"I would say my aesthetic is definitely more fun," she said. "It depends on what I do because I kind of work all over the place. Sometimes I like to just be silly, but then there are also times where I do add a bit more of a serious note to it."
This can be seen in some of her designs on the show, which often feature bright colors, innovative shapes, and detailed ornaments.
Although the designers feel connected to the Boston area, they all agreed that it's not the most fashionable city, which has inspired them to create clothing that can stand out.
Boston-native Ortiz, 24, said that the city's style is more simple, featuring jeans and T-shirts, but that there is opportunity for mixing and matching different pieces as well as layering, which is what Boston is "all about," according to the designer.
"I just wanted to create clothing that was obviously different because in Boston you want to stand out, and I'm trying to make my woman stand out in a crowd," Ortiz said, adding that he aims to dress powerful, strong, and unique women.
JMag, who moved from Colombia to Framingham when she was 7, feels that Boston and its surroundings have influenced her design aesthetic and her style, but she also said most people here dress the same way.
"The fashion here is very narrow, kind of J. Crew-ish, and so personally, I like to be different, I like to try new things, and I like to stand out," said the 23-year-old, who describes her brand as wearable avant-guarde with a futuristic vibe. "I don't want to look like everybody else when I'm out somewhere."
Reflecting on the overall experience, the three designers said they enjoyed the journey and appreciated the exposure, although it was quite stressful.
"For me personally, it was a little traumatizing, I'm not gonna lie. It was a lot of pressure and people don't see how hard it is; it's a lot harder than it looks," JMag said, adding that she felt a weight lift off her shoulders when she was eliminated on episode 10.
The designer said she is definitely going to continue working and focusing her energy on creating collections and having fashion shows.
"I feel like even though I didn't win Project Runway, I'm definitely going to win at life because I'm going to keep hustling and grinding and trying to better myself and my brand," said JMag, who is hosting a fashion show at The Liberty hotel on January 6.
Robertson said that her connection to her friends, family, and Boston community kept her going throughout the tough challenges, a feeling she wanted to incorporate into her Fashion Week collection.
"I created a 'friend print' and I collaborated with a friend who is a painter here in Boston," she said. "I knew I wanted there to be a sentimental feeling in it."
You can tune in tonight to find out whether the last remaining Massachusetts designer will be triumphant for the Bay State.