Food
Montilio's made another massive cake for the Patriots send-off rally at Gillette Stadium
Sweet.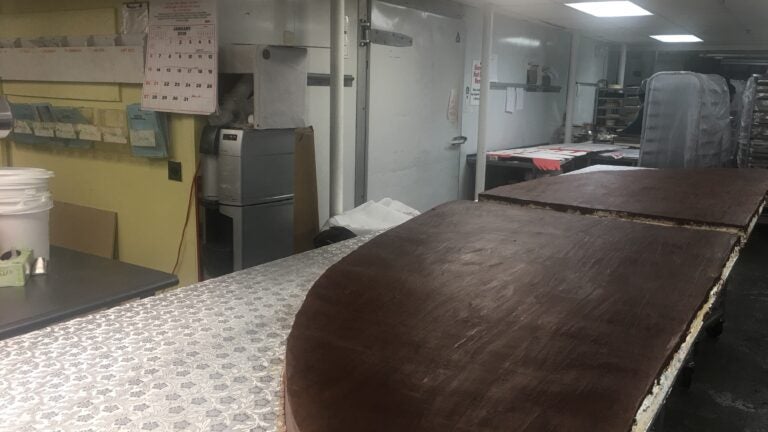 Montilio's Baking Company in Brockton will again make the New England Patriots send-off rally even sweeter.
Last year, the bakery delivered a 16-foot-wide Boston cream pie cake to the rally before the Patriots took off for Super Bowl LII against the Philadelphia Eagles in Minnesota.
This year, the bakery is going with a 16-by-12 foot cake with a football, 5-foot-tall silver Super Bowl trophy, and the team's tagline, "Everything We Got," said owner George Montilio. The 1,600-pound cake will be transported to Gillette Stadium by truck, fully assembled at the stadium, and feed more than 5,000 people, Montilio said.
"The cake is going to be served at noon, right after the rally," he said.
The free rally, which will include the players and coaches and performances by Blue Man Group and the Pats cheerleaders, will take place Sunday at 10 a.m.
If you can't make it to the stadium for some sugar, Montilio's is also selling regularly sized cakes and cookies inspired by the hometown team, including a cake shaped like a goat in honor of quarterback Tom Brady. The bakery will sell the treats at its locations in Braintree, Quincy, and Weymouth as well.
"It's actually a lamb cake mold, and we turned it into a goat," said Montilio with a chuckle. "They put horns on it and a little beard."
Montilio said his customers look forward to his Patriots-themed sweet treats. In 2017, the bakery made a life-sized Tom Brady after the Pats won the Super Bowl against the Atlanta Falcons.
"We just love doing it," Montilio said. "Between me and my employees, we all want to do something and contribute to the community this way. We're all involved. And it helps our business too."