Food
18 post-game dining destinations in Boston's West End
Here's where to eat after the final buzzer.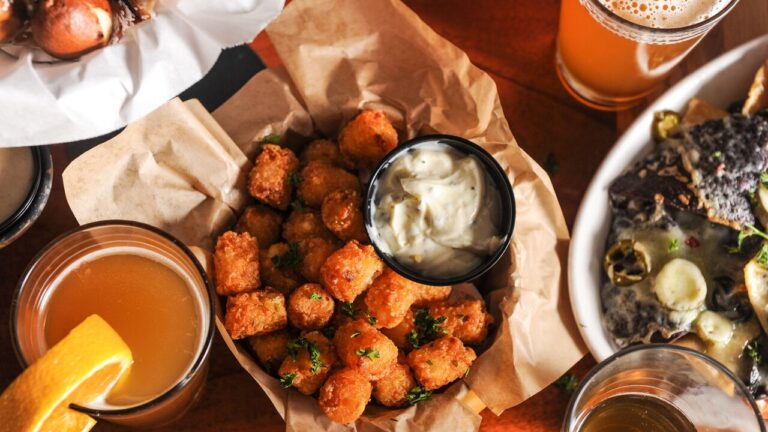 The West End is chock-full of Irish pubs and sports bars, with buffalo wings and burgers to satiate post-Celtics game appetites. Yet the neighborhood has also begun to diversify in recent years, with new openings from local restaurant groups and hospitality vets who have strayed from the tried-and-true formula. From sports bars to sit-downs, here are 18 hot spots to try.
1. A&B Burgers
This burger joint already had a dedicated fan base at its original Beverly location before a second outpost opened next to the Garden. Now, the West End newcomer is a go-to hangout for fans before, during, and after a game. Burger options vary, ranging from gluttonous picks like the hangover burger (bacon, fried egg, American cheese) and Nick's BBQ burger (bacon, fried onion strings, barbecue sauce) to creative takes including the salmon burger (pineapple-jalepeño relish, Bibb lettuce, shaved red onion) and Scotty burger (smoked gouda, crisp apple, bacon). Boozy milkshakes make for a fully grown-up dessert. (115 Beverly St.)
2. Alcove
In a neighborhood dominated by postgame bar-and-grill types, the October 2018 opening of Alcove was a breath of fresh air. Owner and Eastern Standard alum Tom Schlesinger-Guidelli recalls shades of his former employer with accessible bistro dishes like moules-frites and grilled bavette steak, plus an inspired cocktail list and an impressive selection of beers and ciders. (50 Lovejoy Wharf)
3. Beerworks
The Canal Street location of this local chain (Beerworks No. 3, if you want to get specific) is about three things: beer, beer, and beer. Ten Beerworks brews are served, ranging from its "Brewski" light ale to a "Big Boy" strong IPA, and flights are available in themes like "seasonal" and "hoppy," unless you'd prefer to construct your own. Food-wise, the expected wing platters and barbecue chicken pizzas are present, alongside mains like pan-roasted salmon and St. Louis ribs. After 9 p.m., a late-night menu with buffalo chicken pizza, trios of tacos and sliders, and more are all available for $8 each. (112 Canal St.)

4. Bodega Canal
Bodega Canal offers another alternative to the bar food that permeates many West End spots. (But make no mistake, there will be nachos.) The rustic-chic Mexican outpost from the Ward 8 and North Square Oyster crew serves tacos on homemade tortillas with classic fillings like carnitas and barbacoa, plus entrees like steak fajitas and shareable plates such as scallop ceviche. On Taco Tuesdays, beef tacos go for $1 each, and other flavors are $2. On Mondays, enjoy an all-you-can-eat special on tacos priced at a flat $9. (57 Canal St.)
5. Causeway
Located directly across from TD Garden, Causeway is two floors of barbecue and beer. The former is accounted for by satisfying plates like smoked wings, brisket platters, and jambalaya, while the latter comes by way of 20 varieties on tap. Beer and entree specials are offered throughout the week, like a Tuesday burger/beer combo for $10.99. (65 Causeway St.)
6. Clink
Located amid the cells of what was once the Suffolk County Jail, Clink in the Liberty Hotel has traded out a bread-and-water diet for a menu heavy on shareable cheese and charcuterie platters, New England seafood, and high-end meats. Its brunch service features one of the city's most impressive Bloody Mary bars, replete with poached shrimp and lobster sliders. (215 Charles St.)
7. The Fours
Covered wall-to-wall in Boston sports memorabilia, The Fours touts its sports bar status proudly. While taking in the framed jerseys and shelves of signed baseballs, diners can count on typical sports bar fare like buffalo wings and steak tips alongside New England-specific dishes such as homemade clam chowder and haddock Nantucket. A "Hall of Famers" sandwich menu named for local sports greats boasts selections like the "Larry Bird" grilled chicken and "Ted Williams" fried scrod. (166 Canal St.)
8. The Greatest Bar
What The Greatest Bar lacks in humility, it makes up for in space. Billed as a "restaurant, bar, event venue, tourist attraction, museum, nightclub, and so much more," this four-level bar has theme rooms ranging from the sports-centric "Championship" room to its stately "Boston" room complete with portraits of John Adams and JFK. From cheesesteak roll-ups to thin-crust pizza, the fare is precisely what's needed to soak up a pitcher of suds. (262 Friend St.)
9. Halftime Pizza
Halftime Pizza is exactly what the name implies. Since 1981, this no-frills spot has been serving Garden-goers hefty slices in flavors like cheese, garlic pesto, and Hawaiian. Its sandwiches, like "The Chief" tuna melt and a "33 The Big Z" chicken parm sub, look to the Celtics and Bruins for inspiration. (115 Causeway St.)
10. The Harp
This two-floor institution with live entertainment, beer, and bar food houses a live music stage and three bars. Food at The Harp doesn't stray too far from the bar food template. Tater tots and buffalo mac 'n' cheese are well represented, served alongside New England standards like clam chowder and a one-third pound, butter-poached lobster roll. (85 Causeway St.)
11. Hurricane's
Formerly Hurricane O'Reilly's, this oversized, TD Garden-adjacent bar and restaurant underwent a name change and renovation in 2018, trading its Irish pub vibes for a more modern, industrial look. The fare here is strictly comfort food, ranging from buffalo chicken dip to loaded waffle fries to quarter-pound hot dogs, all of which can be washed down with your choice of beer from 15 draft lines. (150 Canal St.)
12. McGann's Irish Pub
At McGann's, sports fandom extends beyond the reaches of Boston proper: The Irish bar also serves as the headquarters for local Manchester United fans. Whether you're there to watch football of the American or European variety, you'll be treated to fried pickles, pastrami sandwiches, Irish beef stew, and other hearty pub fare. (197 Portland St.)
13. Night Shift Lovejoy Wharf
The Everett-based brewing company expanded its footprint in March with an innovation brewery located along the quickly developing Lovejoy Wharf. But there's more here than just beer: The new watering hole also has a coffee shop serving beans from its new coffee roasting company, Night Shift Roasting, as well as a cafe that works seamlessly with the brewery to create beer-inspired dishes (think mac and cheese with Nite Lite cheese). Once the patio opens, drinking a beer while looking out onto the Zakim Bridge won't hurt either. (1 Lovejoy Wharf, Suite 101)
14. Porters Bar & Grill
This independently owned Bulfinch Triangle eatery serves the kind of pub fare that permeates many other West End spots, including buffalo wings, thin-crust meat lovers pizzas, and marinated steak tips. Where it stands out from the crowd is through its wider, regularly changing beer selection, which puts a greater emphasis on local craft beers and supplies 12 by draft and 27 by the bottle. (173 Portland St.)
15. Scampo
Another eatery located in the Liberty Hotel, the Lydia Shire-helmed Scampo (Italian for "escape") delivers an eclectic take on Italian within its brick-walled confines. You can have spaghetti seven ways, from pomodoro and vongole to the house favorite of cracklings and hot peppers, as well as pizzas with artichoke and prosciutto or white clam and bacon, and hearty mains like 14-ounce prime sirloin steaks served tagliata style. (215 Charles St.)
16. Tasty Burger
The food offered in TD Garden and North Station is mainly the expected chain fare, but the presence of local purveyor Tasty Burger is a welcome outlier. Nine burgers, like the special sauce-slathered Big Tasty and the chili-and-cheese sauce Hubba Burger, are satisfying options, as are the buffalo chicken and chicken parm sandwiches. Sacks of five burgers, available as a takeout option only, are great for feeding hungry groups of fans postgame. (1 Nashua St.)
17. Tavern in the Square
Tavern in the Square has colonized every corner of the city where beer-thirsting crowds congregate, and the West End is no exception. Its location by TD Garden should feel familiar to anyone who's patronized the local chain's other outposts. There are truffle tots, fried egg-topped burgers, and game-displaying flat-screen TVs aplenty. (120 Beverly St.)
18. West End Johnnie's
This bi-level corner spot in the Bulfinch Triangle is most known for its nightlife on Friday and Saturday nights, attracting lines wrapping around the block. Inside, it's a love letter to Boston complete with a recreation of the Green Monster, seats retrieved from Fenway, and signed photos of local sports heroes. The referential spirit carries over to the food menu, which includes items like the "1919 molasses-glazed wings" and lobster corn chowder, plus more upscale comfort dishes like gnocchi and braised short rib. A live music reggae brunch on Sundays accompanies hearty dishes like chocolate chip cannoli French toast and steak frites. (138 Portland St.)
Additional reporting by Erin Kuschner.