Food
Here's all you can eat at the Encore Boston Harbor buffet
"We want it to be a destination."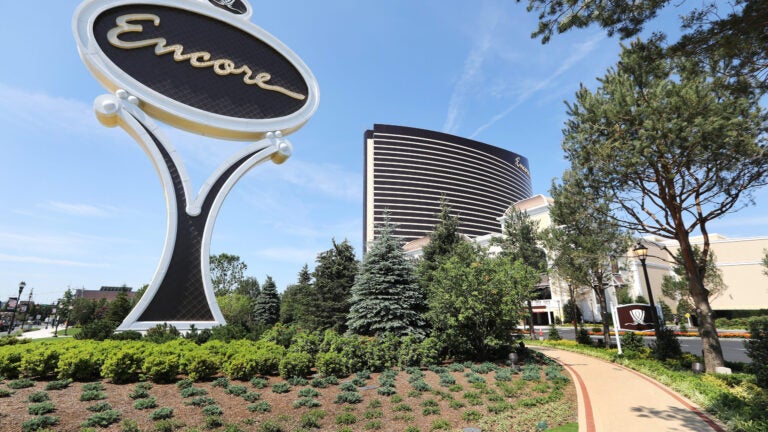 Even in a casino with tens of thousands of slots and games and 14 other dining options, Sidney Semedo doesn't see his buffet as an "afterthought." In fact, he thinks it could be the primary reason visitors come to Encore Boston Harbor.
"People come in here to use the slot machines and enjoy the casino, but we don't want the buffet to just be another buffet," Semedo, the executive chef of the Everett casino, told Boston.com in an interview. "We want it to be a destination."
And while a decadent buffet is an essential staple of any Las Vegas-style casino, Semedo says the expansive menu and "restaurant quality" at his operation sets it apart — and not only from a customer's standpoint.
"When you have almost 100 items on your line, you can really play with food and have fun with it," he said. "It's like a chef's dream"
"I can do any food I want anytime I want," Semedo added. And, to a degree, he does.
A mix of mainstays and rotating specials, the Encore buffet is priced at $38.99 all day (12 p.m. to 10 p.m.) and is all-you-can-eat for a time limit of two hours. The line begins in relatively modest fashion: a station with six different mini-salads, three soups, a make-your-own salad bar, an array of breads, charcuterie, and three different freshly baked pizzas.
For the casino's first full weekend, there's a special seafood paella station that Semedo raves about. Next are the desserts: cookies, ice cream, and miniature cheesecakes, creme brûlées, and other classic, nearly bite-sized sweets. There's an Asian section with dumplings and shumai served in baskets, along with several wok dishes.
"We're not sticking to your basic buffet — mashed potatoes and meat and a couple of salads," Semedo said.
Of course, there is that, too. The meat station features rich cuts of ribeye and New York strip steak, sausage, and tender lamb ribs. There's an American-style section with roast chicken, fried chicken wings, lamb osso bucco, vegetables, and, indeed, mashed potatoes.
Semedo enthusiastically fans out about the buffet's made-to-order sushi, hand-rolled by Japanese-trained sushi chefs. The line finally ends with two trays of crab legs and a massive pile of shrimp cocktail. Semedo says they go through roughly 300 pounds of shrimp a day.
Semedo is also hoping to experiment with everything from clambakes to steak-frites to pasta stations to the Brazilian and Salvadoran cuisine that is reflective of the Everett community.
But it isn't the variety that he takes pride in.
A Cape Verde native, Semedo grew up in Roxbury and attended Madison Park High School and John D. O'Bryant prep school, before getting his culinary training at Le Cordon Bleu. He jokes that he's worked at virtually "every single mom-and-pop that you could think of" in the Boston area.
"I've been in Boston longer than I've been in Cape Verde," Semedo said. "I guess that makes me a Bostonian."
Despite having no buffet experience, Semedo was hired in April after spending the previous four years as the executive chef for Marriott Hotels. In an effort to keep everything on the line fresh, he says his team treats the buffets like a short-order restaurant where every station is its own ticket.
"Sometimes people say, 'Oh, this is getting low,'" Semedo said. "Yes, it's because we're actually making it right now. We don't have huge hot boxes and ovens sitting in the back.
From partnering with local suppliers to employing a "quality control chef," Semedo is also focused on people who take pride in their work — the majority of whom are local hires.
"The emotion that we get off of someone when we're interviewing them is actually even more impactful than the actual skills that they have, because these people care about what they do," he said. "And once you have a group of people that really care about what they do, it really translates right on to the food."
Semedo says he wants customers to feel the same freedom he does as a chef.
"When you come here, you can customize your dinner," he said. "You don't have to stick to the status quo. You can have dessert first."
When asked for one standout dish, Semedo says the questions is "almost like asking which one is my favorite child." His advice: 'Try everything."
"There's nobody keeping tabs on you," Semedo said. "So just have your plate and go — just try it all. And once you identify your favorites, you come back for thirds."
More photos of the Encore Boson Harbor buffet line: