Food
'What the Fluff?': Your guide to this weekend's sweet and sticky Somerville Fluff Festival
The annual celebration returns to Union Square this Saturday from 3 p.m. to 7 p.m.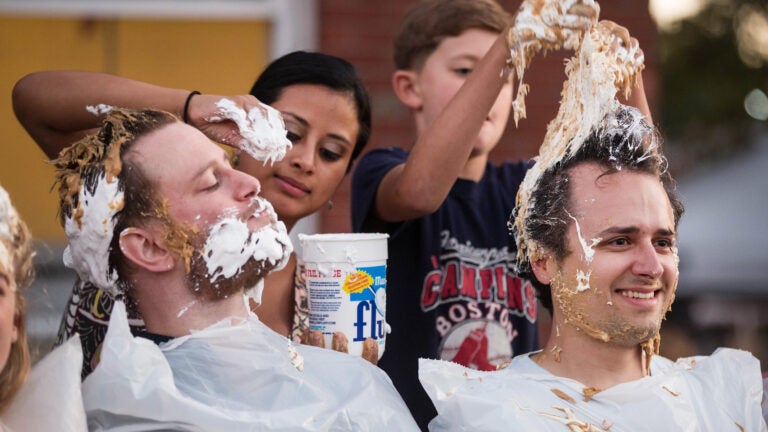 It all started in 1917, when Somerville resident Joseph Archibald Query crafted a sticky but spreadable marshmallow concoction in his kitchen and began selling it door-to-door.
Now, 102 years later, Fluff is an institution, with approximately 7 million pounds of the sweet stuff sold each year. That's why this Saturday from 3 p.m. to 7 p.m., area Fluff enthusiasts will gather in Somerville's Union Square for a 14th consecutive year to taste dozens of Fluff-filled recipes, participate in Fluff jousting, and more marshmallow merriment.
Officially dubbed "What the Fluff? A Tribute to Union Square Innovation," the Somerville Fluff Festival was first dreamed up by Union Square Main Streets, a non-profit dedicated to economic development and historical preservation of the Somerville neighborhood.
"Our founding executive director was always looking for history and insights that could speak to the spirit and the vibe of our funky square," said USMS executive director Jessica Eshleman. "And she discovered that Fluff was invented here in Union Square in 1917. At the same time, there was a grant opportunity available for food that related to the heritage of your community."
The organization applied for and received a grant for the inaugural Fluff festival, and the organization has continued the tradition ever since.
This year, the festival will shift locations slightly due to ongoing construction in Union Square. Rather than being held solely on a stretch of Somerville Avenue, the festival will encompass a large swath of the square, with activities including dancing on the vine-covered patio of popular brunch spot The Neighborhood and a Flufftastic Pop-Up at CultureHouse.
"This new layout has really allowed us to beef up the programming," Eshleman said. "It's definitely the biggest, most robust lineup we've had. We have four stages and 75 vendors participating, which would have never fit where we had the festival before."
One can't-miss spot is the Shenanigans Stage, on the corner of Somerville Avenue and Warren Avenue, which features a dozen hands-on activities throughout the afternoon.
"We have fluff jousting, where we take pool noodles, dip them in Fluff, and have friends, family, and neighbors battle it out on a low balance beam," Eshleman said. "We have Fluff musical chairs, where the lucky winner — or loser, I should say — sits in a big pile of Fluff."
Then there's Fluff hairdos, where brave souls egged on by an Archibald Query impersonator style their hair (or beard) using peanut butter and fluff, with audience response determining the winner of the sticky beauty pageant.
Finally, no Fluff festival would be complete without actually eating the stuff. There will be vendors all around the square selling Fluff-influenced cuisine, as well as a cooking contest held at The Comedy Studio in Bow Market. Around 25 entrants with outside-the-box Fluff recipes will vie for the chance to be named a winner by a panel of expert judges and crowned by Somerville Mayor Joseph Curtatone.
While details on this year's recipes are being kept under wraps for now, Eshleman said she's always amazed by the innovation brought to the competition.
"We've had Fluff pierogis, we've had General Gau's Chicken, where this clever chef melted the Fluff down to liquid sugar and used it as an ingredient," Eshleman said. "We always get plenty of combinations with peanut butter, which are delicious, of course. But it's those unexpected ones that get us really excited."
(Somerville Fluff Festival: Saturday, Sept. 21 from 3 p.m. to 7 p.m.; Union Square, Somerville; free; all ages; flufffestival.com)