Food
We asked what your favorite Thanksgiving side dish was, and it was no contest
Hint: It was not creamed corn.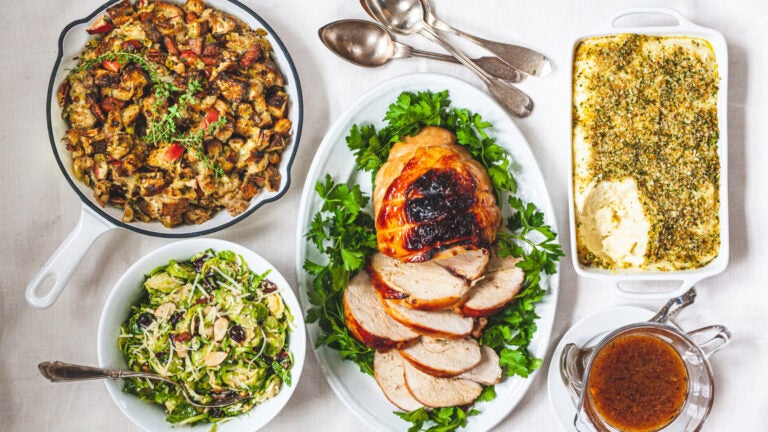 It wasn't even close, people.
As you may recall, spurred on by a new analysis from Zippia.com that named stuffing as Massachusetts's favorite side dish, we asked Boston.com readers what would be sitting beside their turkey on this year's Thanksgiving table — just to be sure.
Well, not only did Zippia.com get it right, it was no contest: Close to 57% of the almost 500 people who responded picked stuffing as the one Turkey Day must-have, no ifs, ands, or butternut squash. (See what we did there?)
That's not to say the Bay State didn't have some other side dishes that also made the grade. That old standby mashed potatoes came in a not-too-close second with 14%, and green bean casserole took third with 6%. It was all downhill from there — sorry, creamed corn (less than 1%).
Other notable findings: Whole-cranberry sauce beat out the jellied version — otherwise known as the kind that retains the shape of the can — 3% to 1.5%. People enjoy a good sweet potato (about 3% of respondents when you factor in both plain and smothered-in-marshmallows), but candied yams (1%), not so much. And mac and cheese — the top dish in southern locales like Georgia and the Carolinas, according to Zippia.com — seems to be migrating north: It managed 2% of the vote, which may not sound like much until you consider it beat out biscuits, corn, and both roasted and scalloped potatoes.
Oh, and a lot of people seem to consider gravy its own dish. Take that as you may. And side salad, allegedly the No. 1 side dish in Maine? Exactly zero votes. Let's face it, we don't spend a year waiting for Thankgiving to eat roughage.
As for "Other" responses, that's where things got really interesting:
"Cranberry relish with apples & oranges"
"Stuffed mushrooms"
"Fried rice"
"My mom's cornbread dressing!"
"Oyster stuffing!"
"Rudabega"
"Turnips"
"Feta"
And our personal favorite:
In addition to our pressing query on side dishes, we also asked readers to share their Thanksgiving tips and tricks, and thoughts on how they were making the holiday special during this very unusual year — and they came through there as well. For instance:
"We've done Passover and Rosh Hashanah during COVID, so by now, we're pretty comfortable with Zoom celebrations. Now's your chance to forget about making the stuff you don't really like. Never been a turkey fan? Don't make it! Roasted Chestnuts and root vegetables, along with a salad and maybe some stuffing is quite yummy."
"Finding space in the fridge after the Thanksgiving meal is a challenge. To maximize use of your holiday turkey, strip the meat from the bones and put into the fridge. Then return the bones in the roasting pan into the oven for a little while. Brown the bones and then transfer into a soup pot to make stock (tomorrow). Put the kettle on and boil some water. Rinse out the flavor bits from the roasting pan. Then put this somewhere cold for the night, maybe in the mud room or spare fridge."
"Because of COVID-19, we cannot get together with our son, daughter-in-law and her family, so we are going to the Morgan House Inn, in Lee, Mass for Thanksgiving dinner. We are also taking that week and "vacationing" in the Berkshires, at the Shaker Mill Inn, in West Stockbridge. The day after Thanksgiving, we are going to NightWood at The Mount in Pittsfield."
"Everyone involved in the Zoom celebration may make the same recipe, so we can feel like we're dining together. We may also get together for a walk outside over the weekend. What we won't do is eat together inside. It's just too risky!"
A few even came through with recipes, which sound like just the trick if the side dishes mentioned above are just too pedestrian for your Thanksgiving table.
Submissions have been lightly edited for clarity and grammar.
Fold Over Tortilla Beef Bake
Ingredients:
2 packages of softened cream cheese
2 packages of flour tortillas (about 20-25 total)
1 lb of lean hamburger
4 small cans of chopped green chilies (El Paso brand works best)
1 block of jalapeño jack cheese
2 cans of Hunt's brand Italian stewed tomatoes (save a little of the juice separately)
1 envelope of taco seasoning
Directions:
Preheat oven to 350 degrees. Brown hamburger in a frying pan, drain off fat. Return to pan with the envelope of taco seasoning and mix with a little water and simmer until cooked through. Mix hamburger mixture with the 2 cans of stewed tomatoes. Set aside. Spread a thin layer of cream cheese inside each tortilla along with a spoonful of chopped green chilies. Fold each tortilla like you would a burrito, and place in layers in a glass or earthenware casserole dish. Spoon a little of the stewed tomato juice on the bottom of the dish to keep tortillas from sticking. When the layers are complete, slowly pour the hamburger and tomato mixture on top of the folded tortillas. Grate the block of jalapeño cheese over the top of the dish. Cover with tinfoil and bake for about 25 minutes. Remove foil and bake for an additional 5-10 minutes until cheese is bubbling and the edges are crisped. Can be frozen and reheated in the microwave. If you want a spicier dish, you can add hotter peppers or fresh jalapeños.
— Leanne Scorzoni, Allston (recipe originally made by my aunt Ruthanne Keto, but passed around to anyone who wants it)
Pumpkin Pickle
As a side, much like having cranberry sauce, I make pumpkin pickle, from Jenny Grossinger's 'The Art of Jewish Cooking.' I usually use the same pumpkin I use for my Jack O'Lantern, cutting it up the day after Halloween (and peeling it).
I boil/sterilize the bottles and sealing caps while I am cooking the pumpkin. Then after filling the jars and capping them, I put it in a boiling water bath for 15 to 20 minutes, just to make sure. Then what doesn't seal, I put in the fridge and eat. It will keep in the fridge for 2 to 3 weeks. Ours tend not to last that long, but we definitely have it for Thanksgiving and if any jars are left, will also have it for Christmas/Hanukkah. The rest, we give as gifts.
ENJOY!
Pumpkin Pickle (from the book)
Easy, peasy!
Ingredients:
4 cups (948 ml) Peeled, cubed pumpkin
3/4 cup (177 ml) White vinegar
1 cup (198 g / 7 oz) Sugar
1/4 cup (82 g / 2.9 oz) Dark corn syrup
10 Cloves
1 1/2 teaspoons (7.5 ml) Cinnamon
1 teaspoon (5 ml) Salt
Directions:
Cut the pumpkin into 1-inch cubes.
Combine pumpkin with the vinegar, sugar, corn syrup, cloves, cinnamon and salt in a saucepan. Bring to a boil and cook over low heat until pumpkin looks translucent or is easily pricked with a toothpick. Pack into two one-pint sterile jars and seal. Refrigerated, keeps 3 months.
Get Boston.com's browser alerts:
Enable breaking news notifications straight to your internet browser.