Food
A new beer garden and performance space is coming to Boston Common
The seasonal attraction opens May 4.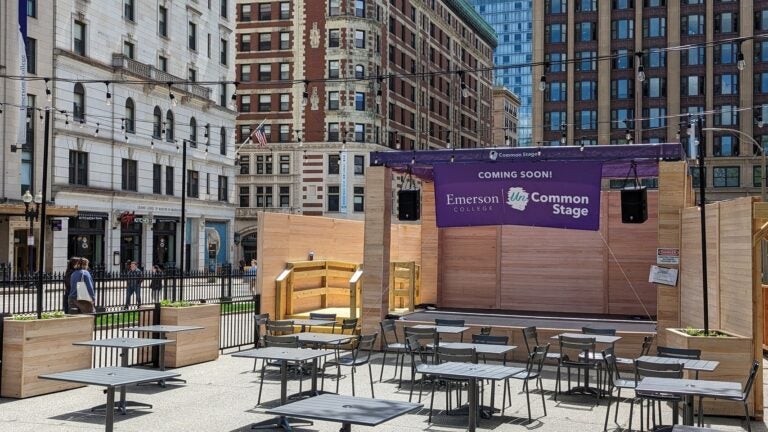 The city is hoping to revitalize downtown Boston with an exciting gathering space and arts venue — a vibrant beer garden and entertainment stage at Boston Common.
Opening on Thursday, Trillium Garden on the Common and Emerson College UnCommon Stage will welcome visitors at Tremont Street and Boylston Street through Nov. 1. Mayor Michelle Wu and the Boston Parks and Recreation Department made the opening announcement Tuesday, with Wu stating that she hopes the project will bring new life to the neighborhood.
"This new performance venue and beer garden on Boston Common will activate the historic park, and our Downtown, with performances that represent all of our residents of Boston and a new, beautiful outdoor gathering space for all," Wu said in a press release. "The city is proud to partner with Emerson College and two family-owned local businesses — Trillium Brewing and Taqueria El Barrio — to bring new joy and renewal to Downtown Boston."
The beer garden will be open Wednesdays and Thursdays from 4 p.m. to 9 p.m., Fridays and Saturdays from 12 p.m. to 9 p.m., and Sundays from 12 p.m. to 6 p.m. The garden seats more than 400 people and will offer food and drink from both Trillium and Taqueria El Barrio. On the menu, you'll find hoppy beers, "sour and wild" ales, and crisp lagers, while tacos, tortas, and chips with guacamole will also be offered.
The performance space will be 5,000 square feet, and audience members can expect to see local musicians, comedy shows, book readings, and more. Artists who are scheduled to perform include Fabiola Méndez Trio, Albino Mbie, and Tolieth Marks.
"We're looking at creative ways to bring Boston residents and visitors downtown to replace some of the vibrancy and foot traffic we lost due to the pandemic," said Segun Idowu, chief of Economic Opportunity and Inclusion, in the press release. "But given the outsized role of arts and culture in Boston's economy, this addition will positively impact the economic health of the entire city."
The venue will open May 4 at 4 p.m., and a ribbon cutting ceremony will be held at 5:15 p.m.
Emerson College UnCommon Stage and Trillium's Garden on the Common, Tremont and Boylston Street on the Boston Common
Sign up for The Dish
Stay up to date on the latest food news from Boston.com.