Growing Wisdom
The 6 best plants to get mom on Mother's Day
All of them are in bloom, and all of them offer a great alternative to a bouquet.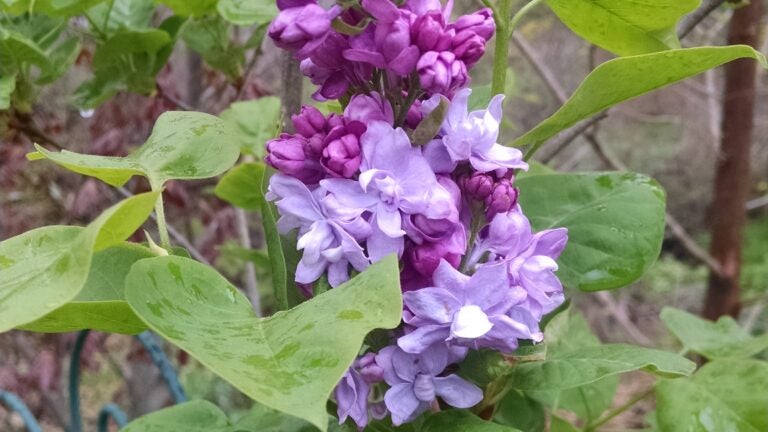 While flowers are a great way to show how much we love our moms, bouquets don't last very long. Another option: trees, shrubs, or perennials, which flower and/or have amazing color. And if you choose the right plant, it will be in bloom on Mother's Day for years to come. Here are six great possibilities:
Lilac
Of course, one of the more common flower shrubs this time of year is the lilac. These mostly scented beauties are hardy in the cold climate of New England. Be sure to check that the type of plant you purchase bears aromatic flowers; some of the newer cultivars don't have that nice scent.
Celandine poppy
Maybe Mom likes yellow. The celandine poppy (Stylophorum diphyllum), native to Missouri, grows quite well here and loves shade. These perennials flower yellow each spring and will spread across the woodland floor if they're happy.
Virginia bluebells
If Mom has a patio garden or small space, then your choices are somewhat limited as to what will flower the first half of May. Virginia bluebells (Mertensia virginica) are a lovely, shade-loving perennial that does well in containers. This plant will go dormant in the heat of summer, disappearing until the following spring.
Rhododendron 'Aglo'
As a centerpiece for a larger container, Rhododendron 'Aglo,' bred locally at Weston Nurseries, will flower pink and remind Mom how much you care.
Coral bells
Another great type of plant for a container is Heuchera, or coral bells. These now come in a variety of amazing colors—caramel and midnight rose are two of my favorites. These plants flower with a tall white stalk late in spring or summer, but it's really the leaf color that makes them so desirable.
Royal azalea
Do you think your mom is utter royalty? How about getting her the royal azalea (Rhododendron schlippenbachii)? This moderate grower has scented pink flowers which bloom in May and last 10 to 14 days, depending on temperatures. When we have a warm May, these flowers won't last as long.
No matter what plant you choose, be sure to place it in an area where it can thrive and to prepare the soil and keep that soil evenly moist. Then you and your mom will have a living memory of Mother's Day for years to come.
Follow Dave Epstein on Twitter @growingwisdom for all your gardening questions throughout the season.