Health
A long, uncertain road for limb patients
Hard decisions on amputation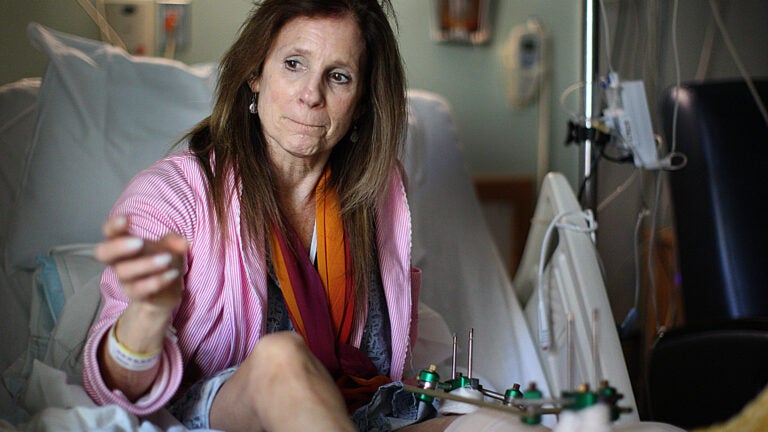 Ten days after bombs exploded at the Boston Marathon finish line, surgeons still are working tirelessly to repair and save the lower limbs of grievously injured spectators, and some patients may not know for months, or even years, whether reconstructive operations will return them to near normal.
Fourteen people are known to have lost legs or feet immediately after the explosions. Their limbs were either completely torn away or were clearly too damaged for surgeons to restore without risking their lives.
A small group of other patients are in a gray zone: Doctors preserved their limbs initially, but whether their surgeries will ultimately be successful is unclear. In fact, two of these patients underwent amputations within the last week, at Brigham and Women's and Massachusetts General hospitals.
Brigham surgeons were technically able to save the lower leg of their patient, a younger active woman, by grafting blood vessels from her healthy leg on the day of the bombing. But in the end, doctors realized she would have little motion and could suffer chronic pain, and the limb would appear deformed, said Dr. Eric Bluman, an orthopedic surgeon, recounting his conversation with her.
While the emergency surgery gave her a choice, Bluman said, it's important not to allow "the triumph of technology over reason.'' The patient opted for an amputation this past Monday.
In other cases, surgeons repaired patients' limbs in operations that include stitching together blood vessels, reconnecting bones with plates and rods, and covering wounds with transplanted muscle and skin. These patients will probably require weeks or months of pain medication and physical therapy, and some will need additional operations. A few could eventually face heart-wrenching decisions about whether to undergo amputations.
At Boston Medical Center, two patients have limbs that remain at risk, said Dr. Peter Burke, chief of trauma services. One has nerve damage and little sensation in his leg, and the other will require tissue transplantation and microsurgery, in which doctors reattach tiny nerves and blood vessels under a microscope.
Like patients whose extremities have been damaged in car crashes or from cancer, "everyone has to balance their hope with reality,'' Burke said. "We always try as long as it's reasonable.''
Patients understandably want to keep their limbs. But he said, sometimes saving a person's leg creates extraordinary complications that are not worth it in the end.
"Having something you can't walk on, that you're tripping over because you can't feel it, that's worse actually,'' Burke said. "You commit them to two years of effort and pain and multiple operations. There is lots of addiction to narcotics. An amputation early can let them get back to their life earlier.''
Dr. Jonathan Gates, medical director of trauma services at the Brigham, said five patients, including the woman who opted for the amputation, had limbs that initially were in the "gray zone.'' Surgeons from trauma, orthopedics, and vascular and plastic surgery decided jointly with patients about their approach.
The other four patients are "all out of the woods at this point,'' though there is still a risk of infection or that the bones will not heal together. "It is a bit too soon to know about function,'' Gates said. "But with early and aggressive physical therapy, some of those long-term goals can be met.''
If doctors do not need to amputate a limb immediately in the operating room to keep a patient from dying of massive blood loss, doctors are able to wait and bring the patient into the decision.
But in some cases, surgeons said, it is hard to know the right decision. If you take the limb off immediately, then you do not raise a patient's hopes, Gates said.
Dr. Malcolm Smith, chief of orthopedic trauma at Mass. General, said he has disagreed with patients who want their leg amputated and those who want to keep it. One question when the limb is initially saved is "at what point do you call it quits? You and the patient are invested in what you've done.''
Patients who are certain to keep their legs still face a daunting and abrupt recovery and no guarantee they will be able to resume all the activities they once did.
Dr. Scott Ryan, chief of orthopedic trauma at Tufts Medical Center, met Beth Roche in the emergency department soon after she arrived by ambulance. "I'll take care of you. I'll take care of you,'' Roche recalls him saying.
Just hours earlier, the 59-year old Indiana resident had spotted her daughter, Rebecca, cross the finish line and glanced at a friend's phone to note the time. She next remembers falling to the sidewalk in front of Marathon Sports on Boylston Street as black smoke enveloped her. She looked at her left knee.
"The bones were showing, and the skin was peeled back like a sardine can,'' Roche recalled in an interview at Tufts this week. Blood soaked her pants, but she felt no pain. Run into the store, someone screamed.
"I can't run,'' Roche thought, unable to even stand. She watched, helpless, as the people around her stampeded into Marathon Sports and shut the door.
"Everyone was leaving me,'' she said.
Soon, a police officer or firefighter covered her with a blanket, and someone else tightened a tourniquet around her left leg and hoisted her onto a stretcher. Another tourniquet was wrapped around her leg in the medical tent, before she was brought to Tufts.
She had extensive loss of skin, muscle, bone, and tendon, but blood flowed to her lower leg and foot, which was a good sign, Ryan said in an interview.
During a four-hour operation, he cleaned her wound of debris that included pieces of black canvas, which he later realized were probably bits of the backpack that held one of the two bombs. He reconstructed her knee cap and reattached tendons. He stabilized the bones with screws and rods that protrude from her leg and encircle her knee like a cage.
At several points during the surgery, Ryan grew concerned about major damage to blood vessels that could put her leg at risk, but he said that turned out to be a false alarm.
On Monday, before Roche was discharged to Spaulding Rehabilitation Hospital, Ryan reviewed X-rays of her leg in her hospital room. "We are waiting for the wound to heal. It looks great now,'' he told her. Roche will return to Tufts in two to three weeks for a second operation, during which Ryan plans to move her knee cap into the proper position so she can bend her leg.
"I am a fighter and I will fight to get myself ready,'' Roche said. But she is sometimes in significant pain, and loud noises, like the truck revving outside her hospital room window one night, frighten her.
Roche ran the Chicago Marathon last year and walks 3 miles a day, an active lifestyle she is eager to resume. Her daughter said Wednesday Roche is gaining strength.
"My hope is she will eventually be able to sit in a chair comfortably and ride a bike,'' Ryan said. When asked if she will run again, he sighed and paused. "It's unclear at this point,'' he said finally.