Health
Marathon bombing victim: Though difficult, amputation was 'best option for me'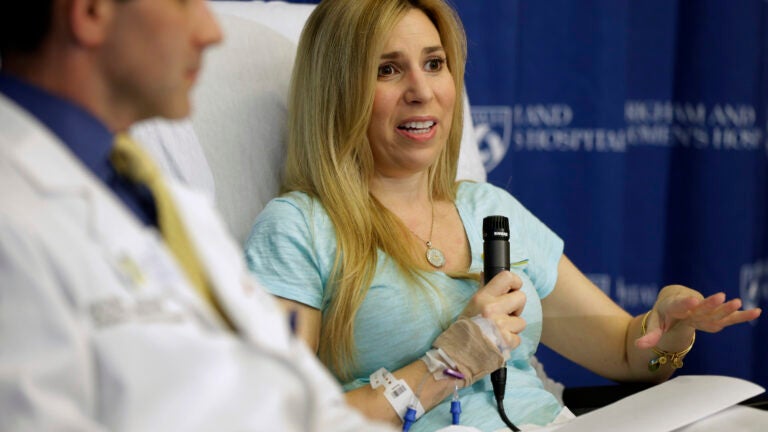 It wasn't a decision Heather Abbott ever expected she would have to make. But, when the time came, her choice was clear. After doctors had tried for nearly a week to save her foot, injured in the blasts on Marathon Monday, Abbott gave them the go-ahead to amputate below the knee.
"It certainly was a difficult decision, but when I weighed the pros and cons, I think this was the best option for me,'' the 38-year-old said at a press conference at Brigham and Women's Hospital.
Abbott was injured by the second bomb on Boylston Street, as she was waiting in line with friends to get into the Forum restaurant.
Orthopedic surgeon Dr. Eric Bluman said Abbott had surgery last week to restore the blood flow to her foot "so that limb salvage would be an option.'' But ultimately, after multiple evaluations, doctors determined that, if it were saved, Abbott would not have full use of the foot and would be likely to experience chronic pain.
Liz Kowalczyk reported in today's Globe that several victims of the bombing may face similar decisions, because doctors are not sure whether they will need to amputate badly injured limbs:
Patients understandably want to keep their limbs. But [chief of trauma services at Boston Medical Center Dr. Peter Burke] said, sometimes saving a person's leg creates extraordinary complications that are not worth it in the end.
"Having something you can't walk on, that you're tripping over because you can't feel it, that's worse actually,'' Burke said. "You commit them to two years of effort and pain and multiple operations. There is lots of addiction to narcotics. An amputation early can let them get back to their life earlier.''
Dr. Jonathan Gates, medical director of trauma services at the Brigham, said five patients, including the woman who opted for the amputation, had limbs that initially were in the "gray zone.'' Surgeons from trauma, orthopedics, and vascular and plastic surgery decided jointly with patients about their approach.
The other four patients are "all out of the woods at this point,'' though there is still a risk of infection or that the bones will not heal together. "It is a bit too soon to know about function,'' Gates said. "But with early and aggressive physical therapy, some of those long-term goals can be met.''
Abbott, who lives in Newport, R.I., said she is hopeful that she will lead a normal life with a prosthetic. She said she was telling one doctor this week that she was disappointed she wouldn't be able to participate in a yoga and paddle boarding class her friends had planned on this summer. The doctor told her, "You'll be doing it next year. Don't worry,'' she recounted.
Bluman said Abbott will be walking with a temporary prosthetic in about six weeks and with a permanent one in as little as four months.
Meanwhile, she said, she's looking forward to meeting Matt Chatham again. Immediately after the blast, the former New England Patriots linebacker, who was at the marathon with the Joe Andruzzi Foundation, carried Abbott to an ambulance.