Health
Red Sox nutritionist dishes about World Series-winning diets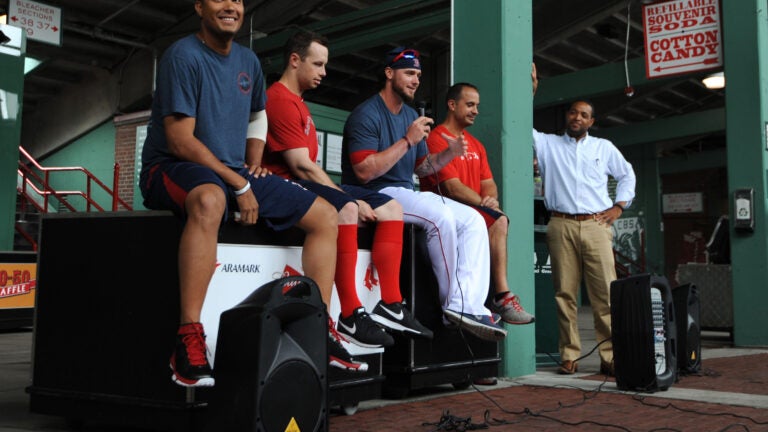 Registered dietitian Tara Mardigan has been the official Boston Red Sox nutritionist since 2006, but perhaps the players were taking her words of wisdom a little more seriously this season. Heck, it might have even helped them win the World Series.
David Ortiz has been known to try fad diets to lose weight (he told ESPNBoston last year that he gave up alcohol, shrimp, and sweets to drop 20 pounds). But nutritionist Mardigan won't dish on that, nor on which team members frequent McDonald's and Taco Bell. (She also didn't want to discuss the 2011 beer and fried chicken
fiasco.)
A Boston Marathon runner and former gymnast, Mardigan did agree to reveal the overall eating advice that she gives to players, as well as how she coordinates her counseling with Red Sox strength and conditioning coach Pat Sandora and the rest of the training staff.
"We look at a lot of data like weight trends, body composition trends, how they're playing, and their amount of fatigue,'' Mardigan told me. "It's not at all about let me see who's misbehaving'' by not eating what she suggests.
Instead, she works with the players — as she would with clients who aren't professional athletes — to see what changes they can realistically make to improve their diets.
"For a player who's great about eating vegetables, I may help them cut back on the dressing and substitute fresh spices for flavor,'' she said. There's an emphasis on keeping it simple when ordering out at restaurants, sticking with grilled lean protein choices such as fish, a chicken breast, or a cut of steak with less fat such as top round or sirloin.
"Players know what restaurants work for them when they're on the road and often go to the same places that know how to prepare dishes'' to their specifications, Mardigan said, with, for example, no oily sauces or with dressing on the side.
Eating out is more of a problem for financially-strapped minor league players, she added, who often look for cheap food when they're on the road. "I joke with them that there's the home ball player and away ball player when it comes to their nutrition habits,'' said Mardigan, who provides counseling for the three area farm teams that feed into the Red Sox.
"I try to get them to minimize the damage they do from eating fast foods,'' she said, "by advising them to seek out healthier options for breakfast and lunch.'' Grabbing an apple and a yogurt from the local 7-Eleven is better than a burrito. Sweets are never forbidden in Mardigan's book, but they shouldn't comprise more than 10 to 20 percent of calories on a daily basis.
Learning mindful eating techniques has become more of a priority in recent years. Mardigan instructs players willing to learn on the art of eating more slowly — chewing, smelling, and really tasting their food in order to experience the visceral pleasure. Eating mindfully also helps prevent overeating by giving the brain a chance to process the stomach's satiety signals.
Some players rely on nutrition supplements in an effort to boost their performance, but Major League Baseball has a "pretty strict policy'' on what's allowed, Mardigan said. All must be stamped with a NSF International sport certification label that guarantees products have been tested and contain no banned substances. That said, the Red Sox organization tries to discourage supplement use, since players are often getting enough vitamins and minerals through fortified foods.
While none of the Red Sox players are vegetarians, Mardigan said there's been a shift toward eating more plant-based whole foods and away from eating processed products such as protein bars. "You can't eat a balanced meal full of pre-fabricated foods,'' she explained. As a snack, for example, players are advised to eat a peanut butter-and-banana sandwich on whole wheat bread or fresh fruit and nuts.
"We're at a level where we're starting to measure just how much whole foods will improve athletic performance,'' said Mardigan, who also works as a scientific advisor to InsideTracker, a health analytics company. "If we give players a lot more opportunity to eat fruits, vegetables, and nuts, and we know they're eating them, are we finding that they get less sick, have fewer injuries, and are playing better on the field?'' That's a question the team is now trying to answer.