Health
What is multiple myeloma cancer?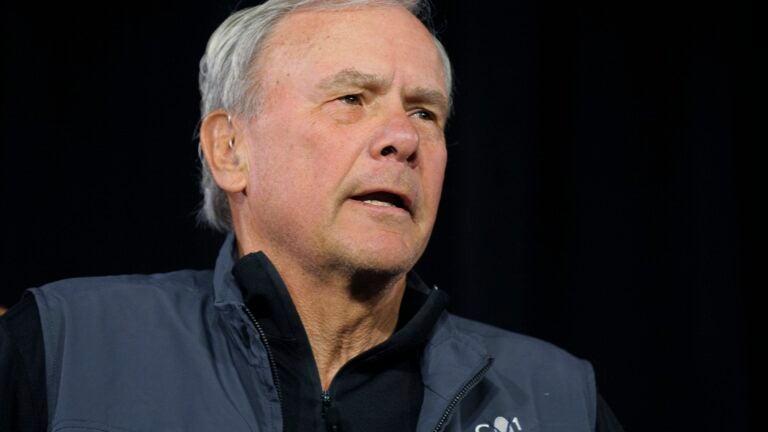 NBC News announced Tuesday that Tom Brokaw, a special correspondent for the news station, is being treated for multiple myeloma, a type of cancer that affects blood cells in the bone marrow. The former "Nightly News'' anchor told NBC News that he and his doctors are encouraged with the progress he's making and optimistic about the outcome of his treatment. He was diagnosed in August at the Mayo Clinic.A cancer expert at Dana Farber in Boston, who is not treating Brokaw, shared the latest prognosis on treating and surviving this disease.
Multiple myeloma is a type of blood cancer in the white blood cells in blood marrow known as plasma, which are responsible for creating the antibodies that help us to fight off infection.
When cancerous myeloma plasma cells begin to multiply, they raise the level of abnormal antibodies or proteins, and cause the healthy red blood cells, white blood cells, and platelets to be crowded out of doing their typical work in the bone marrow.
"Multiple myeloma is the second most common kind of blood cancer after hodgkins lymphoma,'' said Dr. Paul Richardson, oncologist and clinical director for Dana-Farber's Jerome Lipper Center for Multiple Myeloma in an interview Wednesday.
According to Richardson, 23,000 new cases of multiple myeloma are diagnosed every year in the United States. At any one time, about 70,000 people are affected and 11,000 people die every year from this disease, as it remains uncurable.
"The good news is there's been a revolution in the last decade around therapeutic options for treatment,'' said Dr. Richardson, who has been involved at the leadership level for several clinical trials around the use of combination therapies to treat early stages of the disease. He has been published in multiple medical journals and done years of research about the treatment and epidemiology of multiple myeloma.
According to Dr. Richardson, the increase of these antibodies and proteins can be picked up in regular blood tests. But even at early stages, the increase of these cancerous cells and proteins will begin to thicken the blood, forming tumors and breaking down bone, which will cause fatigue, achiness, and create the potential for organ failure.
Multiple myeloma symptoms are most commonly referred to with the acronym CRAB:
– Calcium levels: High levels of calcium in the blood (hypercalcemia), which can result in excessive thirst, nausea, constipation, loss of appetite, and confusion.
– Renal (kidney) failure: The abnormal proteins created by the multiple myeloma can damage the kidneys and cause kidney failure.
– Anemia: Fatigue and weakening that occurs as a result of multiple myeloma cells replacing the red blood cells in bone marrow.
– Bone damage: Fractures and bone damage can occur as the abnormal cells cluster. But as the myeloma cancer grows, it begins to consume the bone, resulting in the dramatic images you can see on the Internet where it looks as if someone hole-punched the bones. The patient's bones will literally ache as they weaken.
Diagnosis
This form of cancer is most commonly detected in common blood and urine samples, which pick up abnormal levels of proteins and antibodies in the body and lead to additional, more precise tests.
According to the Dana Farber Cancer Center, the type of plasma cell, stage of the cancer, genetic changes, kidney damage, and how often the cancer comes in and out of remission can affect how often, and for how long, the cancer goes into remission or returns.
"The good news is that treatment has been revolutionized in the last 10 years,'' said Dr. Richardson. "Median survival a decade ago was two to three years. Myeloma is still considered incurable, but in the last decade the clinical outcomes median survival has been seven to 10 years.''
Risk factors
Multiple myeloma affects people broadly in age as well as gender and ethnicity spectrums.
The average age of a patient affected with multiple myeloma is 70 years old, but multiple myeloma can also affect people in their early twenties. The epidemiology of this disease (traces were found in an Egyptian mummy from 5,000 B.C.) shows that it's actually more common in people of African American heritage, said Dr. Richardson.
Environmental factors also contribute to added risk.
Multiple myeloma has been more prevalent in people who work with pesticide chemicals or have been exposed to higher radiation levels. "Veterans who were exposed to agent orange have also been diagnosed with multiple myeloma at higher prevalence,'' said Dr. Richardson.
In recent research, chronic conditions have been shown to be factors in contributing to the prevalence of multiple myeloma. Dr. Richardson attributes this to inflammation.
"Psoriasis, rheumatoid arthritis, as well as other chronic inflammatory conditions increase the risk of the disease, since these conditions stimulate the immune system and plasma cells,'' he said. "We don't really know what causes it, but we have tantalizing clues.''
Treatment
In older patients, chemotherapy was the more common treatment method until the past decade, when more therapeutic drugs have recently been approved by the US Food & Drug Administration.
"While chemotherapy used to be the mainstay, it's no longer as useful with the advent of new therapies where the outcomes have dramatically improved,'' said Dr. Richardson. "Transplants are still used in younger patients that can still tolerate it, but it's helped by novel therapies that approach the disease without transplant. If you're older you shouldn't have a transplant.''
While there is no cure, Dr. Richardson said these new treatments are allowing patients to experience longer periods of remission.