Health
Great Runs, Walks Around Boston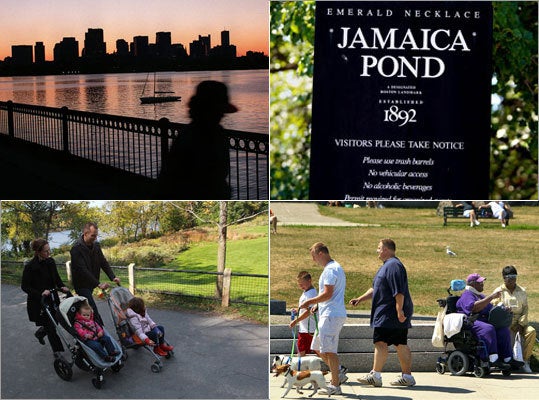 With nice weather comes the opportunity to partake in all sorts of exercise outdoors.

Whether you're tired of seeing the same scenery on your morning run or you don't know where to go, we've gathered up some of our favorite places to walk or run around the city.

Fresh Pond

The Fresh Pond reservoir in Cambridge is a perfect place to walk your dog, jog, or run. You can walk or run the 2.25 mile perimeter road for a nice little workout if you're short on time.

Fresh Pond is about a 10 minute walk away from Alewife Station on the MBTA Red line.

Jamaica Pond

Many enjoy walking or running along the 1.5-mile path around the pond, while others enjoy sailing on the pond in the summer.

The Green Street stop on the Orange line is the closest to the pond.

Carriage Road

Long popular with those training for the Boston Marathon, the Carriage Road is a great route to help runners get acquainted with the quirks and hills before the big race.

Castle Island

There are two loops near Castle Island that are perfect for walking or running. One loop goes around Fort Independence and is .79 miles long. The other goes around Pleasure Bay and it 1.84 miles long. The beautiful scenery from both is an added bonus.

Blue Hills Reservation

Blue Hills Reservation stretches over 7,000 acres from Quincy to Dedham, Milton to Randolph. In addition to walking/running trails, there are also paths for mountain bikes.

Charles River

An 18-mile loop from Science Park to Watertown Square makes the Charles a great pick for those looking for a nice, long walk, bike or run. With many places to cross over the river, you can easily create your own route tailored to how many miles you'd like to complete.

Brookline Reservoir

Originally built as a drinking water supply for the City of Boston, this reservoir has a jogging/walking track encircling it, making this spot one of our top picks for a nice little jaunt.

Commonwealth Ave. Mall

This route in the Back Bay neighborhood links the Public Garden and the Olmsted park system. If you want to extend your route, you can always add a jaunt to Fenway Park and back.