Health
Medical Research Rises from Tragedy at Finish Line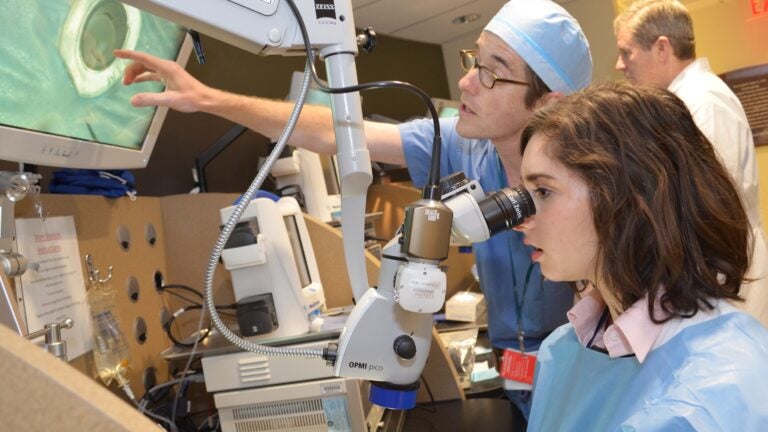 As we mark the one-year anniversary of the blasts at the Boston Marathon that killed three people and injured more than 260 others, the city looks to the lessons and messages of hope that have risen out of the tragedy. It's all a part of the physical and emotional healing. Here is one of those stories, where the impact of a tragedy has resulted in groundbreaking research on blast-related ear trauma.
Fifth-year otolaryngology resident Dr. Aaron Remenschneider at Massachusetts Eye and Ear was on-call last year on April 15, 2013. It was a shift change at the hospital when two explosions at the finish line sent injured people to nearby hospitals in a matter of minutes. But in addition to the external wounds, some unseen wounds impacted more than 100 patients who walked through the doors at Mass Eye and Ear in the days and weeks that followed.
In The Boston Globe, David Abel reported on the story of Bill Richard, who continues to suffer from an agonizing ringing in his ears after the explosion that killed his son Martin. Injuries like these are not well-researched in the United States, mostly because physicians don't often see explosion-related ear trauma, which makes it difficult to conduct research on treatment and recovery in these cases. The high volume of the blast can destroy nerve cells or ear drum tissue, causing long-term effects and damage.
Last year, Mass. Eye and Ear posted a patient information notice about how to identify symptoms of hearing loss as a result of the blasts, advising patients to seek medical attention for symptoms including dizziness, blood or drainage from the ears, dizziness, and even drooping or weakness in the facial muscles.
"We know some information as a result of how patients fare in blast injuries from our military colleagues, but there isn't a whole lot dealing with civilian-related blast injury,'' said Dr. Remenschneider, who is now in his final residency year at Mass. Eye and Ear. "Fortunately, it's a rare occurrence, so this was an opportunity to counsel patients and evaluate the treatments available to them.''
After patients were stabilized at local trauma centers, many with serious hearing injuries were brought to Mass. Eye & Ear for additional testing and treatment. Dr. Remenschneider was testing patients' hearing with audiograms late into the night, and the cases just kept pouring in weeks later. Most of the patients suffered from hearing loss, tinnitus (ringing of the ears), as well as disequilibrium, which can result from problems in the inner ear.
"One thing that was less apparent was the scope of the ear-related injury. Looking informally, we have many patients who ear-related complaints, and it's fair to say it's something that was underappreciated at the time of the event. But going forward we've been able to give them a full evaluation,'' said Dr. Remenschneider.
Only a few weeks after the bombings at the finish line, Dr. Remenschneider and his colleagues Dr. Daniel Lee and Dr. Alicia Quesnel decided to launch a three-year study that would pool patient data from local hospitals about the ear-related injuries from the blasts and study the treatments and recovery progress of 93 patients who agreed to participate. The team reached out to military colleagues in medicine who have worked with veterans coming back from the wars in Iraq and Afghanistan to help inform research and study design.
Less than three months ago, Remenschneider signed up to run this year's Boston Marathon with his wife Emily and the charity team for the hospital, Team Eye and Ear, in order to raise money for hearing-related research. The couple runs at 5 a.m. before they make their rounds at the hospital and continue their work healing.
"There have been lots of cold weather runs on the Esplanade this year, but it's a very collegial experience and it's fun and good for us too,'' said Remenschneider, for whom this will be his first marathon. "I'm very happy and honored to be a part of it this year.''
A year later, the research is still going, pulling lessons from the tragedy at the finish line, in order to heal the future.