Health
Biking Is Nation's Fastest-Growing Commute Style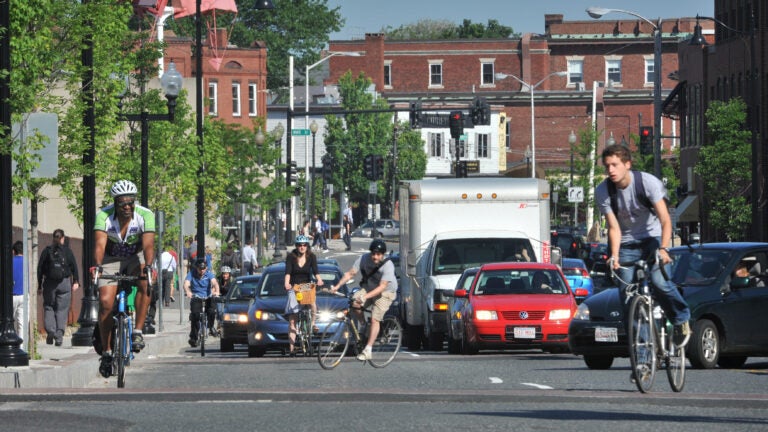 As Boston's weather gets nicer, every day it seems like more residents are opting for a two-wheel ride to work in the morning. The bike commuting trend is growing increasingly popular according to federal data released today.
The U.S. Census Bureau released their first -ever commuting report that exclusively examines the nationwide trends in how many Americans bike or walk to work. The report analyzes the changes in commuting patterns over five years from 2008 to 2012.
The number of Americans who biked to work in increased by 60.8 percent in 2012 (786,000 people), the largest percentage out of any other commuting style. But objectively, the percentage still seems small. One percent of workers biked to work in 2012 compared to 0.6 percent in 2000, according to the report called "Modes Less Traveled–Bicycling and Walking to Work in the United States.''
Out of 140 million workers, 2.8 percent walked, 0.6 percent biked, while still a whopping 86.2 percent drove or carpooled. In terms of planning the transit systems of major American cities, vehicles are still the dominating force for cities who inform their planning and municipal budgets with data points like these.
So where does Boston stand? The city had the highest rate of walkers from 2008 to 2012 at 15.1 percent, up from 13 percent in 2000. Washington, D.C. ranks second at 12.1 percent. Boston fell into the 20th slot for biking.
The West dominates the bike commuter population, but only 1.1 percent opt-in. Portland has the highest percentage of bike commuters at 6.1 percent. With the higher concentration of smaller cities, the Northeast has the highest percentage of walkers with 4.7 percent walking to work. Somewhat expected, commuters living in urban areas are almost twice as likely (4.3 percent) to walk to work than suburban residents (2.4 percent). The South is at the bottom of the list for both biking and walking.
The weather is a factor to consider when looking at these numbers. Census data is typically collected in April, while ACS data is collected throughout the year, so seasons when people are surveyed may have affected their primary mode at the time. The density of the city also makes it more likely to offer public transportation, which the report says make biking and walking more attractive (apparently Boston isn't the only city waiting forever for the bus).
As each population aged, the rate of bicycle commuting declined and those 55 years or older were the least likely to bike (0.3 percent). Broken down by gender, men were more than twice as likely to bike (0.8 percent nationally) than women (0.3 percent nationally).
Physicality, income, and residential location apparently all contribute to how likely workers are to bike or walk to work. Millennials age 16 to 24 (primarily because of urban living and economics) had the highest rate of walking to work at 6.8 percent.
Infrastructure, design, climate, and community size are all local factors that can affect a person's commuting preferences, according to the report. The increasing popularity of biking and walking to work will increase the demand for data around this issue as transportation planners need to increasingly monitor and analyze their city's response to this population in terms of their infrastructure. The size and span of this report could make it useful for city planners.
Interestingly, high rates of biking and walking tend to be in concentrated pockets and there can be greater percentages of bikers and walkers in surrounding versus principal city neighborhoods. You can tell from the distribution of orange and rust in the Census Bureau interactive map that Cambridge is ahead of Boston in terms of the percentage of residents that bike to work.
Improving or modifying sidewalks, building pedestrian-oriented commercial centers and bike lanes are all strategies for cities to accomodate more biking and walking.
According to Boston Bikes, the city's division about bike and bike safety launched under Mayor Thomas M. Menino in 2007 when Boston had one of the worst reputations for bike safety.
In 2011, the Alliance for Biking and Walking report rated Boston as the safest combined biking and walking city and the eigth safest cycling city in the United States, but in 2014 it unfortunately ranked highest for fatality rates and 49th for per capita spending on bicycle/pedestrian projects. (Check out the city's Bike Crash Data Map.) It's not certain whether the spending is proportional to the expanding biking population, but Boston is planning ahead.
As of 2013 there were 60 miles of bike lanes and 1,000 bike racks. The city plans to expand its biking roads and routesto build an additional 75 miles of new routes in five years and 356 miles within 30 years.
Do you bike to work? How do you think Boston compares to other cities?