Health
Nate Silver's FiveThirtyEight Website Takes on the Data Behind Masturbation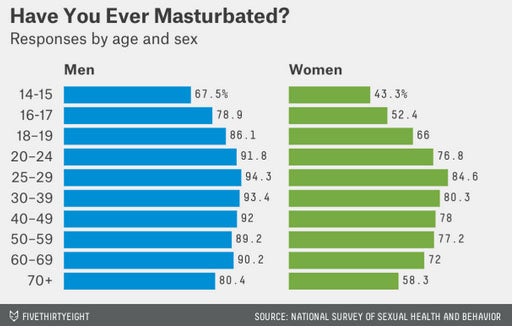 Nate Silver's FiveThirtyEight website tackled one of society's more taboo topics today: masturbation.
Mona Chalabi, the lead writer for DataLab, apparently received a letter from a concerned reader. He wanted to know whether masturbating eight times per week was "normal.''
Chalabi, who responds to readers' questions with data-heavy answers, gave 31-year-old Brandon advice and an earful of interesting statistics about masturbation. She used a 2009 report from The National Survey of Sexual Health and Behavior of Indiana University to bolster her response.
The NSSHB collected data from 5,865 Americans between 14-94 years old and generated a 137-page report on the subject.
Here are eight of the key takeaways:
1. "43.3 percent of girls and 67.5 percent of boys that are 14-15 year old say they've masturbated.''
2. "Only 1.5 percent of women ages 30 to 39 masturbated four or more times per week.''
3. "92 percent of men in their 40s say they've masturbated at least once, compared to 78 percent of women in their 40s.''
4. "78 percent of all Americans age 14 and older say they have masturbated at some point in their lives.''
5. "80.3 percent of women in their 30s say they have masturbated alone in their lifetime.''
6. For 18-24-year-old men, it is most common to masturbate "A few times per month to weekly.''
7. For women the same age, it is most common to masturbate "Not in the past year.''
8. Only 5 percent of women ages 25-29 masturbate more than four times per week, compared to 20 percent of men the same age.