Health
Does Your Boston Gym Match Your Personality?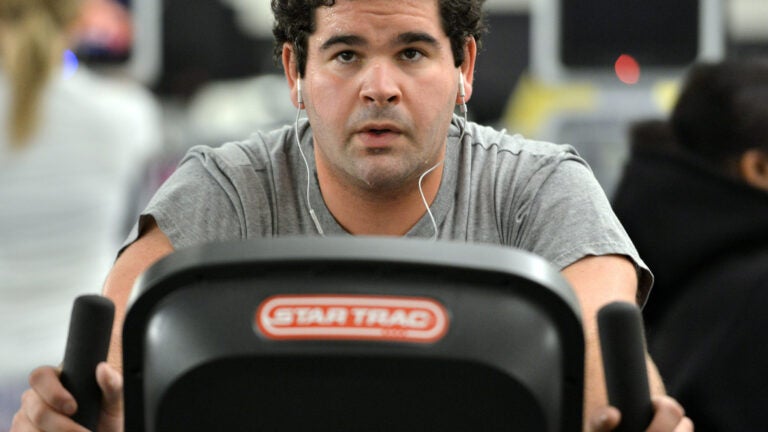 Some people say they go to whichever gym is closest to them, but many others will go out of their way to go to a specific gym.
Every gym has a certain personality: Your local CrossFit is nothing like your neighborhood YMCA. Which gym should you be going to?
1. GymIt, 920 Commonwealth Ave. Brookline
At $20 a month, this "no-frills'' gym won't break the bank.
Pros: 100 pieces of cardio equipment, strength training room, and "GymIt 30s,'' which are team training classes where you receive a full body workout led by a personal trainer in 30 minutes.
Cons: The lack of large group fitness classes keep it cheap, but sometimes you just might want to Zumba to Katy Perry.
Quote That Best Exemplifies It: "Because somewhere along the way, gyms started adding features like daycare, fake tanning and designer protein shakes. You don't want to pay for that stuff when you're not using it,'' the gym's website states. (You won't run into any prima donnas here.)
Who Goes Here? According to Manager Jonathan Carrasquillo, the average customer is a "25-year-old young professional who just graduated college.'' They like it because of the price-point and the easy 30-day-notice cancellation policy, he said.
2. Lifted, 149 North St. The North End
If you want rock-hard abs this summer, this intimate personal training studio constantly mixes up your individualized workouts so you're always challenging your body.
Pros: The private setting allows you to work out without feeling self conscious, and their website says they only hire trainers with bachelor's degrees in exercise science.
Cons: Just one personal training session per week costs $65. If you go with a friend, you can split a $75 fee, but that kind of price tag could quickly add up.
Quote That Best Exemplifies It: "Our one-on-one personal training provides you with the highest level of instruction, motivation, and level of accountability,'' according to the website. (Accountability? Is this exercise or the Marines?)
Who Goes Here? We're willing to bet if you're a starving college student, this is not the place for you. But if you work in the Financial District and are about to rock a speedo in the Bahamas this summer, a few weeks here might be just your speed.
3. Mike's Fitness, 284 Amory St. Jamaica Plain
If there's one thing Mike's has a lot of, it's group fitness classes: Yoga, Insanity, Zumba, Cycling, Abs, Turbo Kick, and Boot Camp are just some of the varied classes you can try.
Pros: There's no contract or start-up fees, and the facility is over 10,000 square feet, so there's plenty of room to stretch your legs.
Cons: Membership plans range from $40 to $60 a month: Not terrible, but not exactly cheap either.
Quote That Best Exemplifies It: "We're pretty laidback. Our rules are 'Keep your clothes on' and 'Don't fight,''' staff employee Luis Yzusqui said. ("Keep your clothes on'' seems like a pretty reasonable policy.)
Who Goes Here? According to Yzusqui, "Probably 60 percent are women between 30 and 60 years old.'' He said the women are mostly affluent and "have a lot of free time.'' The other 40 percent he said is largely "Latino guys between 20 and 35 years old.''
4. Boston Sports Club, 505 Boylston St. Back Bay
This gym is perfect for the "9-5 er,'' employee Evan Chuderski said. In addition to having a "calm atmosphere,'' (there's a spa, masseuse, and towel service!), he said it has a very close-knit community since most gym goers arrive either early in the morning or during their lunch break.
Pros: Chuderski claims its the only downtown gym with a pool. BSC also boasts having created UXF, a "less intense'' version of CrossFit available for members. (Anything less intense than Crossfit sounds good.)
Cons: Since it is located in the heart of downtown Boston, you can't look like a disheveled mess on your way to your morning workout. Or you can, but you'll be judged for it.
Quotes That Best Exemplifies It: "We appreciate that kids can be both terrible and magical. Obviously, positive behavior is encouraged, but if your kid earns a time-out we'll let you know,'' the website states. (There will be no monkey business at BSC: Keep your children in line.)
Who Goes Here? Most of BSC's clientele are in their early 30s and work at Liberty Mutual, State Street Corporation, and Massachusetts General Hospital, Chuderski said.
5. Gold's Gym, 323 Dorchester Ave., South Boston
Gold's has a lot of versatility: group exercise classes, a "ladies only'' gym, and even Mixed Martial Arts training. And at $39.99 a month, you'll have cash to burn on snacks that are the reason you need to go to the gym in the first place.
Pros: Gold's offers a "Gold's Gym Spotter App'' to help you locate nearby gyms, see class schedules, and send you daily motivational messages to kickstart your workout.
Cons: You'll need to get a locker because according to sales representative Garrett Collins, "you can't bring your personal bags around with you.''
Quote That Best Exemplifies It: "Every personal trainer has to pass the Gold's Fitness Personal Trainer Certification course and exam, in addition to their national accreditation,'' according to the website.
Who Goes Here? According to Collins, the Gold's demographic is mostly young professionals (roughly 30-40 year olds) and evenly male/female.
6. Sweat Box, 800 Boylston St., Back Bay
If you're into the idea of "girl power'' and just kicking butt in general, Sweat Box might be for you. Established by founder Sifu K. L. Brown in 2002, "Sweat Box,'' is a blend of boxing, kung fu and hip hop dance, and is the world's "first martial art form designed specifically for women.''
Pros: In the summer, Brown said he takes the training sessions outside by the Charles River.
Cons: At $2,900 for every 20 sessions, this gym might not be within everyone's price range.
Quote That Best Exemplifies It: "The art form is an uncanny fusion of boxing, martial arts, dance and gymnastics that functions as sport, fitness and entertainment,'' the website states. (If you like to think of your sweat sessions as "art forms,'' Sweat Box might be your cup of tea.)
Who Goes Here? According to Brown, clientele are women from "18-45 ish,'' and while some are "just looking for a fun way to get in shape,'' others are training for boxing competitions. (In 2012, one of his students won the New England Regional Title in the Golden Gloves, an amateur boxing competition.)
7. The Ring, 971 Commonwealth Ave., Allston
Tired of the treadmill? The Ring specializes in boxing for a more invigorating workout routine. (According to the gym's website, one hour-long workout here can burn up to 1,000 calories, so pass the Krispy Kremes, please.)
Pros: There are more than 60 classes a week, so there's no excuse not to fit in one of their "12-Round Workouts,'' a blend of a professional boxer's workout with extreme fitness drills, into your schedule. Unlimited access memberships are $139 a month.
Cons: If you hate sweating, this might not be the place for you. Manager Owen Cluer said, "Bring whatever you're comfortable sweating in, because boy, you're gonna sweat.''
Quote That Best Exemplifies It: "Here is your chance to haul off and hit something,'' their website states. (Perfect for your pent-up aggression.)
Who Goes Here? "Everybody,'' Cluer said. "A lot of students because of Boston College and Boston University, and professionals, lawyers, doctors, and nurses.'' Their website states that roughly 40 percent of members are female.
8. Equinox, 225 Franklin St., Financial District
If you like working out in the lap of luxury, Equinox's facilities are known for their "impeccable attention to detail,'' according to the gym's website. In addition to "innovative classes, exceptional trainers and the highest quality equipment,'' Equinox also has "luxurious spas, cafes and boutiques.''
Pros: The corporate culture of Equinox allows the company to give back: they donate to a variety of charitable social and health-related causes like "Cycle for Survival,'' which raises money for cancer research, and "The Heroes Project,'' which provides climbing programs for wounded soldiers and veterans.
Cons: Membership prices vary: it all depends where you work, according to front desk member Joelle Martin.
Quote That Best Exemplifies It: Equinox uses "building materials and furniture which are sourced locally and require less transportation to our locations, have high recycled content and are from rapidly renewable resources such as cork, bamboo and rubber,'' according to the gym's website. (lavish and eco-friendly!)
Who Goes Here? Martin said clientele are typically "middle to high class'' men and women who frequently work in the Financial District.
9. South Boston Yoga, 36 W Broadway St., South Boston
Feeling tensed and stressed after your long work week? South Boston Yoga offers a variety of yoga classes, including aerial (anti-gravity) yoga, meditation, personal strength training, pilates, massages, and nutrition and health counseling.
Pros: With 10,000 square feet of studios, South Boston Yoga is currently the largest yoga studio in the Greater Boston area, owner Todd Skoglund said.
Cons: A yearly membership is $1,200, so you might want to ask your special someone for a membership as a birthday present. (Unlimited monthly access costs around $150).
Quote That Best Exemplifies It: "We're focused more on community than doing crazy stunts,'' Skoglund said.
Who Goes Here? Skoglund said classes are typically between "60 and 70 percent women,'' but that South Boston Yoga has "more male students than other studios because it's owned by two men.'' He said the larger female portion of clientele usually ranges from 20 to 70-year-olds and that they come from all over Boston: from "Southie to college students.''
10. Pure Barre, 350 Newbury St.. Back Bay
If you've always dreamed of being a ballerina, Pure Barre, a small boutique studio dedicated to getting its clients the bodies of a dancers, might be just the place for you. The fitness fad started in New York about a decade ago, but has gained steam in Mass. in the last couple of years, manager/instructor Fiona Gerety said.
Pros: This 55-minute total body workout focuses on tiny isometric movements and can be "low impact to high intensity,'' Gerety said, so there isn't too much stress on your joints.
Cons: If you're a guy, you might feel out of your element since Pure Barre is "geared toward women,'' Gerety said. That's not to say men aren't welcome: According to the studio's website, "Many studios periodically host "Bring on the Men'' classes where clients are encouraged to bring their special men (husband, boyfriend, brother, dad, friend, etc.) to class to find out what Pure Barre is all about.''
Quote That Best Exemplifies It: "There is a sense of community that's lost in a larger gym,'' Gerety said. "Today is 'Eighties Day,' so we're all dressed like we're from the Eighties!''
Who Goes Here? According to Gerety, Pure Barre frequently accomodates customers ranging from female students in their 20s to women in their 70s, but the most common clients are "professional women in their 30s.'' Gerety said they are typically "affluent since the membership is pretty expensive.'' (New members pay $100 for the first month. After that, the price is $225 per month.)