Health
Mass. General Hospital Honors 100 Leading Fight Against Cancer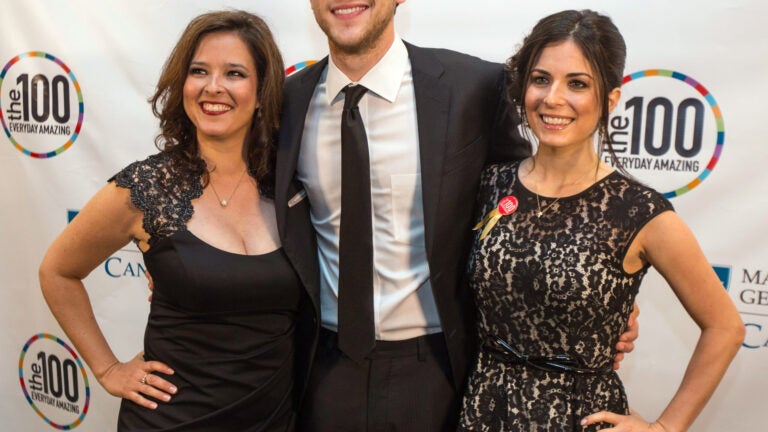 Massachusetts General Hospital Cancer Center Tuesday night celebrated their 7th annual awards ceremony honoring 100 individuals and organizations leading the fight against cancer. Aptly named "the one hundred'' the award recipients were chosen from approximately 1,000 nominations this year, which were submitted from across the country and around the world.
Emmy Award-winning actress Valerie Harper was one of "the one hundred'' award recipients for her advocacy and being "a beacon of hope and inspiration'' for cancer patients like herself. In addition to the award recipients, local celebrities also attended as special guests.
More than 1,000 attendees enjoyed a live musical performance from this year's American Idol winner Phillip Phillips, while actor Matt Damon spoke at the event, accompanied by a few family members. His father, Kent Damon, has received treatment at MGH for multiple myeloma. Also in attendance were actor Chris Cooper, New England Patriot's owner Robert Kraft, President of MGH Dr. Peter L. Slavin, and Director of MGH Cancer Center Dr. Daniel A. Haber.
The special guests all had ties to MGH Cancer Center. Jonathan and Patti Kraft, the event committee chairs, have lead the event for the past four years. Their mother Myra Kraft, a 'one hundred' honoree and wife of Robert Kraft, passed away from ovarian cancer in 2011. The event included a red carpet photo opportunity. View the pictures here.
Tuesday's star-studded event at the Westin Boston Waterfront on Summer Street awarded the following individuals and organizations as "the one hundred'' for 2014, in addition to dozens of others.
Chris Draft, the former NFL player who started Team Draft after losing his wife to lung cancer.
Haymakers for Hope is a New York City-based nonprofit with founders from Boston that raises money for cancer research by putting on boxing tournaments for every day people.
Caring for a Cure is a group of nurses at MGH Cancer Center who started a program in 2011 to raise money to improve the patient experience and support for families during treatment.
Eric S. Lander, PhD is one of the leaders of the Humane Genome Project and a pioneer researcher in genomics, having created some of the keys to innovative new research in understanding chronic diseases, including cancer. He is the founding director of the Broad Institute of MIT and Harvard.
Henri and Belinda Termeer were honored for their philanthropic efforts in establishing the MGH Cancer Center's Termeer Center for Targeted Therapies, which works on personalized cancer medicine to develop molecularly targeted treatments and has made significant discoveries in lung cancer, melanoma, and breast cancer.
Susan Wornick, the long-time WCVB-TV anchor who recently retired was honored for her legacy of work with various breast cancer fundraisers and charities.
Santander was honored for being a corporation that partners with MGH to advance cancer research as well as patient and family support services.
Winter Vinecki, who at 15 years old ran a marathon on every continent, was honored for her effort to raise money for prostate cancer awareness and research in memory of her father.