Health
The Vicious Cycle of Stress and Poor Health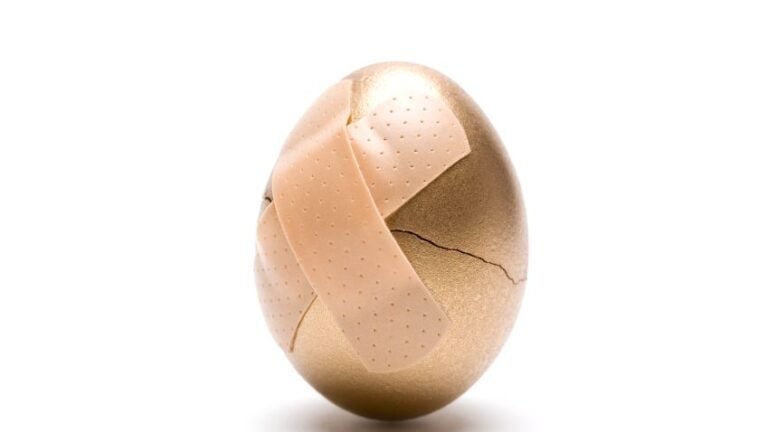 It's a delicate line we walk between good health and bad. One day we're feeling fine, and the next, a busy work week or family emergency can send us over the edge into illness. What's the culprit? Stress.
It's the brain's response to any demand, but most often it's change or demand in our routines. When it's short-term, perhaps we get a cold. When it's long-term, it can have a much more serious impact on our greater wellbeing, which in turn, stresses us out even more.
So which came first, the stress or the health problems?
Almost half of our most stressful experiences are related to our health, according to a new NPR/Robert Wood Johnson Foundation/Harvard School of Public Health survey released today. "The Burden of Stress in America'' survey analyzed responses from more than 2,500 adults over 18 years old from March to April 2014. Those who identified with being in poor health were much more likely to report having had a great deal of stress in the past month.
What are life's great stressors?
The survey focused on those 26 percent of respondents who reported experiencing "a great deal of stress,'' since this level of stress was much more likely to impact different areas of their lives. Of those surveyed, 49 percent reported they had a major stressful event or experience in the past year, which fell into the following categories:
-Illness and disease (27 percent)
-Death of a loved one (16 percent)
-Problems with work (13 percent)
-Life changes/transitions (9 percent)
-Family events/issues (9 percent)
-Problems with personal relationships (6 percent)
Researchers classified illness, disease and death of a loved one as "health-related problems,'' which put the portion of respondents experiencing a great deal of stress from something health-related at 43 percent.
Unfortunately, if you're stressed because of health problems, and health problems can be caused or exacerbated by stress, and you're stressed because of your increasingly bad health, well, it's a vicious cycle of stressed-out chicken-and-egg.
[fragment number=0]
Poor health makes us even more stressed out.
The survey found that 60 percent of respondents in poor health reported a great deal of stress, almost twice as likely as the rest. But the other large groups of respondents most likely to report great stressors also had health-related impacts on their lives:
-45 percent of respondents were disabled
-36 percent of respondents had chronic illness
-36 percent often experience dangerous situations at work
So who were the other groups of people reporting great stress? People with an income less than $20,000, single parents, and parents with teenagers.
After those who reported that "Too many responsibilities overall'' (54 percent of respondents) in the past month contributed to their great stress, the next causes were finance (53 percent) and work (53 percent) problems, followed by health problems (38 percent), health problems for immediate family members (37 percent), problems with family members (32 percent), and finally, being unhappy with the way you look (28 percent). (Which is arguably also health related.)
So what are we doing about it?
This isn't the first research to correlate stress and health. While 60 to 80 percent of primary care visits involve stress, stress managment is still not yet a regular part of a health care visit. Only 3 percent of doctors in a survey of family physicians published in 2013 JAMA Internal Medicine article said they included stress management counseling in their patient visits. There is hope though. In the past couple of years, private practices, hospitals, and health systems like Beth Israel Deaconess Medical Center and Boston Medical Center, both in Boston, are opening stress management practices to help patients manage stress with resources not often provided in the exam room.
[fragment number=1]
What can you do to manage stress?
The survey also collected data from respondents on how stressful they found particular daily tasks. Participants reported that tasks such as juggling family schedules, hearing about what politicians and the government is doing, following the news, doing chores like cooking and cleaning, running errands, car problems, commuting, household repairs, losing keys or cell phone, as well as using social media were stressful. Which is great news, since this simply sounds like daily life for most of us.
As a result of all of this stress, respondents were most likely cut back on sleep (70 percent), eat less (44 percent), and exercise less (43 percent). The problem is, these are exactly the tasks most likely to reduce your stress! Cutting back on any of these items is also the recipe for poor health, which feeds, once again, into the stressful chicken-and-egg scenario: Worse health causes worse stress, which causes worse health.
The Centers for Disease Control and Prevention recommends the following to manage stress in your daily life:
1. Drink less alcohol.
2. Ask for help from friends and family.
3. Schedule fun and be social.
4. Practice wellness.
5. Get active in your community, or volunteer to take your mind off of things.
Read more in the full report.