Health
Gov. Patrick Signs Mass. Abortion Buffer Zone Bill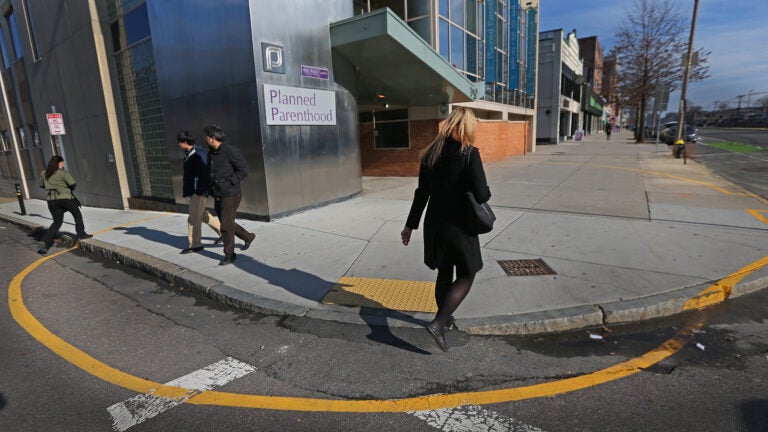 Governor Deval Patrick today signed a bill that tightens security regulations regarding protests and demonstrations at abortion clinics in Massachusetts. The bill, titled an Act to Promote Public Safety and Protect Access to Reproductive Health Care Facilities, ensures safe access for those seeking reproductive health care services and will go into effect immediately.
The bill is in response to the U.S. Supreme Court's recent ruling against the state's "buffer zone'' law, a 2007 law that banned protests within a 35-foot radius of abortion clinics. The high court unanimously shot down the law in the McCullen v. Coakley ruling last month deeming it a violation of the First Amendment right to freedom of expression.
The revised legislation improves upon the annulled buffer zone law, preserving protesters' right to free speech while still creating safeguards that protect patients and employees from physical and verbal harassment at reproductive health care facilities such as abortion clinics.
"I am incredibly proud to sign legislation that continues Massachusetts leadership in ensuring that women seeking to access reproductive health facilities can do so safely and without harassment, and that the employees of those facilities can arrive at work each day without fear of harm,'' said Governor Patrick in a prepared statement.
Violence and harassment at reproductive health care facilities is a serious public safety concern across the country. Since 1993, eight abortion clinic workers have been murdered in the United States— two of these in Massachusetts. Seventeen attempted murders have also occurred. Since 1977, there have been 6,100 non-deadly acts of violence against abortion physicians including bombings, kidnappings, and assaults, and an additional 156,000 acts of disruption, according to pro-choice advocacy group prochoiceamerica. Such violence and harassment is often the most traumatic part of the abortion experience and may discourage women from receiving proper reproductive care, studies show.
"This bill takes an important step toward protecting the rights of women and public safety around reproductive health facilities,'' said Attorney General Coakley in a prepared statement. "We now have new tools to help ensure access to these facilities free from intimidation and threats.''
The new law, originally sponsored by Senator Harriette Chandler, adopts a state verion of the federal Freedom of Access to Clinic Entrances (FACE) Act, an act which "prohibits the use of force, physical act or threat of force directed at an individual attempting to access or depart from a reproductive health facility,'' according to a statement released by the Governor's office today.
Under the new law, peaceful demonstrations are allowed within any range of reproductive health care facilities so long as they are non-threatening and do not block facility entrances. Protests that fail to comply with these rules are subject to dispersal or punishment by law enforcement.
Demonstrations that impede clinic entrances will be immediately dispersed, an authority granted to police under the law. Once a written dispersal order is issued, dispersed protestors will be banned from coming within 25 feet of the clinic for eight hours or until the clinic closes. The law requires this 25-foot zone to be clearly marked, and the lawful demonstration rules must be visibly posted.
The Act to Promote Public Safety also prohibits physically intimidating or threatening conduct outside reproductive facilities. Protesters who use "force, physical act or threat of force,'' to injure or intimidate a person entering or leaving a clinic will be punished by fine or imprisonment.
The bill is being praised by pro-abortion activists and legislators who were disappointed by the Supreme Court's decision.
"A woman shouldn't be forced to run through an onslaught of screaming, yelling and bullying to access health care,'' said Cecile Richards, President of Planned Parenthood Federation of America in a prepared statement after news of the bill signing broke. "That's why, literally within hours of the Supreme Court decision, women's health champions in Massachusetts sprang into action, to create the Safe Access Law and right the wrong done to women by the Supreme Court.''
Perfecting the balance between protecting both public safety and freedom of speech was a tricky one for legislators who drafted the bill. While abortion opponents have threatened to challenge the bill, pro-abortion legislators claim it to be constitutional.
The primary revision to the law is that the 25-foot-radius ban applies only to those persons behaving in an explicitly vulgar or threatening manner and who therefore pose a serious public health concern. The previous law applied to all persons, which the Supreme Court deemed unconstitutional, because it "burden[s] substantially more speech than is necessary to further the government's legitimate interests.''
In the Supreme Court's majority opinion against the annulled buffer zone law, Chief Justice John Roberts distinguished between protestors and petitioners. While "vociferous protestors'' may still be heard and seen 35 feet from the clinics, the buffer zone deprived peaceful petitioners of their "two primary methods of communicating with arriving patients: close, personal conversations and distribution of literature,'' he wrote.
Addressing these criticisms, the revised law re-bestows these methods of communicating while still preventing offensive and threatening protests.