Health
Are Happy, Healthy Turkeys Worth Their Weight?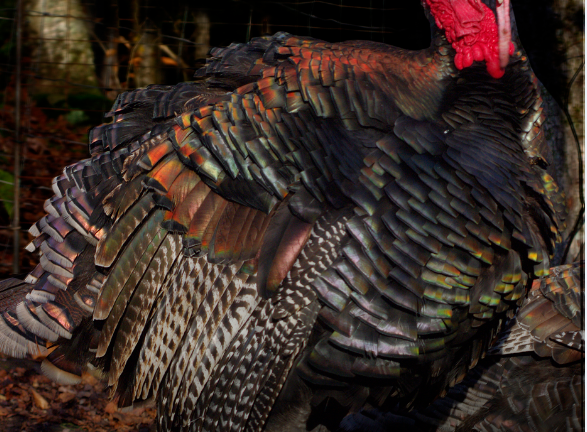 Heritage turkeys offer a natural alternative to typical Thanksgiving fare—they're kind of like the kale-eating, fixed-gear-riding cyclist who hangs out at your local coffee shop, while your normal supermarket offerings resemble the veiny dudes who grunt loudly at the gym. Which should you invite to Thanksgiving?
Heritage turkeys are old, colorful breeds, most commonly seen as the Narragansett and Bourbon Red variety. They are raised on much larger pastures of land and are bred without antibiotics and hormones. Also, they taste good. Heritage turkeys are commended for their rich, meaty flavor – a stark contrast from industrial turkey, which is generally characterized as bland.
Roger Strued, founder of the Heritage Turkey Foundation, said industrial turkeys are bred to be low-fat. Heritage turkeys, which contain thicker skin, have more fat, allowing them to naturally baste while being roasted.
It's also important to understand is that heritage turkeys are more likely to be back-to-nature than their fellow birds. Heirloom turkeys are often confused for heritage turkeys. Heirlooms, however, are a purebred derived from the Broad-Breasted variety — an older, less chemically altered breed, although not as esteemed as the heritage.
Free-range turkeys, though not a technical legal term, are generally exposed to the outdoors, usually aren't given antibiotics, hormones, or preservatives, and eat a vegetarian diet. However, since free-range is not a universal term, individual farms should be consulted on how the turkeys are raised.
Heritage turkeys' flavor comes at a price — the average price of a Butterball is $1 per pound, while heritage turkeys tend to run between $4 and $6 per pound
Caroline Apovian is a professor of medicine and pediatrics at Boston University School of Medicine, and she says this type of turkey is worth the cost.
"They're better for you, and you don't want meat that has been pumped up with antibiotics and other things,'' she said.
Of course, nutritionists encourage the health-minded to avoid fatty skin and dark meat at Thanksgiving. But naturally raised turkeys have other health benefits worth considering.
Industrial turkeys are generally given growth hormones, which help produce large amounts of white meat. Meanwhile, the major producers of heritage turkeys generally do not use chemicals, antibiotics, or hormones.
According to the USDA's Turkey Industry Overview from 2008 to 2013, in 2013 the average turkey weighed 30.3 pounds — an increase of 1.3 pounds since 2008. US farmers have bred turkeys for efficiency, according to the report, and the production process continues to improve.
But Alicia Romano, a clinical registered dietitian at the Frances Stern Nutrition Center at Tufts Medical Center, said that the overall effects of those processes have yet to be seen.
"We don't know what these additives of food are going to do for [children] in the long term,'' she said. "The longer-term effects aren't really well established.''
However, Romano said, "On the day of Thanksgiving, [antibiotics are] the least of someone's worries.'' High-sugar and high-fat foods pose bigger problems to a healthy holiday.
Apovian cited research reflecting the potential for antibiotics to have adverse long-term effects. New research into antibiotics' effects on gut microbiomes, for example, suggests that obese people have a different prevalance of bacteria in their guts, a sign that antibiotics might have long-term effects on weight.
Whether it's for humane or health reasons, heritage turkeys are a viable Thanksgiving option for many — although finding them in time for this year's feast might be tricky.
Strued many places on the East Coast don't have access to heritage turkeys. He's worked with farmers in California to increase breeding and he eventually hopes to bring them back to Americans' holiday tables, which will then make them more affordable, he argues.
Although heritage turkeys are less common in New England, Stillman's At The Turkey Farm has a few left for order this year. Strued recommends securing your order by early September 2015 (from a local vendor, or a site like Heritage Foods USA) if you want a heritage turkey on the table next year.
Editor's Note: A previous version of this article included a reference to breastfeeding. To be clear, it's not known what effect antibiotics in meat has on breastfeeding children.