Health
On the Front Lines of the Vaccine Debate, Pediatricians Play Both Sides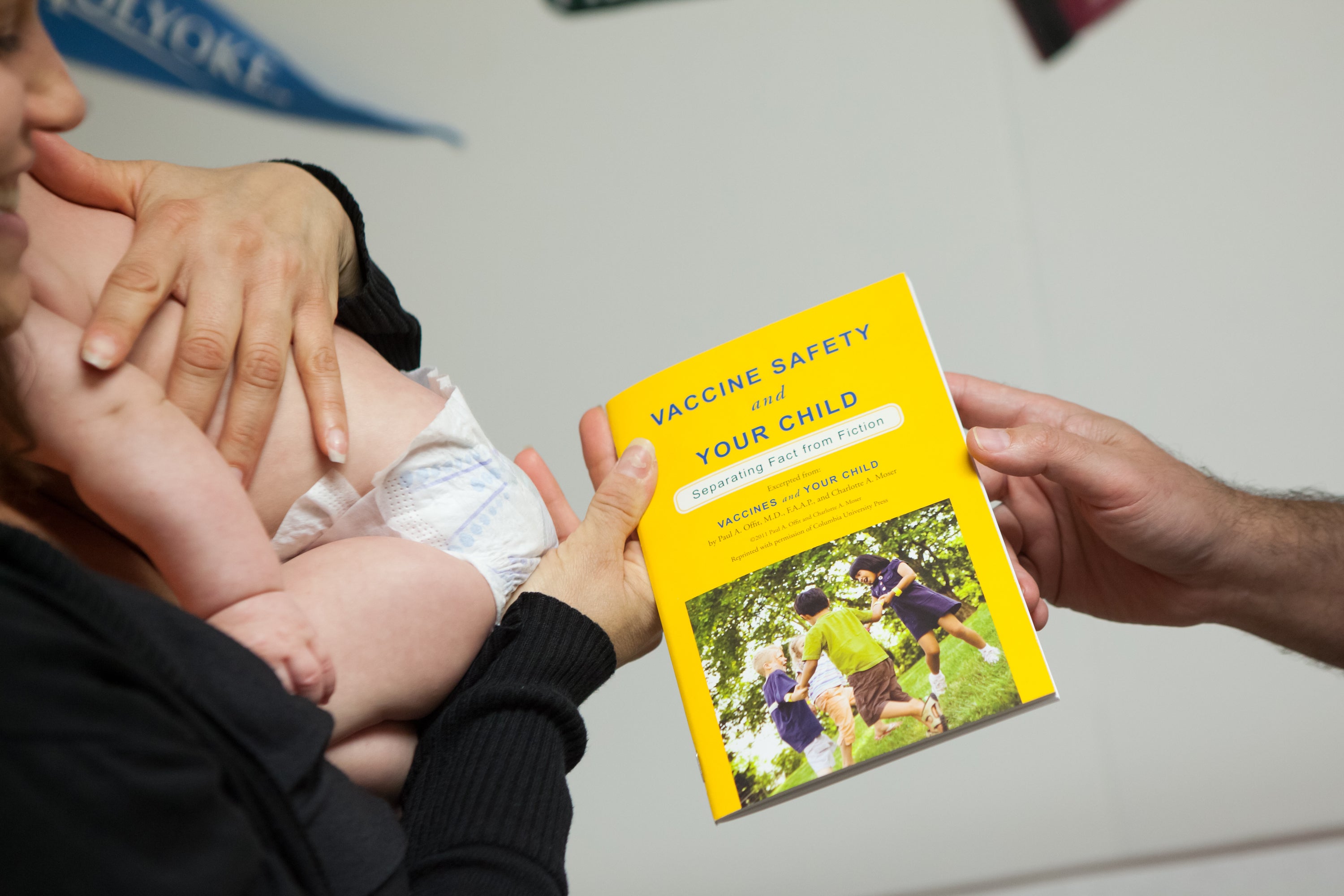 While many physicians in Massachusetts refuse to treat families who won't vaccinate their children, some doctors don't even offer vaccines, despite the mandate for public school students.
And then, there are those in between.
Massachusetts public school kindergartners are required to be immunized against hepatitis B, diphtheria, tetanus, pertussis, polio, mumps, measles, rubella, and varicella. In the 2013-2014 school year, 1,192 Massachusetts kindergarten children filed vaccine exemptions. According to data from the Massachusetts Department of Public Health, this is the first time in four years the number of exemptions hasn't increased, but it's more than double the exemptions 20 years ago. Meanwhile, the total number of kindergartners has decreased by 8,900.
[fragment number=0]
To be exempt from vaccines in this state, a child must file a medical or a religious exemption. While the latter requires a note from the child's parent or guardian attesting to their religious beliefs, the former requires a note from a doctor. The medical community at the federal, state, and local level largely agree that vaccines are an important element to public health, so we wondered why some doctors are allowing their young patients to go without them.
It's time to introduce you to the "vaccine-friendly'' physician
A bit of a misnomer, physicians who are "vaccine-friendly'' treat families who decide not to vaccinate. A simple Google search is the first step to finding them.
The first page of search results for "vaccine friendly doctors in Boston'' pulled up JanetLevatin.com, a website for an Ohio-based homeopathic medicine specialist. She lists nine Boston-area physicians who "either don't vaccinate or do not push unwanted vaccines.''
Dr. Janet Levatin, who practiced in Brookline for 25 years before moving to Ohio, does not offer vaccines for her patients. She also did not vaccinate children for many years in Massachusetts. She told Boston.com that she put the list together as a resource for patients when she moved states. Patients' word-of-mouth recommendations as well as her own knowledge of vaccine friendly physicians in the area informed her selections.
Within 24 hours of speaking with Boston.com, Levatin took down her website. She insisted that the list may be out of date, so we called each of the physicians listed to see if their position on vaccines had changed. We managed to speak with four of them.
The first we reached, Dr. Fred Mandell of Brookline, was uncomfortable and unaware he was listed on Levatin's website. He insisted that he follows the state's vaccine guidelines and did not wish to speak further on the topic.
In Quincy, Dr. Mark Vonnegut said that although he was unaware he was on the list, he was comfortable with being classified as "vaccine-friendly'' because he doesn't "believe in kicking kids out of a practice for not being immunized.'' (Some doctors refuse to treat children who have not been vaccinated, even if that means losing an existing patient.)
Dr. Deborah Bershel, who runs an independent family practice in Davis Square, was also unaware that she was on Levatin's list, but said she is comfortable being classified in this way. Bershel believes that immunizations are effective and good public health policy, but she said that she is simply offering the options that the law outlines and can't turn parents away.
"Our society, mainly the state of Massachusetts, requires that parents agree to give the immunization, and there's an implication that the parent should have a right to say yay or nay,'' Bershel said. "For me to then imply that the parents are bad parents I think is–I just cannot do that … The medical facts are that the immunizations are helpful, and I try to tell people how diseases have been eliminated, like bacterial meningitis, but many of these people feel they can do better research than the scientific community.''
Finally, we spoke with Dr. Richard Moskowitz, who practices in Watertown. He was aware he was recommended on Levatin's site (they're friends). Moskowitz does not offer vaccines for his patients because, he says, they are creating a population with chronically weak immune systems. Moskowitz said he had measles as a child and survived, and he thinks his immune system is stronger for it. In his opinion, vaccines are only necessary for people who travel. He said he would only get a vaccine if he was traveling "somewhere like Africa.''
While Moskowitz survived the measles, that doesn't mean every child who contracts the virus will. The Centers for Disease Control estimate that 1 out of every 1,000 children who contract measles will die from it. There are also numerous complications that may affect the child for the rest of his life: hearing loss and brain damage, to name two. In the U.S., there has been a record number of measles cases in 2014 since the virus was declared "eradicated'' in 2000. From Jan. 1 to Oct. 31, the CDC reports that 603 people contracted the measles. The majority of them were unvaccinated.
"I don't think any rational medical provider can look at the data on vaccines in terms of risks and benefits and can say medically that the risks and benefits are not in favor of vaccines,'' said Dr. Sarah Teasdale, a pediatrician at Boston Children's Hospital. "Even one child lost or suffering a debilitating condition, deafness, blindness, or other devastating brain injury from a terrible infection, the list is long, but any unnecessary death to me is not worth our population 'toughening it out.'''
Potential side effects from vaccines like the pertussis vaccine (DTaP/DTP) and mumps, measles, rubella (MMR) typically occur within two weeks of the immunization and can range from a sore arm and low-grade fever (which may occur in one out of every four children with the vaccine like DTaP), to mild problems such as poor appetite or vomiting that occur in approximately one out of 50 children vaccinated with DTaP. The extremely rare instances of seizures, comas, or permanent brain damage, according to the CDC, occur so rarely for these vaccines that it is hard to quantify whether or not these reactions were caused by the vaccine.
When 92 to 94 percent of the population gets immunized, experts say the spread of a disease is contained, establishing 'community' or 'herd' immunity. Unfortunately, families who refuse to vaccinate their children for non-medical reasons tend to live in the same community, according to public health data. It's this "clustering'' behavior that health experts worry puts the rest of the population at risk for an outbreak since high exemption rates put communities outside the 'herd' immunity threshold.
This clustering behavior also happens in Massachusetts:
[fragment number=1]
[fragment number=2]
Massachusetts Kindergarten Exemptions to Immunizations: 2013-2014 (Source: Mass. Department of Public Health). Note: Mass. DPH combines data from Barnstable, Dukes, and Nantucket counties into one "Cape Cod'' area.
The map above shows the 2013-14 school year's kindergarten exemption rates, but the same communities were also outliers the year before.
The majority of the pediatricians we spoke with on these and other "vaccine-friendly'' doctor lists said that they do think vaccinations are important for public health, but they just can't convince fearful parents of this, despite the fact that thousands of children are vaccinated every day without a problem.
Teasdale treats the results of these decisions: debilitating and preventable infections in unvaccinated children. She said their very presence in the hospital puts the rest of the patients with compromised immune systems at risk. If an unvaccinated child doesn't become sick, it's because so many children around them are vaccinated, the "herd'' immunity has been achieved.
"It's a societal contract—the reason these families can get away with not vaccinating is because the rest of us are vaccinating our children,'' said Teasdale. "We want them to be protected, but we also are protecting, as a community, brand new babies and children with cancer and children without immune systems and children who take medications that weaken their immune systems.''
Teasdale shared the story of a recently discharged 22-month-old child who almost died from a serious infection she would have been protected against with a vaccine.
"If that child was unrestrained in a motor vehicle and was thrown out the window, she would be in DCF custody now. But how is that risk different? That's the key ethical question,'' she said.
When Teasdale asked the parents why they didn't vaccinate their child, she said they didn't really have a reason. "They just said lots of people in their community weren't doing it.''
The mother of all "vaccine-friendly'' physician lists
There are several lists of vaccine friendly doctors besides Levatin's. The first (and still the biggest) was created by California-based pediatrician Dr. Bob Sears, who is renowned for developing an alternative vaccine schedule for young children that delays the immunizations over longer periods of time.
Today, physicians ask to be listed on Sears's website of vaccine-friendly physicians. One of those is Dr. Mark Su, who has been practicing family medicine for three years on the North Shore. He refuses to turn families away because they won't vaccinate their children.
"It's a difficult conflict because it's a personal health choice coming up against a public health perspective,'' Su said. "In this case personal choices do affect public health of the public at large. It is what it is. My personal practice style is I'm an individual patient advocate more than I am for the public as a whole.''
Su said a much stronger priority for him than convincing vaccine-averse parents to change their minds is to maintain and build strong relationships with patients and their families that might serve both parties later on.
"The thing is, my heart breaks when I hear people telling me they leave a doctor's office in tears on this topic,'' Su said. "I understand where people are coming from, but it doesn't need to be something that creates such conflict where patients feel they are treated disrespectfully or reprimanded in some way where they feel condescended to … Patients are comfortable having a debate with me about this topic, and I like that. Because people might change their mind over time.''
But for Seth Mnookin, author of "The Panic Virus: The True Story Behind the Vaccine-Autism Controversy,'' a physician who supports a parent's decision not to vaccinate his child puts the rest of us at risk. Mnookin said he understands the argument against turning a family away, since it's not the child's fault that his or her parents are hesitant about vaccines. But it also creates a risk for the other patients in the practice.
"Obviously because pediatricians see kids from birth to their teenage years to beyond, when you have kids that aren't vaccinated in a practice, that puts everyone else in the practice at risk. Children who are too young to be vaccinated are exposed in the waiting room,'' he said.
At the end of the day, parents are being asked to inject a foreign substance into their child. But if they won't trust a physician, who can they trust? The health care providers risk losing relationships with these families forever if they turn them away, but expose their other patients if they continue to treat the unvaccinated family. It's all a delicate dance of measured risk, but with serious consequences for both sides.
"The diseases we vaccinate children against exist, and they still kill children,'' Teasdale said. "Is the likelihood of getting it low? Sure but the likelihood that you will die is so much greater … Vaccines are not without risk, but no medicine is. Life itself is not without risk.''