Health
RunKeeper Data Reveals Bostonians' Favorite Places to Run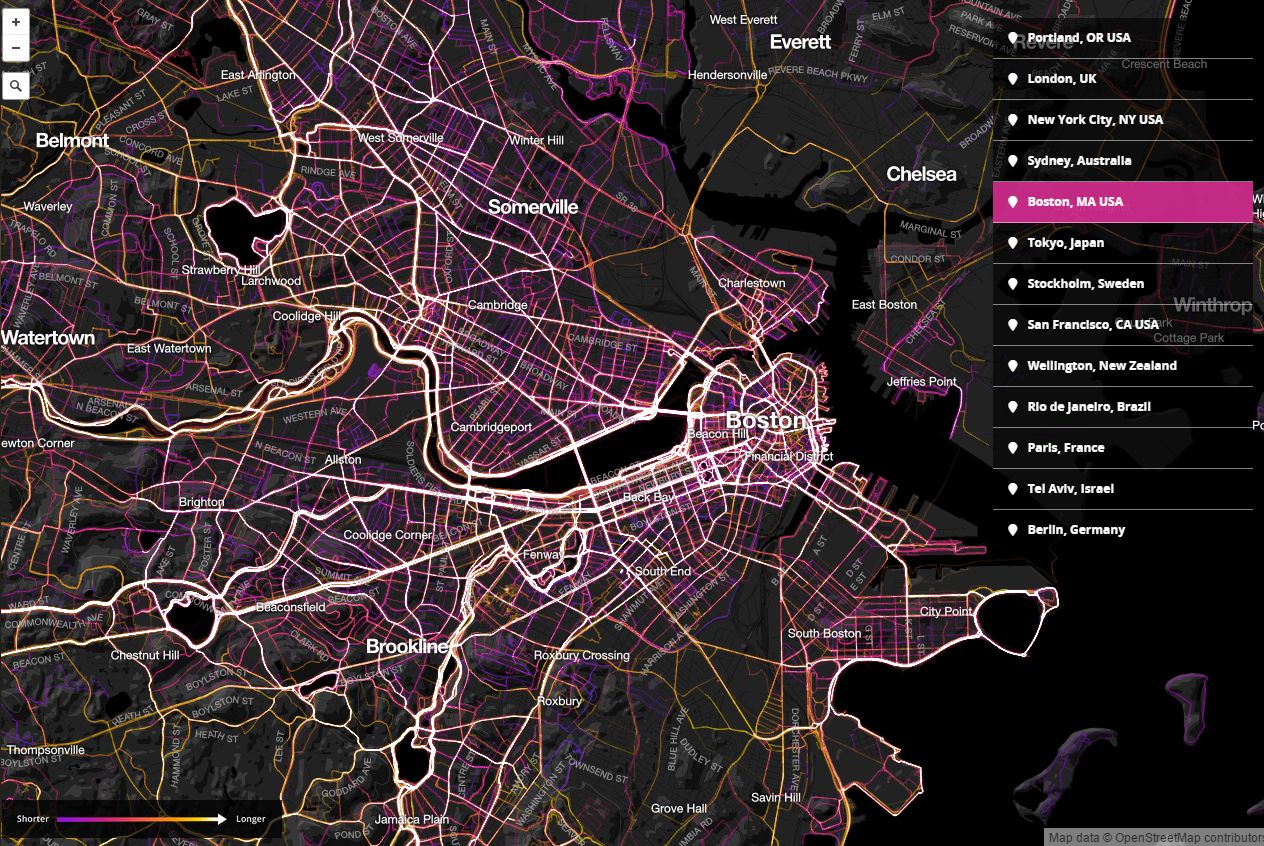 The fitness app RunKeeper allows users to track a variety of workouts (skating, swimming, mountain biking, cross-county skiing, running, biking, hiking, rowing) and route their walks, runs, and bike rides with maps. Created and managed by the data mapping service Mapbox, the maps from 1.5 million users' data were recently released in a colorful, visual display of users' routes worldwide.
… And it's beautiful.
It's easy to glean from the map of Boston that Bostononians like to run, walk, and bike along bodies of water (I do, too). You can tell which routes have higher traffic because of the nearly bright white lines, showing the volume of users on that route. Those brighter lines along the Charles River, Jamaica Pond, and the Chestnut Hill Reservoir demonstrate our residents' preferences for pretty scenery during the sweat session. Distances of routes are designated by color. Shorter blue and purple routes seem to transform into pink and then yellow, designating more longer distance runners, walkers, and bikers, as you move away from the city.
The Boston Marathon route from Hopkinton is also lit up with varying gradients of color, starting with white (more popular routes) along Commonwealth Ave. in Boston, and moving toward orange and yellow lines (designating 20 miles or more) in the view of roads closer to Hopkinton.
In Boston, the longest average run route is approximately 3 miles, according to Garrett Miller, a designer and developer at Mapbox. The length of the average walk is also about 3 miles, while the peak of the average bike route is 20 miles.
Worldwide, it looks like Europeans are owning Americans in the distance department (check out all of those yellow lines!). But it's cool to see that even as far away as cold and chilly Vadso, Norway (where it's 18 degrees Farenheit today), people are still getting active!
In the Boston area, Miller said the most popular routes of activity are (in order):
– Boston end of the Longfellow bridge
– Boston end of the Harvard bridge
– Hatch shell
– Esplanade by Back Bay
– Cambridge end of Longfellow Bridge
– Cambridge end of the Boston University bridge
So, basically, the Charles River.