Health
Music Thwarts Pain at Boston Hospitals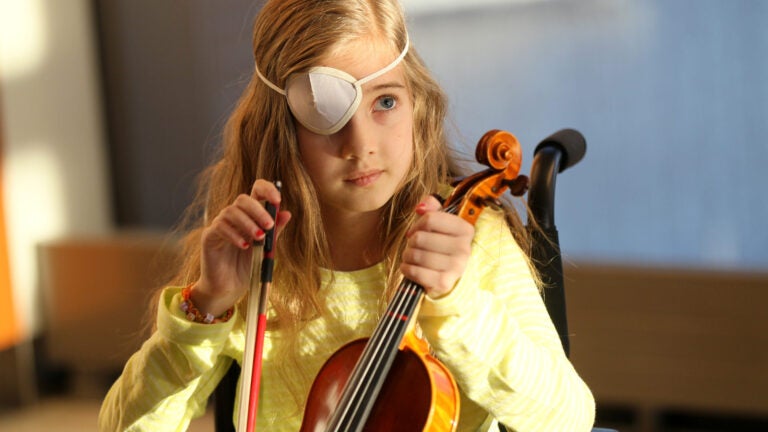 Lorrie Kubicek, a music therapist at Massachusetts General Hospital Cancer Center, likes to ask her patients three questions:
1. Have you ever touched a musical instrument before?
2. If you could wake up tomorrow and magically play any instrument better than anyone, which instrument would that be?
3. What's your desert island playlist? If you could only have one CD for the rest of your life—what songs would make it on that list?
The answers, she told Boston.com, may help relieve their pain. And according to a recent study, she's right.
Music is powerful. It can get us out of a slump. It can make us feel happier or more at ease. It can conjure pleasant memories, but it can also remind us of horrible things. It can cause us stress. It can cause pain, but it can also relieve it.
It is the mission of Kubicek and her colleagues to find out how music best works as a therapeutic tool for their patients. Music therapy is most effective when it incorporates sounds we like, according to Kubicek.
"All music therapists all over the world know that you use music that is preferred by the patient,'' she said. "If you don't, you can actually cause harm to someone. If I [force someone to listen to my music] they might have a bad association with that music. Music could make them very stressed out, because they hate that music.''
Kubicek brings in her musical arsenal(ukulele, keyboards, guitar, plastic drums, iPads with music apps) ready to fight whatever might be bothering the patient.
[fragment number=0]
"Most of our interventions in the pediatric world are very interactive,'' she said. "It's much more therapeutic for them to be involved in the music for the majority of the goals.''
A Northwestern University study published in January further revealed that a choice in music post-surgery can minimize a child's pain. The study focused on children ages 9 to 14 who were able to choose the music they listened to for 30 minutes post-surgery. The study found that distraction is important in thwarting pain.
"There is a certain amount of learning that goes on with pain,'' said study senior author Dr. Santhanam Suresh in a press release on the study. "The idea is, if you don't think about it, maybe you won't experience it as much. We are trying to cheat the brain a little bit. We are trying to refocus mental channels on to something else.''
Maureen Farrell, a perioperative child life specialist at Floating Hospital for Children at Tufts Medical Center, lets her patients listen to music as a tool to get their mind off of pain after surgery. She sees patients from infancy to adolescence who have undergonea range of procedures.
"I do a lot of medical preparation to help transition kids into operating rooms to make kids feel safer,'' she said. "We build off of kids' personal preferences about certain types of toys, using iPads, and some kids actually want me to call up 'iHeartRadio' on the iPad.''
Farrellhasfound that letting the child decide what will minimize his or her pain is crucial.
"[Sometimes it's] a choice of either a DVD player with a favorite DVD or a Gameboy DS with a favorite cartridge, but I always give kids choice,'' she said. "I just think that the distraction—whether it's through music or through play—it's huge.''
When the patient is in extreme pain and harder to connect with, Kubicek and other therapists use the "Iso principle'' to reduce patient's anxiety or increase energy through matching a patient's initial emotional or physical state with tempo or orchestration.
"It's very intentional,'' she said. "You can tailor a playlist to just [get you] from high anxiety to low anxiety. You can create this 'Iso principle' playlist to help the process even more.''
As a music therapist, Kubicek tries to comfort her patients through live music and even through singing (her primary instrument is voice). She believes there's great power in communication just through sound.
"Each person who walks into the room of a kid in a hospital says, 'So, how are you feeling today?''' said Kubicek. "We don't have to ask that. We can see how [the patient is] feeling, and we can access their feelings in a very nonverbal way … To be able to play a drum, or get silly, or laugh, get some frustrations out, whatever it is that patient needs — I love that part of music just as much as I love the lyrical part.''