Health
You're Not the Only One Slipping Around in Boston This Winter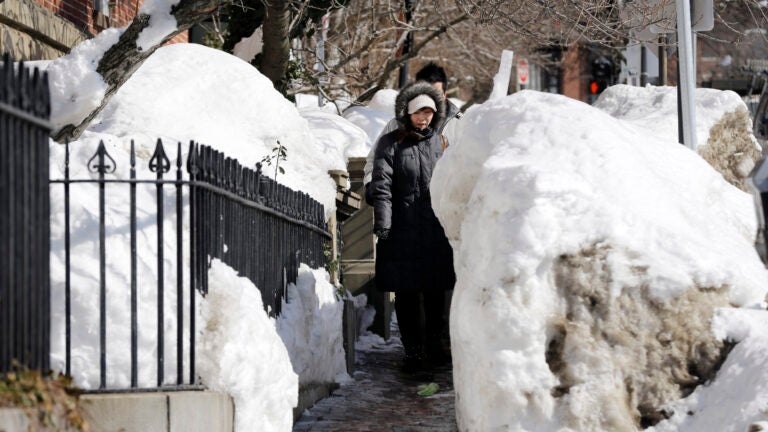 With the arrival of daylight saving time, spring is (hopefully) just around the corner. But with the temperatures thawing slowly, the snow's disappearing act is taking its time. If you're considering climbing up on your roof to clear the remaining snow, think twice. The same goes for pedestrians walking carefree under looming ice dams and icicles or not watching for surprise patches of ice on the sidewalk.
Injuries sustained by pedestrians slipping and falling, or by snowblower owners trying to clear a blockage, are expected in emergency rooms during the winter months. But the record-breaking snowfall this year delivered some irregularities. The numbers are too small to draw a statistically valid analysis, but according to physicians at several Boston hospitals, there's been an uptick in snow and ice-related injuries this winter.
Dr. Matthew Mostofi, assistant chief of the department of emergency medicine at Tufts Medical Center, said he treated two people in one shift who suffered scalp lacerations after being being struck by falling ice. But since falling ice injuries can be classified differently depending on the type and afflicted body part, there are no numbers on how many specific cases the emergency department at Tufts saw.
"I've been doing this for 15 years, and I can't remember two in one shift,'' Mostofi said. "So it does seem like it's something that, at least anecdotally, is something we're seeing more in the emergency department.''
The growing buildup of snow and ice on roofs, threatening leaks and roof collapses, led to another increase in an injury unusual for Februrary: falls from roofs.
"Unfortunately that is just a very dangerous activity, and we've seen some significant injuries of people who've fallen,'' said Dr. Paul Biddinger, the medical director for emergency preparedness at Massachusetts General Hospital.
Falls from roofs usually happen closer to the Christmas season when people are hanging lights and climbing on ladders, according to Dr. Josh Kosowsky, clinical director of emergency medicine at Brigham and Women's Hospital. He said the hospital saw fairly regular injuries from people falling off roofs since the second or third storm.
"I personally have seen a couple of those myself, and all the other doctors I've talked to have seen cases like this,'' he said. "That's remarkable, because generally we can go through a whole winter season without seeing any of those.''
Apart from the falling ice and roof fall injuries, Mostofi said Tufts saw a spectrum of injuries related to the snow—everything from a motorcycle collision caused by the ice to treating a child for a cold-related illness after sledding into Boston Harbor.
But Mostofi said compared with last year, there was an increase in the number of slips and falls, an injury hospitals expect to see any time there's snow or ice on the ground. In 2014, from Feb. 1 to 24, 37 people received a diagnosis of "fall'' at Tufts. For the same period this year, 54 people were diagnosed with falls.
The volume of snow may have also contributed to an increase in the volume of injuries.
"Anecdotally, we feel like we're seeing a higher number of injuries, and we do feel like we're seeing a number of injuries that are more specifically related to the volume of snow we've had,'' said Biddinger.
Biddinger said the emergency department at MGH saw about a 12 percent increase in slip and fall injuries, carbon monoxide poisonings, and snowblower accidents between late January and late February, compared to the same period last year. He said the number of carbon monoxide injuries seen at the hospital were indicative of how much snow was on the ground this winter.
The season for carbon monoxide incidents is usually in October and November, when the weather begins to get cold, but Mostofi said in February there were four cases treated at Tufts, which he said is "definitely an uptick'' from the norm.
Another increase for Tufts from 2014 was frostbite. Mostofi said in 2014, the hospital only saw one case of frostbite, but they've seen seven cases so far this year.
Despite these apparent increases, the pattern and number of injuries this year may have been less than expected in other ways, mirroring the arrival and departure of the storms.
"You see a lot of snow-removal injuries right around the snowfall and often right after, and then you see a lot more slip and fall and sort of just treacherous environment-type injuries in the following days,'' said Biddinger.
On the other hand, spikes in other injuries that could have been expected with all the snow did not jump up. For example, Biddinger said that despite the snow banks obstructing sight lines for drivers and pedestrians, MGH hasn't seen a spike in the number of people struck by cars.
"That may be either because traffic has been so terrible, or because people have been driving so slowly, because road conditions have been so tough,'' Biddinger said. "But I'm pleased to say we have not seen a large number of motor vehicle injuries related to these storms. That's been a good thing.''
Dr. Andrew Ulrich, vice chair of emergency medicine at Boston Medical Center, said even though the hospital did see injuries they don't usually see, such as icicles falling on people's heads, he thought the bad weather may have kept people inside, which lowered the volume of patients in the emergency department during the storms.
Activity at Brigham and Women's emergency room during the storms was low too, according to Kosowsky.
The fluctuation in volume was perhaps the most significant change to the year.
"The city doesn't shut down three times in a month. We don't see that,'' said Mostofi. "That's not a typical year for us.''
Mostofi said that while Tufts saw a "significant decline'' in volume when the storms hit, in the days that followed, more cases arrived in the emergency room, making up for previous low numbers. "It's been sort of a feast or famine for the department,'' he said.