Health
Here's Why You Should Think Twice About That Cheap Manicure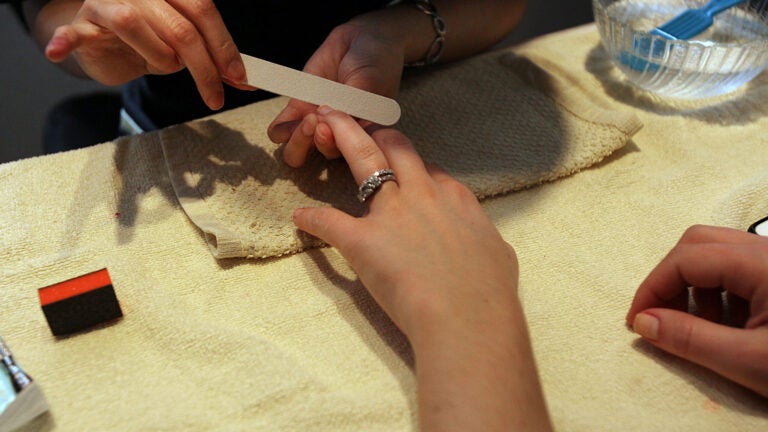 Getting a manicure at a cheap nail salon might save you a few bucks, but a new investigation shows the person painting your nails may be severely underpaid and overworked.
On Thursday, The New York Times published an investigation into the exploitation of manicurists, who are also exposed to toxic chemicals for prolonged periods of time, according to the report. Although the investigation focused on manicurists in New York City, local experts say Boston workers are affected, too.
By interviewing more than 100 nail salon workers, The New York Times found that only about a quarter were paid at least minimum wage. Like in New York, manicurists in Boston are also tipped workers, which means they're only required to be paid a base rate of $3 per hour.
Susan Moir, director of the Labor Resource Center at UMass Boston, said manicurists are often undocumented, which means they are powerless when it comes to seeking recourse for unfair wages.
"I have no reason to believe the conditions documented by The New York Times in New York are any different than the conditions at nail salons here in Boston,'' she said. "The answer is not what the workers can do, but increased government regulation of the industry.''
Although the wage problem exists in both cities, New York City Public Advocate Letitia James cited Boston as a city with best practices for nail salons in a September 2014 policy report. According to the report, "the City of New York is not responsible for inspecting salons for cleanliness and safety; nor is the City granted authority to inspect nail salons for purposes of health and safety because that power lies solely with the state.''
That isn't the case here. In 2011, the City of Boston enabled the Public Health Commission to regulate the industry through its Safe Nail Salons project.
The project aims to "protect workers and the public from exposure to hazardous chemicals and air pollution in nail salons'' by offering free trainings for employees. Through this program, the commission can require nail salons to apply for permits and have health inspections. The commission can also shut down salons that don't meet the inspection criteria.
Paul Shoemaker, an associate director at the health commission, said nail salons are inspected a minimum of once a year. The salon has to pass inspection prior to receiving a new permit. Shoemaker said inspectors will also stop by if there are complaints or to randomly check in.
"We don't have any control over the wage problem for the workers because we're the Public Health Commission,'' he said. "But when you're out there looking for nail services in Boston, look for the Green and Clean logo. It means the business is trying to protect workers and environment, so it's a better choice.''
Read the full New York Times investigation here.