Health
Is Allston Christmas a free ride for bed bugs? Yes.
Don't be that roommate.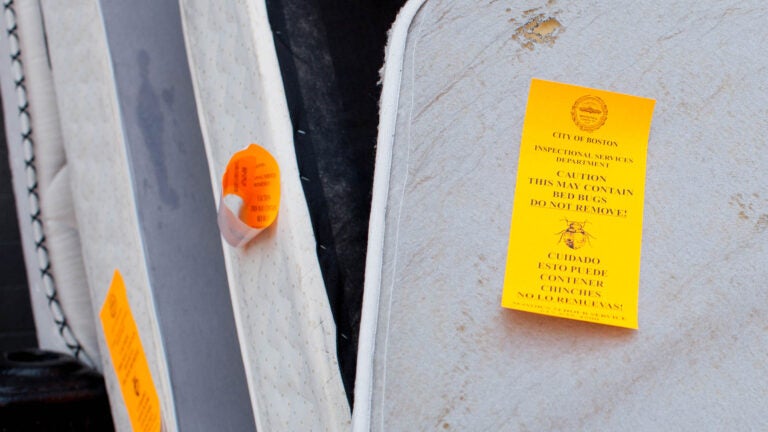 Everyone has a roommate horror story. But even if a roommate always did his dishes and never ate any of your food, you may never forgive him if his "Allston Christmas'' recliner brought in bed bugs.
Sure, furniture on the side of the road is free. But are the savings worth it? This is what officials at Boston's Inspectional Services Department want residents to ask themselves during the infamous September 1st move-in week.
Bed bugs hide in crevices and dark corners, such as in between couch cushions, between the pages of old books, inside box springs, or on the backs of headboards. They usually bite at night while their hosts are sleeping, giving them their name. As a result, one of the signs of an infestation are small blood spots or stains on bedding and furniture. It's like a tiny crime scene.
While there has been a higher influx of bed bugs in the city in the past 10 to 15 years, the number of complaints has dropped recently from 410 in 2012 to 344 in 2014, according to ISD. As of August 30, Boston has received 233 complaints since the start of 2015.
Neighborhoods full of college students and dormitories like Allston-Brighton, Fenway, Kenmore, and Mission Hill have reputations for lots of free, curbside furniture and homegoods every September, and those same neighborhoods continue to have bed bug infestations, in part because of high turnover, said Indira Alvarez, chief of staff for Boston's Inspectional Services Department.
It's not a coincidence. The map below from ISD shows which properties have had bed bugs complaints filed in 2015. The same areas get complaints year after year, according to inspection data.
[fragment number=0]
"One of the issues is when you see furniture out in a corner, it looks like it's in perfectly good condition—it's not broken or scratched—so you think, 'I don't have table or bed frame let me bring it into our apartment,'' said Alvarez. "Although it looks good, the problem you're bringing into your apartment is much bigger.''
Sanitation ordinances in the city require landlords to pay for extermination and inspection services for all units surrounding an infestation.
Last week, officials with "ISD'' blazened across the backs of their T-shirts and caution vests walked around Boston neighborhoods. They went Dumpster diving and crawled under porches, slapping neon signs on every mattress they came across on the side of the road. These are the allies and advocates for Boston's new student tenants.
[fragment number=1]
Tenants should report sanitation issues immediately to the city upon moving in, according to ISD. Landlords have 48 hours to improve standards before they're fined $300. Alvarez says inspectors try to talk with landlords to ease tensions around bed bug infestations.
To get rid of bed bugs, all the clothes, fabrics, sheets, and blankets have to be removed and washed at high temperatures while exterminators inspect and treat for a remaining infestation. Often, this requires tenants to throw out belongings that may be beyond saving. Relocating isn't recommended, since this can spread the infestation.
"Our priority is for everyone to move into an apartment that is safe and sanitary—so everyone can sleep at night comfortably,'' Alvarez said.
If you're worried that your apartment might have bed bugs or fails to meet some other standard of safety and sanitation, report the complaint to the City of Boston Inspectional Services Department with the BOS:311 app.
Check out these photos of Boston move-in day through the years:
[bdc-gallery bgmp-legacy-id="35a5bfd4-2896-11e4-bedf-998741abafb6″ id=""]