Health
'To us, he is just Jaxon'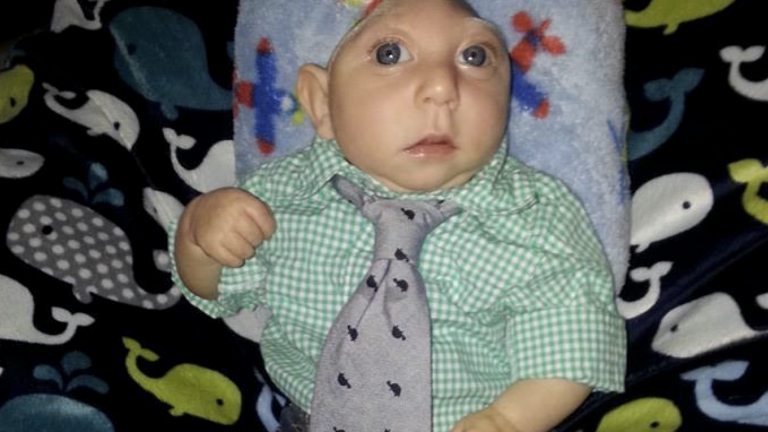 "No, our baby is not Photoshopped.''
Brandon and Brittany Buell find themselves saying this again and again about their son, Jaxon.
From his big blue eyes on down, Jaxon looks like a healthy, normal infant. But a severe birth defect caused him to be born with a head that is startlingly small and shrunken on top. He was born with a severe brain malformation that kills most infants within days or hours of birth — if they even survive long enough to be born at all.
"They didn't give us a definitive term for what Jaxon had in the hospital,'' said Brandon, his father. "We didn't see the word 'till we got home and looked at discharge papers and saw anencephaly. It means no brain outside of a brainstem.''
It was a grim diagnosis. Anencephaly is a neural tube birth defect in which a child is born without parts of the brain and skull. About one in 4,859 babies in the U.S. will be born with anencephaly each year, according to the Centers for Disease Control.
At 12 months old, Jaxon has defied the odds and lived far longer than expected. But in recent months, his medical complications have grown.
He went from sleeping through the night to barely sleeping at all. His gastrointestinal issues grew more serious. He continued to have episodes that resembled seizures, but couldn't officially be diagnosed as such due to his neurological issues. And like other infants his age, he was teething.
The family left an Orlando hospital in mid-August and simply showed up at the emergency room at Boston Children's Hospital, one of the nation's premier facilities for pediatric neurology.
"Our plan was to go to the emergency room because they can't turn you away,'' Brittany explained. "We walked in and said 'We're here from Florida.'''
At Children's, Jaxon received a slightly modified diagnosis: microhydranencephaly.
That means he has a brainstem, which is crucial for motor control, though it is thinner than it should be. His cerebellum, which controls things like balance and coordination, did not form properly. His most recent brain scan shows almost nothing — just a faint gray line — where the cerebral cortex should be.
"Children who have this are neurologically devastated,'' said Ethan Goldberg, a neurologist at The Children's Hospital of Philadelphia who has not treated Jaxon. "The neurons are not there. Neurons are just absent. There's no way to put them there. There's nothing even to repair. It's like having a car with no engine. There is absolutely no treatment. The ship has sailed long ago.''
[fragment number=0]
During her pregnancy, it wasn't until Brittany's second ultrasound that doctors first realized something wasn't right.
"I knew something was up because the ultrasound tech was quiet. And then she left the room,'' she said. "We get the call [the next] morning – I'm on my way to work. And I'm literally driving. And they're like, 'Your son has spina bifida.' I freaked out. I was crying.''
The expectant parents were transferred to a high-risk clinic. Genetic testing soon revealed a gene deletion in both Jaxon and Brandon.
The doctors offered various diagnoses to explain what might be wrong with the baby. The Buells were told Jaxon might not survive or, at best, he might survive and be profoundly effected. They hoped there could somehow be a better outcome.
On August 27, 2014, Jaxon was born via emergency C-section. Brandon saw him before his wife did.
"It was a bit startling and sobering. I looked at his head,'' he said. "I tried to prepare her. I said, 'Just so you know, his head is small.' And I just thought: 'Wow this is a real situation, and we have no idea how this is going to go.'''
Jaxon spent three weeks in the NICU on a feeding tube. Then the Buells were sent home to wait for their son to die.
"They sent us home with hospice,'' his mother said. "[The doctors] assumed he would peacefully pass away. But I canceled hospice within a week.''
During the first few months of Jaxon's life, he was hospitalized multiple times for feeding tube issues and two bouts with a virus.
It wasn't until earlier this summer that he started to seem increasingly uncomfortable. The relatively happy infant was seeming less and less like himself. Doctors in Orlando tried more than a dozen drugs and eleven types of formula, but nothing seemed to help.
In early August, Jaxon was again admitted to Orlando's Arnold Palmer Hospital for Children.
"They told us they had hit a wall,'' Brittany said. "And that there was nothing else they could do.''
[fragment number=1]
The Buells hoped to come away from their three-week visit to Boston with something resembling an answer. Or even a miracle.
While they didn't get that miracle, they felt comforted by the new diagnosis. Jaxon has begun taking a new medicine recommended by doctors at Children's that is helping him sleep better.
The National Institutes of Health has a <a href="
webpage devoted to microhydranencephaly, but the page is little more than a description. There is no cure or definitive treatment for the condition.
On September 3, the family returned to Florida.
"It's really helpful to finally have a diagnosis that makes sense,'' Brandon said. "We would not have that if we hadn't come to Boston. We came to Boston hoping to find a way to add something to the quality and comfort of his life.''
The Buell family has chronicled their journey on Facebook, where people are often shocked by photographs of Jaxon and think his pictures are fake or photoshopped.
But to Brittany and Brandon, he is just Jaxon, their little boy.
"Normal babies with their normal size heads?'' Brandon said. "They look weird to us.''