Health
'Still Alice' author gives keynote at HUBweek Alzheimer's event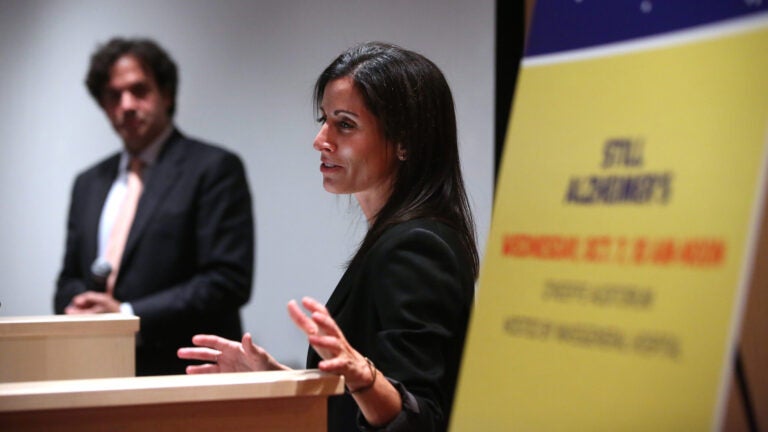 Lisa Genova began working on her novel Still Alice in 2004. She self-published it in 2007. In 2015, Julianne Moore won an Academy Award for her performance as the titular character, a woman living with early onset Alzheimer's.
During her keynote address Wednesday at the HUBweek event "Still Alzheimer's,'' Genova described her process writing the book and her personal connection to the disease through the diagnosis of her grandmother.
As a trained neuroscientist, Genova said she'd followed the science behind the degenerative disease, but that much of it didn't help her as a granddaughter and didn't answer her question "What does it feel like to have this?''
It was through her research process, connecting with people with early onset Alzheimer's, and taking acting classes that Genova said she began to understand more about the experience of living with Alzheimer's.
Giving a voice to Alzheimer's patients was the goal of a collaboration between musician Chris Mann and world-renowned Alzheimer's researcher Rudy Tanzi, who followed Genova's keynote address. Tanzi, director of the Genetics and Aging Unit at Massachusetts General Hospital, presented the music video for the song, "Remember Me,'' which he co-wrote with Mann. Sales proceeds from the song on iTunes will go to the nonprofit Cure Alzheimer's Fund for research.
Many members of the audience, made up of Alzheimer's patients, caregivers, medical professionals, and interested members of the public, were moved to tears by the song and video.
[fragment number=0]
Panelist Teresa Gomez-Isla, a neurologist at Mass. General, said she and her fellow panelists were also at the event to learn from the audience.
Audience questions ranged from asking about research being done into the prevention of Alzheimer's to if there is any planned therapies or consideration for Alzheimer's patients who may be considering suicide, rather than continuing life with the disease.
Steven Arnold, translational neurology head of the Interdisciplinary Brain Center at Mass. General, said he doesn't think there is enough of a discussion around that issue.
"People are thinking about it,'' he said.
Genova said the discussion often comes up around the holidays, pointing to conversations she witnessed among members of patient support groups she connected with while working on Still Alice.
It is not what the average person thinks about, she said, but yet Alzheimer's patients are wrestling with it alone, often with little support.
"This is where the disease forces you to go,'' she said.