Health
More than 150 people took over the Red Line today for an epic early morning workout
Cold weather and a long weekend didn't stop these exercise warriors.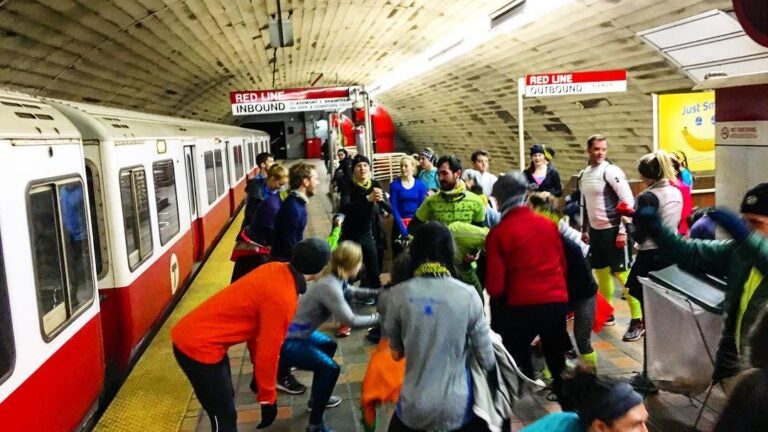 With many Boston-area workers celebrating a long weekend, MBTA trains felt relatively empty this morning. If you were riding the Red Line at around 6:30 this morning between Harvard and Porter, however, it was a different story.
With temperatures struggling to stay above freezing this morning, Boston-area members of the November Project, the nationwide fitness movement that was founded in Boston in 2011, decided to take their usual Monday morning outdoor workouts underground.
The group met at Harvard Station at 6:30, doing dynamic stretching and pullups on the bars of the train before hopping off at Porter to run the station's gigantic stairs.
[fragment number=0]
[fragment number=1]
"An important tenet of the November Project is that we are weatherproof,'' said Emily Saul, a co-leader of November Project's Boston chapter. "Regardless of the temperature or weather conditions we've never canceled a workout.''
"We knew if we were ever going to do one indoors, we wanted to make it kind of a stunt.''
"Kind of'' might be an understatement. Saul estimated that over 150 members of the "tribe,'' as November Project calls its members, took part in the MBTA workout, which led to some concern from T employees.
[fragment number=3]
[fragment number=4]
The group continued onward to Davis, where they did six straight minutes of burpees, a well-known November Project workout, according to Saul.
[fragment number=5]
The group then headed back to Porter and did a quick lap around the stairs again, before hopping a train back to Harvard.
[fragment number=6]
[fragment number=7]
According to Saul, one of the final parts of each November Project workout is to celebrate members' birthdays, often with a chant or by crowdsurfing them. Today was no different.
[fragment number=8]