Health
11 healthy ways to break up with winter in Boston
The ultimate guide to shaking your seasonal blues and embracing spring with your mind, body, and soul.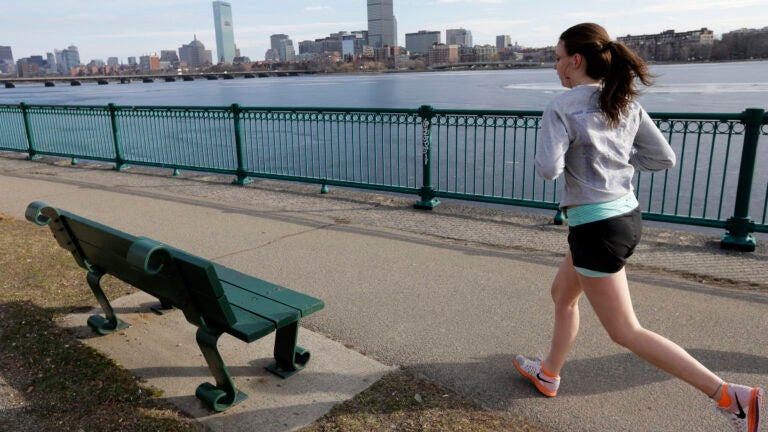 Chances are you spent the winter season hibernating indoors and gorging on junk food. Fortunately, there are ways to do a seasonal "cleanse" that don't involve chugging juice. Below, we compiled 11 ways to make the most of this flower-powered season, no matter what the wacky New England weather has in store.
MIND
Get centered
In a dream world, you'd spend a blissful week meditating on a beach in Costa Rica. In reality, you take the Orange Line to JP. On Tuesdays and Sundays, Serlingpa Meditation Center (179 Green St., Jamaica Plain; 508-717-3057), hosts drop-in classes where you'll learn how to incorporate the trendy, but useful practice of meditation into your own life. In the South End, Swet Studio (480 Tremont St.; 617-670-0631) offers a dreamy class called "Levitation," where you meditate while floating in the silks for 45 minutes. Prefer to find your peace solo? Head up to Float (515 Medford St., Somerville; 844-44-FLOAT) and try floating, aka lying naked in a dark, quiet tank of Epsom salt-saturated warm water. The tank mimics the effect of floating in the Dead Sea. It's so relaxing, you'll start meditating without even trying.
Read local
Get inspired to make a positive change this season with new books by local authors. The November Project, the free fitness phenomenon that began in Boston in 2011 before becoming an international fitness sensation, continues to motivate with a new book titled, you guessed it, November Project: The Book (Rodale Books), out April 12. So even if you can't make it to the early morning sweat sessions, at least you can incorporate some of the principles into your daily life. Sweaty hugs not your style? Rudolph Tanzi, a Harvard professor and Mass General researcher who was named to last year's TIME 100 list, has teamed up again with friend, co-author, and wellness and spiritual guru Deepak Chopra. Their recently released book, Super Genes (Harmony), focuses on lifestyle changes you can make to optimize your health.
Walk—a lot
Yes, it's a luxury to leave the city if you don't have a car, but making the short trip to the Blue Hills or Middlesex Fells is worth it when you want to breathe in air free of car exhaust and other fumes. Just a short ride away, you'll find an abundance of hiking trails and hills, perfect for clearing your mind. Check out Appalachian Mountain Club's local chapter, which offers a variety of casual group hikes for $1 in local parks and woodlands. If you break out in hives at the thought of leaving the city, fear not: You live in one of the most walkable cities in the country, after all. Avoid tourists on the Freedom Trail with this handy guide to walking the city.
BODY
Choose a better tan
If you want to get a tan this spring, chances are, you probably already know why you should cover up and slather on the SPF instead. So why not try a "healthy" tan? Boston offers a plethora of "organic" spray tan solutions: For suburbanites, Blush (57 E Main St., Suite 205, Westborough; 508-366-2527; 562 Washington St., Wellesley; 781-235-4067) offers a customized tan based on your skin type. Within city limits, Natural Glow in the North End (142 Commercial St., Suite C-2; 617-418-0044) is a favorite among Boston's fitness community. The boutique offers a personalized tanning service using an all-natural, paraben-free formula.
Swing from the chandeliers
From blacklight yoga to hip-hop flows, Boston's yoga scene is exciting and top-notch. Still, practicing the same postures all the time can get a bit stale. Mix it up for spring by taking your practice off the ground. South Boston Yoga (36 W. Broadway, South Boston; 617-315-7448) offers an evening aerial yoga class, which uses the silks to challenge your core for extra balance and stability work. Want an even bigger challenge? Revolution Trapeze (Gore Place, 249 Waltham St., Watertown; 617-575-9005), an outdoor trapeze school, is hosting a season kickoff party May 1, and its full slate of "flying" classes begins May 3. You can try a simple flying class or advance to a full catch.
Say so long to dead skin
Winter's cold temps and lack of humidity have our skin begging for a little love, and sometimes it takes more than a basic pedicure or an at-home exfoliating session to really scrub every last inch of winter away. Enter: the dry brushing/massage spa service combo. The treatment is pretty self-explanatory: A spa technician uses a brush—dry, of course—to slough off dead skin, leaving behind a smoother, brighter appearance. Post-brush, you'll get a moisturizing massage using luxurious lotions and oils. On Newbury Street, Bella Sante (38 Newbury St.; 617-424-9930) offers a dry brushing treatment with a coconut oil massage (50/80 minutes; $115/165). Along the waterfront, Exhale Battery Wharf (2 Battery Wharf; 617-603-3100) offers the Glow Body Scrub and massage ($215; 90 min), which begins with a dry brushing followed by a warm body scrub, and concludes with a lotion application with massage.
Break a sweat
Boston is one of the fittest cities in the country, and boutique fitness studios abound. But it's also one of the most beautiful cities in the country, so this spring, take your workout outside and enjoy the sights. You can join a free run club and craft your own #seenonmyrun story. Or, if your idea of pounding the pavement means using your hands during burpees, try an outdoor bootcamp-style workout with Public Body, a South End-based outdoor fitness company that offers group classes in public parks. This way, you'll be front-of-the-group-in-fitness-class ready when all the free fitness options arrive this summer.
SOUL
Spend your time wisely
Sometimes, donating your time is more impactful than donating your money. And one of the best ways to really start fresh for a new season is to give back. But with work and school and personal commitments, it can be tough to fit everything in. Fortunately, Boston offers copious amounts of one-off volunteering opportunities, whether you want to work with children, seniors, or animals. Both BostonCares.org and BostonVolunteer.org make volunteering easy with their user-friendly calendars. Another option is the Greater Boston Food Bank, which lets you sign up for a one-shift time slot.
Turn your thumbs green
Growing flowers through gardening has been shown to improve mental clarity, reduce stress, and even improve diet. Plus, you're giving back to Mother Earth and getting some much needed vitamin D (while wearing SPF 30, of course). One of Boston's most popular gardens is accepting inquiries: Try to snag one of the 500 spots at the Fenway Victory Gardens (1200 Boylston St.; 857-244-0262), the gorgeous, blossom-filled grounds a stone's throw from the Green Monster, by emailing [email protected] with the subject "New Gardener Inquiry" and including your name, city, and phone number. This popular garden fills up fast, so if you miss out, there are other gardens around the city you can find at thetrustees.org.
Cut out clutter
By now, you've heard of the best-selling book by Marie Kondo, The Life-Changing Magic of Tidying Up, which dictates that every T-shirt has a place and you must remove everything that doesn't bring you joy. You also may be thinking, "Who has time for this? Get real." Turns out that the original "Kondo" is Stephanie Bennett Vogt, a Concord resident and the author of four books on clearing clutter. More than 6,000 people have taken her online class, Clear Your Home, Clear Your Life, where you learn to adopt the practice of cleaning or organizing one small thing every day—a bit more realistic than the Kondo approach. Still, if going at your piles alone is too daunting, you can hire a "clutter coach" to whip your home into shape for you. Judy Eisenberg ([email protected]; 617-776-8382), a member of the New England Association of Professional Organizers, or NAPO (this really exists), is based in Somerville but makes house calls.
Take a schvitz
Using hydrotherapy like whirlpools, saunas, steam rooms, ice baths, etc. is great for the joints and releasing stress, especially the kind that's been harbored in your back since the last time you shoveled. But maybe you prefer a good thrashing with your bath? No judgement. If so, head over to Dillions Russian Steam Bath (77 Chestnut St., Chelsea; 617-884-9434), a 120-plus-year-old place where you can have a guy literally beat the winter out of you with a broom made of fresh oak leaves drenched in olive oil soap. This method supposedly removes toxins and dead skin. (Women are only welcome on Monday evenings.) If you prefer your hot tubs co-ed and, perhaps, less painful, Inman Oasis (243 Hampshire St., Cambridge; 617-491-0176) offers private and group soaks in Japanese-style wooden tubs.