Health
A Harvard student mapped Boston's noise pollution by neighborhood
Not every community faces the same nuisances.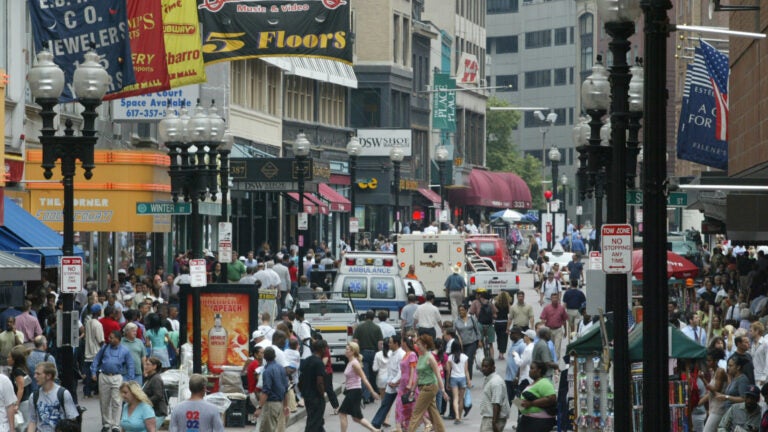 No matter where you go in Boston, you'll likely face noise. On your way home from work, you might pass a busker at a MBTA stop. Inside the train, kids may shout at each other from opposite sides of the car. At home, your neighbor might let the dog bark, or the kid cry, or the roofers come early in the morning.
Erica Walker, a student at the Harvard T.H. Chan School of Public Health, is trying to figure out how all that noise might be affecting its residents. In doing so, she's discovered that not all sounds in Boston are created equal. Nor are all neighborhoods.
Walker became interested in the "community noise" of Boston after studying the traffic sounds in Somerville for her Master's thesis (she has devoted much of her time at Harvard to exploring the link between city noise and resident health). But her initial study only analyzed traffic sounds, and Walker wanted to know more.
"I was more interested in broader types of noise; airplanes, concerts, everything," She said. "I don't want to confine myself to [just] road traffic noise."
So she started exploring the city at large with a boom mic and a mission: to better understand the distribution of noise in Boston.
The loudest parts of the city, she found, are East Boston (due greatly in part to Logan International Airport) and Savin Hill in Dorchester (because of traffic.) The quietest places are Hyde Park and Jamaica Plain.
Learning about the noise variation between certain areas was happenstance, according to Walker. She says that she set out to measure Boston's noisiness as a whole, but as her research went on, each neighborhood revealed its own unique noise structure. For instance, in Roxbury and Mattapan, cars with loud bass pollute the sound-sphere, as do motorcycle engines and backyard cookouts. It's not just planes, trains, and automobiles that are causing a racket.
The noise pollution is different East Boston, however, which Walker found to be the loudest area in the city. One street in Eastie is close to I-90, the MBTA Blue Line, and is subject to the roaring sounds of planes flying overhead, she said.
"[The noise in East Boston is] constant and it's loud—even at 10 pm, when I'm pretty sure these residents are trying to sleep," Walker wrote on her blog.
The full, detailed results of Walker's study, Noise and the City, will be released on September 1, 2016. They will be based partly on her recordings of the city's soundscape and partly on survey results; in order to bolster her objective data, Walker asked (and continues to ask) Bostonians to tell her about the sound characteristics of their neighborhoods, requesting that they list any effects these sounds have on their physical, mental, and emotional health. Respondents are asked whether they're subjected to a slew of everyday noises, like crying babies and car horns. Then they are asked whether these noises keep them awake, stress them out, or impact their mood, appetite, or behavior.
According to Walker, this particular aspect of her study is what could help Boston residents the most. By asking folks how they feel about the noisiness of their neighborhoods, she is able to characterize the sounds around Boston, not just measure them. In doing so, she hopes to raise awareness about each neighborhood's noise levels and better inform residents about the din that surrounds them. Even if one already knows they live someplace noisy, they may not know exactly what causes those noises and what kinds of impacts they may have.
In September, report cards will be released detailing the soundscape of each neighborhood. The people of Boston and its surrounding areas will have the opportunity to find out precisely what might be keeping them up at night, or causing that perpetual migraine, or making them restless. That's when she hopes change will come—though she has no grand visions for what might become of Boston's noise levels.
"I don't think these cities will ever be [completely] quiet," she said. "But they can be less loud."